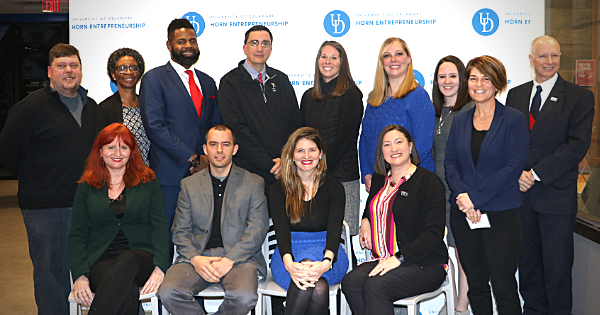 Mini-grants support creativity & innovation in secondary classrooms
Too often educators' great ideas cannot be implemented in the classroom due to lack of funding. The Innovative Delaware Educator Awards (IDEAs) help remove that barrier by providing mini-grants to Delaware secondary teachers to support the development and realization of those innovative, and sometimes experimental, projects in the classroom. Applications for 2021 grants are open through February 21.
The brainchild of University of Delaware Horn Entrepreneurship, IDEAs supports, inspires and celebrates the educators who provide "wheels up" moments for Delaware high school students and their communities. Teachers receive grants of up to $500, mentorship and coaching, and entry into a collaborative network of innovative educators. Information on timeline, application and eligibility are on the webpage.
"Entrepreneurial teachers have the unique potential to transform young lives by facilitating the discovery of passions and purpose, therefore enhancing students' capacity to adapt and thrive in our rapidly changing world," says Julie Frieswyk, Assistant Director of Youth Programs at Horn Entrepreneurship.
The 2020 cohort included 13 teachers from across the state from public, private and charter schools with a variety of subject matter expertise ranging from math and engineering to art and science. Their projects can be viewed on the IDEAs website.
Due to the unprecedented unfolding of a global pandemic during the 2020 school year, many of the 2020 cohort members had to pivot on their original project ideas, making them more conducive to remote learning. The team at Horn Entrepreneurship understands the rapidly changing landscape of education in these times and supports educators as they explore and innovate in their in-person, hybrid, and virtual classrooms.
About Horn Entrepreneurship
Horn Entrepreneurship serves as the creative engine for entrepreneurship education and advancement at the University of Delaware. Currently ranked among the best entrepreneurship programs in the US, Horn Entrepreneurship was built and is actively supported by successful entrepreneurs, empowering aspiring innovators as they pursue new ideas for a better world.
At its founding in 2012, Horn Entrepreneurship launched a youth initiative to address major gaps in secondary entrepreneurship education. At the time, most existing youth programs focused on small business management. In contrast, Horn Youth has been built to focus on unleashing creativity, encouraging a mindset of abundance and self-determination, and promoting purposeful entrepreneurial action. Today, Horn Youth is internationally recognized and has a robust local and global ecosystem and network consisting of more than 10,000 alumni, 1800 educators and 60 organizations that catalyze entrepreneurship education and impact.