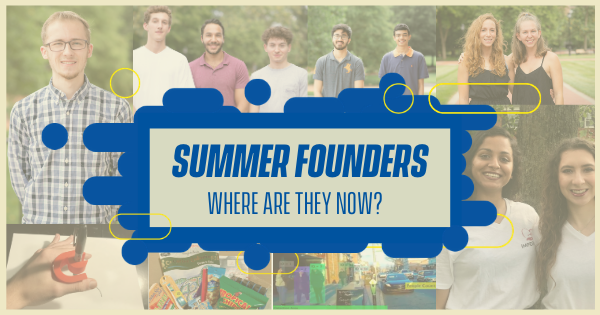 Editor's note: as this article is published most of the Summer Founder teams highlighted here have qualified for Hen Hatch 2020 as a semifinalist or finalist. Please refer to those articles on this blog.
With Summer Founders having wrapped up with the culmination of a virtual Demo Day, many of this summer's teams are reflecting back to discover that the intensive 12-week pre-accelerator was just the beginning of their entrepreneurial journeys.
Now, with the fall semester in full swing and new and exciting opportunities beginning to present themselves, some founders have gotten in touch with the Horn Entrepreneurship team to provide updates on how they have been cultivating their projects, and how their ventures have grown since they last shared their progress at Demo Day.
Backyard Gig
While Backyard Gig is still in its beta stages, co-founders Shaun Gupta and Shahrose Ali have big plans for their venture, which connects students with community members that need tasks, or gigs, completed. They were most recently featured in the Newark Post, where they expressed a desire to ultimately expand to other college towns. But currently, Gupta and Ali intend on focusing on the platform's growth in Newark, as well as on improving site functionality and implementing features like scheduling, payment processing, and algorithmic systems.
COVIDVision (A.I. Whoo LLC)
Founder Dr. Matthew Saponaro is continuing to discover the possible applications of COVIDVision, his artificial intelligence and computer vision startup. When he spoke at a zoo and aquarium conference, Saponaro described, his work was received with great interest from representatives with whom he is looking to continue conversation. Since Summer Founders, Saponaro has also connected with executives at Buffalo Wild Wings, Taco Bell, and Von Ebert Brewery where he is discussing a variant of COVIDVision which can track customers' consumption through video feeds to notify waiters when to service customers more efficiently.
Imperium
As co-founders of Imperium, Susan Varghese and Lauren Burkett have expressed that Demo Day was both a culmination and a starting point for their heart health venture, which they are continuing to develop during the fall semester. Through Summer Founders, they gained access to resources, opportunities, and connections that served as a launchpad for their project, and which also afforded them an invaluable entrepreneurial learning experience, Varghese expressed.
EQuip
April Singleton and Isabella Hughes have had their hands full with their social justice and educational venture EQuip since Demo Day ended. The team was offered a sponsorship by Horn director Dan Freeman to collaborate with the Charter School of Wilmington's Social Justice Alliance on a 4-day design sprint. The EQuip team was also a finalist for a $1,000 prize at the Great Dames Remarkable Ideas Pitch Event, and was a 2-time panelist for the Edupreneur (education entrepreneur) Roundtable hosted by Venture Cafe Philadelphia.
The EQuip co-founders are also continuing their academic studies of entrepreneurship in Startup Experience II, a class taught by Vince DiFelice. Most recently, co-founder April Singleton was the recipient of the Siegfried Student Award for Entrepreneurial Leadership, which is given to one student and includes a $2,500 award.
PrintAble
Co-founders Richard Hayburn and Mandy Zichermen saw their most recent growth opportunity when they were accepted into an NSF I-Corps accelerator program that grants them access to mentorship and up to $3,000 in funding to further lift their startup off the ground. The PrintAble team is also continuing to formulate their minimum viable product (MVP) to gain feedback or validation on their 3D-printed prosthetic solutions.
Denney's Delights
Since Summer Founders, Anthony Denney hasn't stopped his quest to cook up winning recipes for the initial candy collection for his launch of Denney's Delights. He has also been performing consumer behavior research, which involves interviewing frequent or semi-frequent candy shoppers in his market. With the goal of identifying who the customer is and what their problems are, Denney hopes to adjust his business model accordingly.
Female Food Foundry
Lily Wolfe is starting to see her Summer Founders project, the Female Food Foundry, flourish in rewarding ways. The startup, which empowers and connects a community of female founders of consumer packaged food and beverage products, was a finalist in the Great Dames Society's pitch competition. During which, Wolfe also received mentorship which led to valuable opportunities to brainstorm different goals and feasible next steps for the Female Food Foundry, she expressed. Wolfe hopes to launch an Instagram page where she will feature inspiring female food founders and their stories through a "Humans of New York" format, in an effort to continue to cultivate community.
Ultimate Tournament
Ultimate Tournament, by Dan Goodman and Pickett, has recently finished their product, a premiere Esports betting platform in the United States. Their website features access to live streams for Esports matches, with betting, stats, and chat rooms, as well as upcoming tournament schedules across a variety of games and consoles.
Nuvensus
A real estate investment startup by Mason Faust, Markos Zerefos, and Henry du Pont, Nuvensus has been able to use the connections they made during Summer Founders to raise capital to purchase their first property in an out-of-state market, working closely with boots-on-the-ground teams in the cities of Dayton, Ohio, Pittsburgh, Penn., and Indianapolis, Ind. They have also been able to use their proprietary data models to complete consulting services for a private commercial real estate firm in Pennsylvania by analyzing commercial properties and compiling a report to make more informed decisions. The team also won the 17&43 Awards for Most Promising Startup.
Although these students and their ventures have demonstrated immense promise and progress in such a short amount of time, their stories only scratch the surface of the successes of the 18 total teams which were a part of this past year's Summer Founders cohort.
Other teams not featured here have continued to express the value of the skills and lessons learned from the pre-accelerator, and how these takeaways have translated into both personal and professional growth over the last two months. All teams have embodied a commonality in their foundational experiences with Summer Founders, from which they have begun to actualize new ambitions and exciting successes.
About Horn Entrepreneurship
Horn Entrepreneurship serves as the creative engine for entrepreneurship education and advancement at the University of Delaware. Currently ranked among the best entrepreneurship programs in the US, Horn Entrepreneurship was built and is actively supported by successful entrepreneurs, empowering aspiring innovators as they pursue new ideas for a better world.