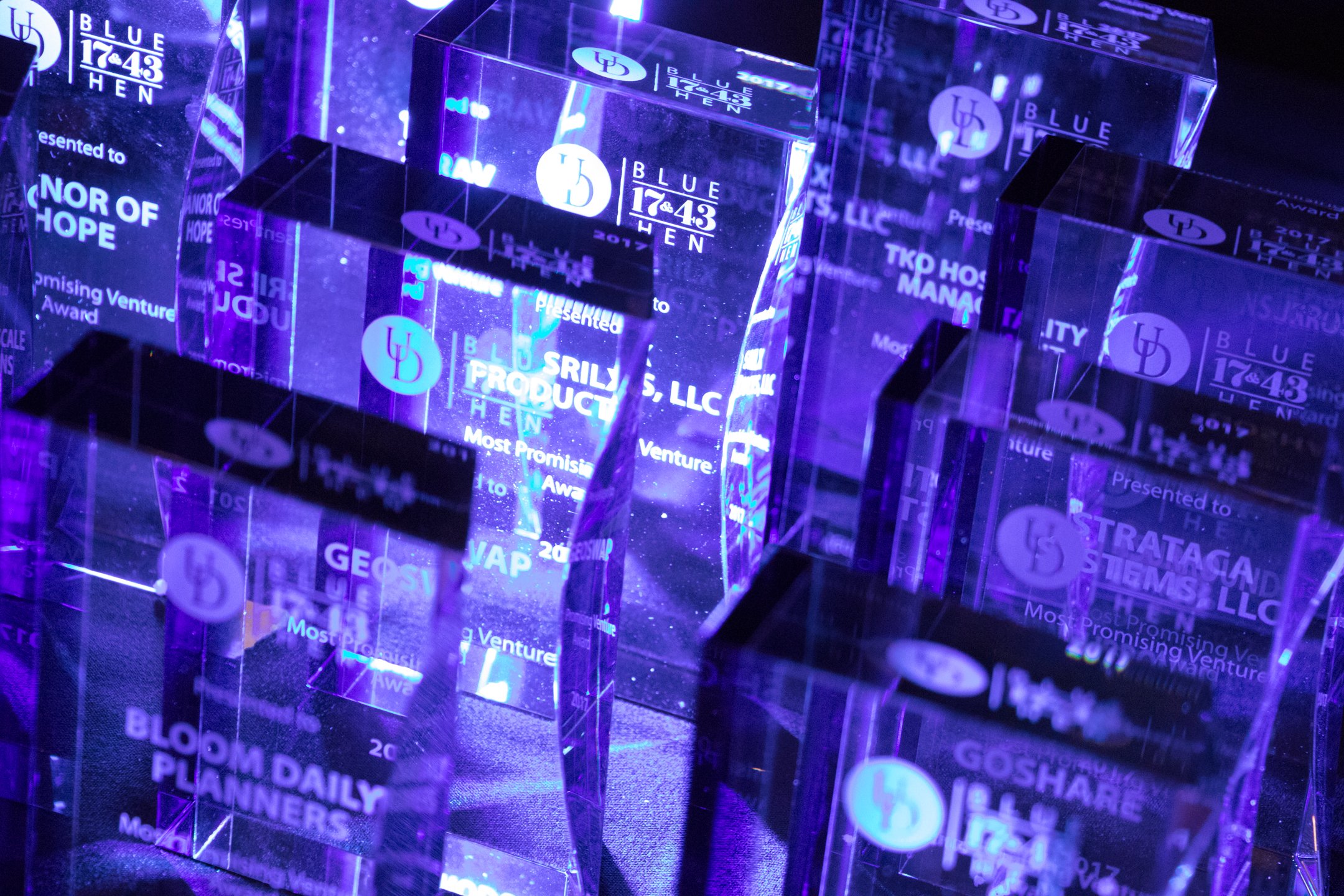 University of Delaware Alfred Lerner College of Business & Economics and Horn Entrepreneurship are proud to announce the recipients of the 2020 Blue Hen 17&43 Awards, which recognize UD students and alumni who have founded or led promising new ventures and fast growing companies. Twenty-eight businesses will receive the honor this year.
Recalling when the university itself
was foun
ded in 1743, the award honors entrepreneurs who are leading the way in their ventures, yet can trace their innovations, startups, or companies back to their origins within the UD community.
Whether you're an undergraduate with a budding startup, or if you've been a long-standing Blue Hen with an established company, the 17&43 Awards are meant to recognize any and all UD community members who are championing innovation and leadership as entrepreneurs.
Any venture or company that is Blue Hen-founded or Blue Hen-led is eligible – this also includes previous award winners who may wish to reapply. Applications for 2021 will open in the spring. Read more about eligibility and selection criteria here.
Blue Hen 17&43 Most Promising
Note: companies are listed in alphabetical order
Hami Mahani, '02, Ryan Robinson, '07
Jeanann Genzano, '04
Kate Earle, '94
Guy Haselman, '86
Garry Johnson, II, '17 and '18
Stephen Hoops, '98, Dave LaRoche, '98, Dee Ridgeway, '98
Abu Kamara, '20, Hope Vega, '20
Scott Schreiber, '00
Markos Zerefos, '22, Mason Faust, '22, Henry du Pont, '23
Kenny Eck, '17 and '18
Joe Vela, '12, Kristin Fretz, '14
Suchit Tuli, '12
Ajit George, '73
Kyle McLaughlin, '13, John Collins, '09
Michael Rosman, '88, Hedy Rosman, '89
Doug Godfrin, '15
Jesse Fastenberg, '16
Blue Hen 17&43 Fastest Growing
Note: companies are listed in alphabetical order
Dennis Wall, '92
Angela Nadeau, '82
Raymond Bree, '78, Christopher Burgos, '99, Joshua Shaver, '07, Ketul Mody, '06
Kelley Pastic Ferris, '05
Shaun Savage, '06
Susan Barrett, '79, William Barrett, '79
Robert Dietzel, '88
Stephen Hoops, '98, Ethan Jack, '96, Dave LaRoche, '98, Dee Ridgeway, '98
Brad Bono, '91
Harry Kleiser, '90
Rick Monnig, '91
About Horn Entrepreneurship
Horn Entrepreneurship serves as the creative engine for entrepreneurship education and advancement at the University of Delaware. Currently ranked among the best entrepreneurship programs in the US, Horn Entrepreneurship was built and is actively supported by successful entrepreneurs, empowering aspiring innovators as they pursue new ideas for a better world.