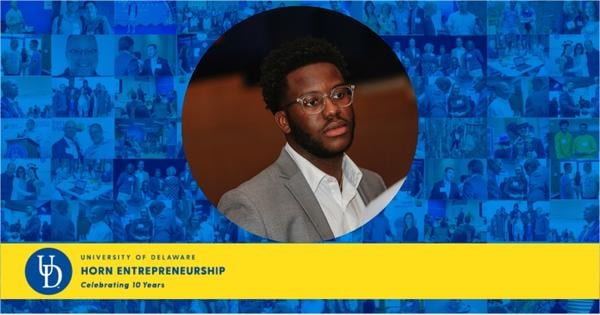 This article is part of a series celebrating the 10th anniversary of Horn Entrepreneurship by highlighting alumni, their stories and accomplishments.
When James Massaquoi was attending Caesar Rodney High School and working at Taco Bell, he didn't have a clear path for college. In fact, he would later be turned down in his first two choices in majors, finance and accounting.
And he didn't have a clear path for his career, either. While in college, he co-founded a tech company. Right after graduation, he spent a year as an account manager for Amazon in its mass beauty division, helping to launch Beauty Haul Live. "I've sold, or, more importantly, I've tried to sell to a lot of types of people," he said, referring to a skill that he honed while working at both places.
And since the summer of 2021, he's been an analyst for Osage Venture Partners, a Philadelphia venture capital company. "If you told me I would be where I am now when I was 16, I'd be very surprised," he said. "The money, the experiences. I never really had an idea what my life would be like professionally."
Massaquoi – who was raised by a single, widowed mother in Kent County, with limited finances – enrolled at the University of Delaware in 2016 and in 2020 earned his bachelor's degree in English, along with a minor in entrepreneurship. He matured professionally at Horn Entrepreneurship, through a half-dozen courses in entrepreneurship, a half-dozen internships and other opportunities and a key-card to the Horn Venture Development Center that unlocked a lot of informal networking.
"Everything I know about work is a byproduct of Horn," he said during an interview.
Horn "skyrocketed me to where I am now," he told technical.ly in a profile that's part of the news organization's How I Got There series.
The ABCs of his VC
Osage, which was founded in 1990, has three focuses. Massaquoi said that it geographically emphasizes the United States except for California (a lot of VCs are already chasing after the unicorns in the Golden State), and he several times in the interview mentioned firms in Europe and Israel.
It also focuses on companies "going from two to 15," he said, referring to startups generating around $500,000 to $3 million in annual revenue and "the potential to credibly scale a business to $20 million or $50 million or $100 million of revenue – or beyond," Osage says on its homepage. "Zero to one," he said, by contrast, are the firms just starting out with what they hope is a great idea.
And it focuses on business-to-business software in three industries: "the future of work, the future of healthcare and the future of education," he said. Its portfolio page lists more than 50 companies, from Anra Technologies (drone operations and traffic management) to Wylei ("predictive content" technology for real-time brand personalization). It has exited about a third of the companies on the list.
Osage is in its fourth fund of early-stage investing. "We prefer to lead or co-lead a company's first institutional round and will typically invest $1-4 million initially as part of $2-7 million capital raises," it says. "We typically reserve 1-2x our initial investment to support future rounds of financing."
Massaquoi personally focuses on sourcing investment opportunities and providing portfolio support" at Osage, he writes in his corporate bio. "If you're selling directly to businesses and you're making money, we're probably excited to talk to you," he said. "When it gets down to it, I am a channel to get capital for your business."
What an analyst does
Here's how Massaquoi describes his own work:
"I spend about a third of my time with startups, creating relationships with founders, building connections with accelerators and other parts of the entrepreneurial system as a way to source startups.
"Another third is a lot of financial management and diligence. We find a great startup. Now we have to figure out if it is. So we talk to the founders, learning about the marketplace, going through the financials, the balance sheet and so forth. Does it make sense? There are red flags and green flags, and hopefully there are a lot of green flags.
"And the third thing – and this is the least amount of my time – is after we give them capital, we are advising the founders on employment decisions, helping them make connections, helping them make decisions on micro and macro issues and creating playbooks." At that point, a more experienced Osage staffer usually takes a seat on the startup's board.
To make all this happen, he spends a lot of time at his desk, writing "detailed memos about the market and the opportunity" (that English major comes in handy here) and is also out in the field, networking and attending other events (ditto for that entrepreneurship minor). "And I do things that most analysts don't do, which is really fantastic."
"When you're in VC, you have some awareness about all the cool things – and some uncool things – that are going on." Client confidentiality, however, kept him from offering details.
How Horn helped
"I don't think it's something that's impossible or it's the most difficult job in the world, but breaking into venture capital is hard," Massaquoi said. But he scored his job as analyst – with what he hopes is the potential to move up in the sector – by the broad range of experiences he had at UD, Horn and Amazon. Also, "he had pitched to Osage's university arm previously and had worked with one of its senior analysts," technical.ly reported.
Of course, he learned formally in courses at Horn, but he also learned in internships and related jobs. "His experience includes internships at Google in the AdWords division and as a University Innovation Fellow at Stanford [University's] Hasso Plattner Institute of Design," he writes in his corporate bio. "He has worked as a venture capital intern for DuPont Ventures and as a policy intern in the office of [Delaware] Gov. John Carney. James served as an entrepreneurship instructor for high-achieving minority students in Delaware and as a junior board member for Junior Achievement of Delaware."
The stint at DuPont included a regional analysis of startup and accelerators. "Delaware has a lot of programs, which is really great," he told technical.ly. "There's money in Delaware and there's opportunity, and there are a lot of startups coming out on the ground floor."
When asked what he wanted to ensure that this profile included, he quickly said this: Vince DiFelice, senior instructor of entrepreneurship and the faculty director of venture support, "is spectacular and is super-impactful." He and Ted Foltyn, an adjunct faculty member and Signature Internship coordinator, "were probably the two biggest impacts during my time at Horn."
Of course, it was not all an easy road. UD is a predominantly white institution, he noted. "There aren't a lot of people like me at Delaware, and there are less of them focused on entrepreneurship. I definitely appreciate Horn for putting me into the programming and the way things are moving now. The focus on people of color and entrepreneurship has changed at Horn (and every institution). I want to give them credit for that." He told technical.ly that he's also thinking about the racial component of VC.
Massaquoi has given back to Horn by judging a Startup 302 event and mentoring students who have been referred to him.
Overnight in the VDC
While at UD, he and classmate Sury Gupta co-founded 360VR Technology, which utilized 3-D modeling and drones to assist with building management, security and emergency response. The startup earned more than $300,000 in non-dilutive funding, got accepted in multiple accelerators and piloted the product. During the pandemic, the firm reached out to universities to develop virtual tours, building on the popularity of similar tours for residential properties and nursing homes, Delaware Business Times reported. The company's website is now abandoned.
"I was an entrepreneur on the other side of the table, and I had a pretty good viewpoint," Massaquoi said of his time co-leading the startup and how that informed his post-graduation jobs.
Then there's all the time at Horn's VDC. Studying. Talking about entrepreneurship. Learning how to make presentations and other "random things about business." And snacking. "It was a good place."
"Horn pushed me to meet a bunch of different people," he said. "So I went to networking events for the first time in my life. It was really this eye-opening. I wasn't aware of all these different parts of jobs. I know in hindsight it sounds kind of dumb, honestly, but there's just a lot of things I didn't realize about the working world, and my economics was limited. I didn't understand how to start a business. And I don't think a lot of people get access to those until after college.
"While I've been talking about these opportunities I've gotten through Horn, I haven't really touched on how these opportunities come with money, and that money has been very impactful for my life and my family's, my outcomes over the next couple of years, things that I could do and things that I would not have been able to do," he said. "I don't think that I would have done well in college or especially after college without Horn."
Waxing philosophically, he added that Horn broadened his worldview. "You can only be what you can visualize," he said, "and I could only visualize a small segment of the world."
About Horn Entrepreneurship
Horn Entrepreneurship serves as the creative engine for entrepreneurship education and advancement at the University of Delaware. Currently ranked among the best entrepreneurship programs in the US, Horn Entrepreneurship was built and is actively supported by successful entrepreneurs, empowering aspiring innovators as they pursue new ideas for a better world.