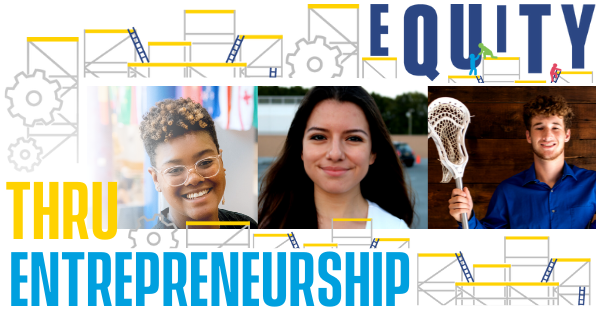 While the summer heat leads many to long lazy days, two University of Delaware students and one alumna spent the summer of 2021 working diligently to advance social justice and equality of opportunity through their startups. The three changemakers participated in the inaugural Advancing Equity Thru Entrepreneurship Summer Internship Program (ETE), a program designed to support mission-driven social innovators and entrepreneurs as they develop projects and ventures supporting underrepresented and under-resourced groups.The Advancing Equity thru Entrepreneurship Initiative is a response to the call for more purposeful action and cultivation of people who are historically underrepresented in entrepreneurship.
"It is the direct result of many open, constructive and emotional conversations with students and recent alumni as well as a lot of listening and reflection last summer [2020]," recalled Dan Freeman, founding director of Horn Entrepreneurship. "Intention alone is not enough."
Through the program, participants received a stipend, network of experienced and well-connected mentors and seed funding for their projects.
Showcasing their summers' work at the Equity Thru Entrepreneurship Impact Forum on October 7, the teams recapped their purposes and progress made over the course of a few months.
Entrepreneurship major Josh Bayer, class of '23, focused on increasing accessibility through his startup, Grow the Game Southeast. Grow the Game Southeast is an inner city lacrosse program with the aim of energizing and providing children with mentoring, coaching, equipment, food, entertainment, and other local services that will inspire them to be passionate about athletics.
During the summer, Josh interviewed more than 50 community leaders, nonprofit and community center directors and individuals affected by the problem. He also piloted his model in three Delaware locations, the Riverside Lacrosse Clinic, Kingswood Community Center, The Warehouse, and one Maryland location, Waldorf Lacrosse Clinic Series. Simultaneously, Josh participated in Summer Founders, UD's pre-accelerator for startups, where he developed and tested his business model for Grow the Game Southeast.
The next steps for Josh are making connections with nonprofit leaders, philanthropic organizations and mental health professionals as well as refining his business model and gaining more experience.
Another ETE participant, Lynn Roberts, a Global Enterprise Management major, class of '23, paved the way for DEI discussions and training through her startup, Common Grounds.
Common Grounds addresses cultural awareness and understanding through Diversity, Equity and Inclusion (DEI) programs centered on sharing an ethnic meal. Lynn's goal is to provide "DEI training in a fun, effective way because important conversations happen over food."
By the end of summer, Lynn interviewed more than 70 community leaders and corporate DEI specialists, pivoted her business model and hosted a pilot program at Banh Mi Boy, a Vietnamese restaurant located in Newark. She also secured her first corporate DEI training client, Compact Membrane Solutions. Like Josh, Lynn also participated in Summer Founders and received extensive training and mentorship.
Moving forward, Lynn seeks more connections with corporate partners, DEI leaders and expertise, event planners, and marketing professionals so she can conduct program testing.
ETE participant Emily (Milli Bravo) made incredible headway with her startup, Undocumented Student LLC. Milli, an English major who graduated in May 2021, created an educational resource hub for undocumented and DACA students. The hub provides support, assistance and motivation so students can successfully complete college.
Milli established Undocumented Student LLC and launched a website, UndocumentedStudent.com, to provide a network of supporters, motivational stories and resources to students pursue and succeed in the college application process.
The next phase for Milli is to raise money and awareness for her venture as well as build a team of content creators to support the website.
A network of social innovators and organizations supported Josh, Lynn and Milli during their summer internships: Fatimah Conley, interim chief diversity officer, and Rachel Garcia, assistant director, student diversity & inclusion, University of Delaware Office of Diversity, Equity & Inclusion; Mona Parikh, director of business development & Marketing, Delaware Innovation Space; Rysheema Dixon, CEO & President, RD Innovative Planning; Beth Yirga, cofounder, The Palm Collective; Ryan Drummond, founder, The Athlete Book; Eliza Jarvis and Jonathan Whitney, cofounders, Flux Creative Consulting; and Garry Johnson, founder, First Founders Accelerator.
"While most people are painfully aware of the abundance of problems in their own lives, their communities and broader society; it is only the few - the social innovators and entrepreneurs - who feel compelled and empowered to take action," said Freeman.
About Horn Entrepreneurship
Horn Entrepreneurship serves as the creative engine for entrepreneurship education and advancement at the University of Delaware. Currently ranked among the best entrepreneurship programs in the US, Horn Entrepreneurship was built and is actively supported by successful entrepreneurs, empowering aspiring innovators as they pursue new ideas for a better world.