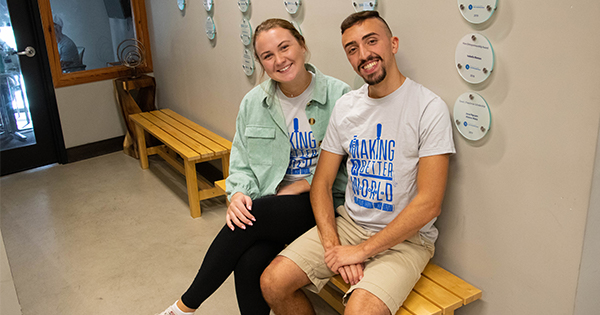 Entrepreneurs, put simply, find new ways to create and add value. For some, that means starting a venture, but for Chris Quinoy, Class of 2020, that meant finding innovative methods to provide value for Nuvolo.
Nuvolo, a young venture founded five years ago by Tom Stanford, sells software to help companies make more informed decisions about the maintenance and health of mission-critical devices, from defibrillators in public spaces to soda dispensers in convenience stores. Chris, tasked with updating the regular emailed leads communication to the sales team, added a curated content section filled with news from competitors.
"We wanted to provide more information to our sales team so we created an automated news feed that gives the sales team the option to look at the news of our competitors," explained Quinoy. "I developed the content section using a Google plugin and Google Adwords so the sales team was pinged every time there was a news posting from within our industry."
Chris participated in the University of Delaware Horn Entrepreneurship Signature Internship Program, a specialized internship placement program for Entrepreneurship (ENTR) majors. Horn Entrepreneurship leverages relationships and professional contacts across the country to match qualified students with partner organizations in special, innovative roles.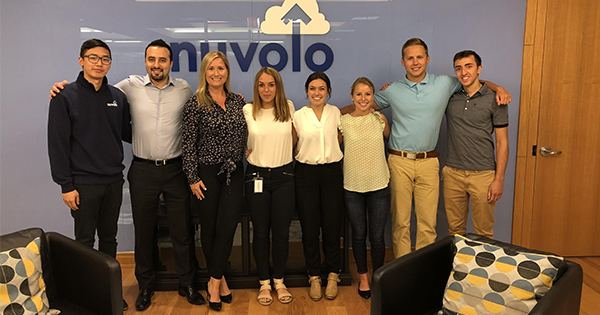 "The Signature Internship Program is an exciting initiative that shows a strong demand for the skill sets ENTR majors bring to the table," said Ted Foltyn, Horn Entrepreneurship adjunct faculty and Signature Internship Coordinator. "We had more positions than we had available students and we've received rave reviews from the students placed this summer."
Foltyn screens organizations interested in ENTR students to find appropriate intrapreneurial and entrepreneurial opportunities and matches them up with student candidates. He then serves as a dedicated resource and guide for students as they begin their journey into the professional world.
"The screening process is rather involved, and for good reason: this isn't an intern who gets coffee, this is a match that delivers valuable outcomes for the employer and the intern," said Foltyn. "I had regular check-in calls with the students just to make sure the internship was organized and managed well. I also provided the students with concrete tips and advice on how to act and perform within a professional environment, something many of them saw for the first time."
Allison Sanders, Class of 2020, echoed Ted's sentiments about the program: "You aren't just sending your resume out into the abyss on Indeed, you are talking to real people through connections that Ted has helped you develop. He encourages you to try for anything that interests you, even if you don't think it will be a perfect fit. You never know who you are going to meet and where it could take you!"
Allison participated in the Signature Internship program with her role on the marketing team at Avkin, a Delaware company that produces wearable technology for the nursing simulation field.
"My role at Avkin helped me learn a lot about organization and accountability," explained Allison. "Balancing my internship, five classes, and also working three nights a week at Klondike Kate's, I learned a lot about myself and how much I can truly take on. I know I would enjoy starting my own business, because after this I feel like you could throw a hundred things at me and I could balance it all."
Social Media Link, a marketing software company for mid-size consumer packaged goods (CPG) businesses, provided a sales role to Zach Herman, Class of 2022. The role involved Zach prospecting other potential businesses to sell to and finding new ways to compile info about potential leads.
"It was super motivating to go in every day and see how executives carry themselves and learn more about where I need to grow," said Zach. "It's essential to get out of the classroom and into the professional world as early as possible to get your hands onto new things and find new places to grow and bring value."
The Horn Entrepreneurship Signature Internship Program has received excellent reviews from partner organizations and continues to provide students with advanced opportunities to learn, grow and succeed. The program is currently open to Entrepreneurship majors who have completed their freshman year. Those interested can contact Ted Foltyn via email at tjfoltyn@udel.edu for more information.
About Horn Entrepreneurship
Horn Entrepreneurship serves as the University of Delaware's creative engine for entrepreneurship education and advancement. Built and actively supported by successful entrepreneurs and thought leaders, Horn Entrepreneurship empowers aspiring innovators and entrepreneurs as they pursue new ideas for a better world.