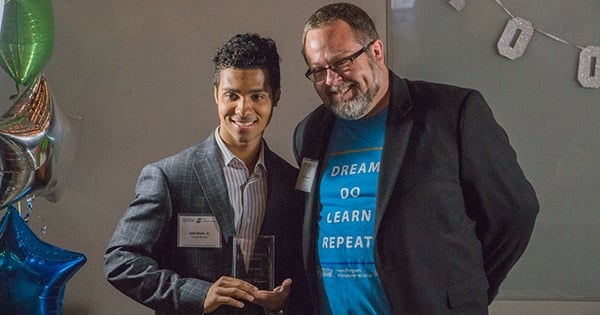 University of Delaware Horn Entrepreneurship is accepting nominations for undergraduate student entrepreneurship awards and scholarships totaling almost $10,000 in cash and VDC credit. Applications will be accepted March 6 through March 26, 2018. Details on the awards, submission requirements and a link to the application are available at www.udel.edu/horn. Students from all majors are invited to apply.
The Horn Entrepreneurship awards and scholarships are:
Shawn & Sheryl McCall Award for Entrepreneurship: Two awards are granted to undergraduate students who show entrepreneurial promise.
Brad & Jennifer Bono Award: This award recognizes a student who shows entrepreneurial leadership and social impact through his/her work.
Horn Program Award: This award, funded by the faculty who teach entrepreneurship-designated courses, is granted to a student who has taken at least 1 ENTR course.
David J. Freschman Scholarship: This scholarship honors David J. Freschman, UD alumnus, entrepreneur and venture capitalist. It is awarded to students who demonstrate energy, enthusiasm, determination, sales acumen, financial need and good judgement.
Award recipients will be notified by email on April 11, 2018 and honored during Hen Hatch on April 24, 2018 and Horn Entrepreneurship Award Party & Graduation Celebration on May 10, 2018. Scholarship recipients will be notified by email in July and recognized in the 2018-2019 academic year.
About Horn Entrepreneurship
Horn Entrepreneurship serves as the University of Delaware's creative engine for entrepreneurship education and advancement. Built and actively supported by successful entrepreneurs and thought leaders, Horn Entrepreneurship empowers aspiring innovators and entrepreneurs as they pursue new ideas for a better world.