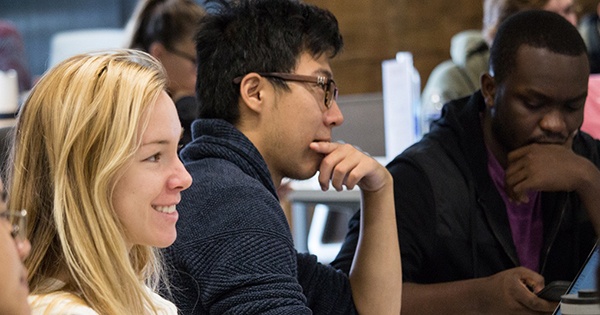 A series of workshops will be offered for high school entrepreneurs at this year's Diamond Challenge Youth Entrepreneurship Summit (the Summit), which will take places between April 11 and 13 at the University of Delaware's Clayton Hall.
The Summit is a three-day conference that brings students, educators and supporters from around the world together to learn new skills from world-class speakers and to energize their entrepreneurial spirits.
This year, the Summit will feature workshops that will allow attendees to learn about different aspects of entrepreneurship from personal branding to leadership to how to start a business as a high school student.
Workshop facilitators will include Founder of Schoolyard Ventures Rich Sedmak, CEO of GhostLab Nafis Azad, Associate Professor and Director of Graduate Programs Tony Middlebrooks, Co-Founder of the Next Gen Summit Dylan Gambardella, Director of Innovation at Ursuline Academy Erin McNichol, CEO of LeanGap Eddy Zhong and Diamond Challenge Ambassadors Sierra RyanWallick and Miracle Olatunji.
Sedmak, of Schoolyard Ventures, which is a program that helps teens launch businesses, non-profits and other projects, will focus his workshop on just that, helping teens start a business while in high school and how to overcome barriers they may face.
"My intent is to speak about common ways in which high school students fail in their attempts to start companies and how to prevent these situations," said Sedmak.
Azad will utilize his expertise as the CEO of GhostLab, a top-ranked design and software development agency that creates cutting-edge digital products for brands and growing startups, to guide workshop attendees with a concept roadmap to product creation. His workshop will mainly focus on the use of software and will teach students how to analyze their problem, organize their resources, develop a minimum viable product, launch to validate product and collect user feedback and utilize their feedback.
"The goal of this workshop is to showcase a clear path for a conceptual idea to become a true product in the market for people to use with minimal cost and timeline for flexibility."
Aside from being an Associate Professor and a Director of Graduate Programs at UD, Middlebrooks is also a leadership expert and will share his knowledge on the topic with the Summit attendees. His workshop will teach students how to consciously design their leadership style and how entrepreneurs maximize success through their leadership.
"In a world made by you, the most important thing you can design is you," said Middlebrooks. An effective leader can mean greater productivity, efficiency, innovation, satisfaction and more."
Having co-founded the Next Gen Summit, the global community and conference built by young entrepreneurs for young entrepreneurs, Gambardella knows how important it is to build and grow communities both personally and professionally. His workshop will focus on how community can be shaped and focused to assist in accomplishing your startup's goals.
"Forming a community of loyal and trusted followers is crucial to your success as an entrepreneur," said Gambardella. "This session will underscore this idea as well as share tips and tricks to do so more effectively."
McNichol of Ursuline Academy, an independent Catholic school community in Wilmington, Del that empowers students for leadership and service in our global society, will host two workshops. One will focus on social enterprise in the classrooms for teachers and the other will teach students about design thinking.
There will also be two workshops hosted by Diamond Challenge ambassadors RyanWallick and Olatunji, who are students who act as liaisons and community builders between the Horn Entrepreneurship team and Diamond Challenge participants.
The pair will lead a personal branding workshop together which will focus on how to build a brand that helps you stand out and make you memorable.
"People invest in people, not ideas," said RyanWallick. "Everything you say, do or post is a portrayal of your personal brand."
RyanWallick will also lead a workshop on her own on the topic of productivity and overcoming obstacles. After contracting Lyme Disease five years ago, RyanWallick has been limited to 2-4 hours of productive energy a day. Her workshop will address how she has overcome challenges as a young entrepreneur and how she prioritizes her time.
"Workshop participants will leave feeling confident that they can overcome challenges in their life and inspired to fully appreciate the time and energy they have to accomplish their goals," said RyanWallick.
If you are interested in attending The Summit, and getting to attend the workshops click here to fill out the application.
The Summit is one program in the Paul and Linda McConnell Youth Entrepreneurship Education Initiative.
About Horn Entrepreneurship
Horn Entrepreneurship serves as the University of Delaware's creative engine for entrepreneurship education and advancement. Built and actively supported by successful entrepreneurs and thought leaders, Horn Entrepreneurship empowers aspiring innovators and entrepreneurs as they pursue new ideas for a better world.