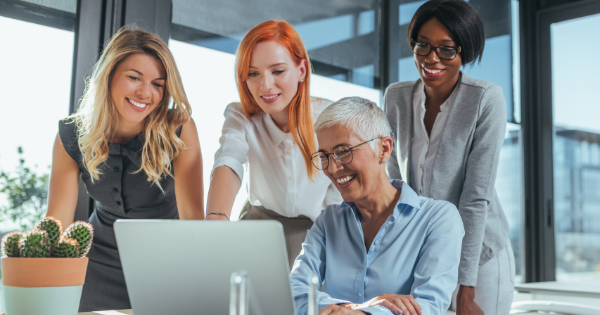 The WE Hatch Practical Insights & Networking Conversations series connects participants with two successful women (a recent graduate and an experienced alumnae leader), who share insights into their careers they wish they had known, practiced or explored earlier. In the virtual sessions participants have the opportunity to listen, discuss, and network in breakout rooms.
Over the course of the fall semester, Horn virtually hosted several installments of the program on Zoom that provided listeners with an abundance of helpful tips and advice for professional life and working to create value whether as an entrepreneur or an intrapreneur. Read on to see some of the insights shared in the first sessions.
During the first Practical Insights & Networking conversation on Oct. 1 we were joined by UD alumni Grace Leong, CEO & Partner at Hunter, and Palina Ivanova, Swap Revive LLC Co-founder and Senior Consultant at Deloitte. The two alumni shared these insights that helped them be successful thus far in their careers:
Value personal and professional relationships
Understand early that trusted partnerships in personal and professional life are key to succeeding as an entrepreneur.
Work with intelligent individuals
Always hire people smarter than you, putting you in the powerful position of a continuous learner. This is imperative since no one cannot do it all by themselves.
Internalize a sense of confidence to combat imposter syndrome.
Actively participate in community engagement.
Pursue experiential learning opportunities.
At a subsequent session this fall, Jamie Fisher, Director of Operations at Trapica, gave some valuable tips on how to successfully navigate professional life:
Understand your priorities when searching for a job
When looking for a job, first evaluate what you value most in a job opportunity, whether it be the work culture, product, pay, company size, training, or ownership of projects. Know that every job isn't going to be your 'dream job', but it could still help you move forward in your career if you take it on with the right attitude.
Keep in touch with the people/professors that you meet during your academic career and internships, and don't be afraid to check in with them. Networking isn't just about what people can do for you, but also what you can do for them.
Be coachable and willing to learn
Being open is one of the best ways to understand what you like or don't like to do and gives your team the ability to trust you with more opportunities and projects.
Take care of yourself first
No one is going to tell you that you're working too much or that you should take a break. Prioritize doing something you love that is good for your mental health in your schedule like going to the gym, reading, or getting well-needed rest.
At another practical insights conversation, Horn Entrepreneurship welcomed HelloTeam CEO & Founder Tanya Bakalov and Lisa Shockley-Devieux, Associate Director at Seer Interactive, who left students with the following advice:
Know your strengths, and add people around you who can fill the gaps.
It's ok to acknowledge you're not good at everything - no one is!
Good soft skills will carry you much further than good hard skills
Keep a positive attitude, deliver your work on time, and above all: follow through on the things you say you will do.
Saying no can really mean "yes, but" - it's better to deliver your best on fewer things than subpar on everything.
Consider lifestyle, and not just career
Think about life goals such as moving abroad, having a family, or volunteering. Look at folks who have 'made it' in that career path - do they live the kind of life you want for yourself?
Know that almost nothing is permanent
The decisions you make now contribute, but do not define, the rest of your life.
Meredith Carter, President and CEO at Context Business Lending, joined us to speak at the most recent installment of the series, where they told listeners some of the practices they have learned to follow in their careers. Carter left students with the following guidance:
Figure out the experiences you have liked and find the common thread/intangibles that made it so. Do what you enjoy and you will always be more satisfied and successful.
Step out of your comfort zone
"Choose to have varied experiences. On a special note, study abroad. Don't rush."
Realize the ability of your peers
Don't underestimate the people around you.
Be curious before you are furious. Keep an open mind!
You can learn something from every conversation you have with everyone. Be listening for what you can learn!
Just ask for it! Make the ask!
Alyssa Kuchta, Founder of f.y.b jewelry, also shared some of her thoughts on productivity, efficiency, and growth with participants of our last session:
Realize not all growth can be measured
Focus on intangibles! You are not your career.
Work smarter, not harder. Put your standard operating procedures and controls systems in place before you scale anything!
Just start! Know you need to do things before you feel ready.
Be proud and be fearless about reaching out to others.
Keep your branding, and messaging in general, simple and focused. A confused mind will always say no!
Hire help sooner! You can't grow by yourself.
Recognize your weaknesses
Be honest about your blind spots.
WE Hatch speakers also referenced and recommended several works of literature that they found to help them grow in their personal and professional lives. Take a look below.
Carolyn Groobey, who was featured alongside Jamie Fisher for the second session, found the following books to be influential and even life-changing:
In Thanks for the Feedback, they explain why receiving feedback is so crucial yet so challenging, offering a simple framework and powerful tools to help us take on life's blizzard of offhand comments, annual evaluations, and unsolicited input with curiosity and grace.
Based on her in-depth research on professionals and managers in transition, Ibarra outlines an active process of career reinvention that leverages three ways of "working identity": experimenting with new professional activities, interacting in new networks of people, and making sense of what is happening to us in light of emerging possibilities.
Shirzad Chamine reveals how to achieve one's true potential for both professional success and personal fulfillment.
In this practical guide, he shares the nine effective principles - counterintuitive tactics and strategies - you, too, can use to become more persuasive in both your professional and personal lives. Life is a series of negotiations you should be prepared for: buying a car, negotiating a salary, buying a home, renegotiating rent, deliberating with your partner. Taking emotional intelligence and intuition to the next level, Never Split the Difference gives you the competitive edge in any discussion.
More books and research referenced to and recommended by speakers during Practical Insights and Networking Conversations:
The WE Hatch Practical Insights & Networking Conversations series will return on Feb. 18 for a whole new season of installments at a new time of 12:30-1:30 p.m. This semester's ensemble of guest speakers filled with a variety of knowledgeable women, some having worked up to powerful leadership roles and some only just beginning their careers. Kicking off this stacked list of guests are Holly Flannigan, Managing Director at Gabriel Investments, and Avery Beer, Search Content Strategy Associate at Publicis Health Media. Visit the sign up page now to see the full list of guests and join fellow peers in listening to experienced women share their most beneficial advice for young professionals.
About Horn Entrepreneurship
Horn Entrepreneurship serves as the creative engine for entrepreneurship education and advancement at the University of Delaware. Currently ranked among the best entrepreneurship programs in the US, Horn Entrepreneurship was built and is actively supported by successful entrepreneurs, empowering aspiring innovators as they pursue new ideas for a better world.