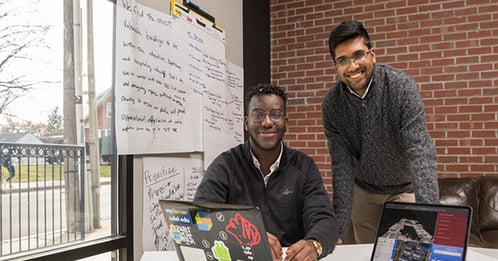 Editor's note: This is an article in a series that explores how the Horn Team practices entrepreneurship.
When James Massaquoi, co-founder of 360VR Technology, emailed entrepreneur and Shark Tank investor Mark Cuban pitching his startup, he did not expect to find a response waiting for him in his inbox. After a shot-in-the-dark email to one of the biggest names in entrepreneurship, the opportunity to set up a meeting with Cuban was suddenly at hand.
"He responded, and the meeting went so bad," Massaquoi said. "But we just kept doing what we were doing."
Ultimately, the meeting with one of Cuban's representatives (and not Cuban himself, it should be noted) did not ideally pan out. But the unique experience primed Massaquoi and his co-founder, Sury Gupta, to be able to better manage expectation, unpredictability, excitement, and disappointment – the sweet and the sour – in the future.
"I just try not to get too high or low," Massaquoi said. "You get really excited for stuff, and it doesn't happen. Or you get really sad for stuff, and nothing happens like you expected. I try not to get too excited until things are signed on paper."
Now, the ability to navigate and stay leveled during unpredictable times has proven more valuable than ever, and Massaquoi and Gupta are demonstrating that entrepreneurs and startups are perhaps amongst the most prepared for the tumult and disarray of today.
Their venture, 360VR Technology, was first nurtured at Horn Entrepreneurship, and the startup works to harness emerging virtual reality technology as an information and mapping system for buildings. Although the tool was originally imagined as a resource for such professions as first responders, security forces, property managers, and insurers, new applications and demands for the VR technology, Massaquoi finds, are always arising.
Particularly in the current moment, when most Americans have been forced to relocate their lives online, has the world found that its reality is now very much a virtual one.
"Something we have been looking into is developing a mapping tool for COVID-19 building clean-ups," Massaquoi said. "These buildings are huge, it's really hard to keep track of what you've cleaned already. So [we would] just be making it simpler."
As the novel coronavirus has warranted the need for comprehensive, full-building sanitation for everything from schools to hospitals, there exist rich possibilities for VR technology to expedite this process in a reliable way. And other factors make a VR platform attractive for building clean-ups, such as in the case of an out-of-house sanitation staff that may be unfamiliar with the building layout.
"Really what we're trying to focus on are these soft pivots," Massaquoi said. "We're doing a lot more customer discovery again… We're getting back to the drawing board. We're just trying to be open-minded. So we're basically just talking to anybody and everybody, taking good feedback, and just trying to adjust."
Another idea the team has been throwing around, Massaquoi said, has been working more with local government bodies, like Delaware Prosperity Partnership, the state's economic development agency which leads efforts to attract, grow, and retain businesses in Delaware. Since government decisions are now being made on a speedier, more urgent timeline, the crisis has opened up new prospects of working with agencies like DPP, Massaquoi said.
"I'm trying to volunteer my time on things that are happening within the state, and to be a resource," Massaquoi said. "I think a crisis like this has given me the ability to look at a problem like this and start thinking of solutions. To be able to help people out in ways that are important, and in projects that are already going on, outside of 360VR, and that I can provide value to."
In regards to funding, grants and pitch competition prizes have always been a particularly valuable source for the startup, as these no-strings-attached funds have helped propel 360VR by allowing the company to expand quickly, particularly on the software development side, Massaquoi said.
But when three of the four competitions that Massaquoi and Gupta had lined up in the spring were cancelled, including South by Southwest in Austin, Texas, the team had to adjust their expectations accordingly. Simultaneously, the 360VR team, comprised mostly of graduating seniors, had to juggle the all too inconvenient transition to online classes, all while trying to wrap up their academic careers and reassess their company's prospects amidst the portents of a global pandemic.
With one competition left on the table, Massaquoi and Gupta found themselves pitching 360VR over webcam in their basement for Tulane University's 20th annual Business Model Competition, which was not cancelled but instead conducted virtually.
Although the excitement that came with traveling and competing was abruptly put on hold, the accompanying disheartenment was also cut short when, to their surprise, the two proceeded to Tulane's next round. And, approaching the end of March, 360VR ultimately won the competition's $75,000 grand prize. When the check came in the mail, Massaquoi knew that this was one of those signed-on-paper moments that warranted celebrating.
"360VR has been a really great experience for me," Massaquoi said. "It really led to me doing a lot of really cool stuff, and a lot of great contacts. But I mean it's really been a big form for personal growth."
---
Mint Lemonade (low sugar) (from Pickled Plum)
Ingredients
6 lemons

1/4 cup granulated sugar

6 cups cold water

30–40 mint leaves

ice cubes
Directions
Put sugar along with 1/2 cup water in a small pot and cook on low until the sugar has dissolved (1 minute). Let cool for a few minutes.
Juice the lemons and get rid of the seeds. Add the lemon juice to a pitcher and add 4 cups of water.
Add sugar syrup to the pitcher and mix well.
Add more water or plenty of ice cubes if you find the lemonade too strong.
Put 6-10 mint leaves into each cup and muddle for a few seconds using a pestle. Add a little lemonade and muddle for a few more seconds.
Finish this lemonade recipe by filling each glass 3/4 full and adding a few ice cubes.
(This fresh lemonade recipe will keep in the fridge for 5-7 days.)
About Horn Entrepreneurship
Horn Entrepreneurship serves as the creative engine for entrepreneurship education and advancement at the University of Delaware. Currently ranked among the best entrepreneurship programs in the US, Horn Entrepreneurship was built and is actively supported by successful entrepreneurs, empowering aspiring innovators as they pursue new ideas for a better world.