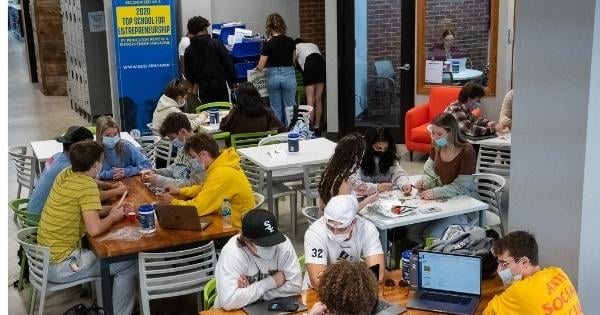 The Venture Development Center provides a central location for student entrepreneurial activity.
Horn Entrepreneurship is pleased to announce a successful fall lineup of VentureOn teams. Twenty teams from across campus ranging from undergraduate to graduate students compose the newest cohort. VentureOn, offered each semester, is for students who already have a startup or social venture and are working on building revenue, meeting customers, and other needed resources.
VentureOn meets weekly with students reapplying each semester. Students receive a small stipend of $250 each semester to use toward their startup. Exclusive advisory sessions are offered weekly with experienced investors and entrepreneurs to assist in developing their ventures. VentureOn teams also receive perks at the Venture Development Center (VDC) including scheduling priority for meeting rooms and enrollment into a flexible benefits program for copying, printing, media production and supply needs.
For the 2021 fall semester we would like to congratulate the following VentureOn Startups on their success.

Backyard Gig, Shahroze Ali, EO'23 and Shaun Gupta, EG'23
2021 Collegiate Entrepreneurs' of the year


A two-sided service marketplace connecting households and small businesses with ability to hire local and skilled college students for short-term odd-jobs assistance; matches dependent on need and availability.

Better Delights, Tony Denney, BE'23
2021 Hen Hatch Semifinalist


Series of alternative candies that align with natural, plant-based diets (such as vegan or gluten-free) wrapped in eco-friendly packaging.

Common Grounds, Lynn Roberts, BE'23
2021 Hen Hatch Semifinalist, Equity Thru Entrepreneuership Fellow


An event based cultural catering service, which aids corporations on expanding their diversity, equity, and inclusion (DEI) goals; additionally, a technology platform is in development to establish connections to uplift the community and support the continuation of DEI as a lifestyle at the corporate level.

Crypto Crate, Alex Pugliese, BE'22 and Willem Westra, BE'22
2021 Hen Hatch Semifinalists


A service that introduces beginners to the ever-increasing market of Non-Fungible Tokens (NFTs) by distributing high quality, celebrity merchandise as free NFTs that can be utilized to learn about trading the digital asset without risk.

Grow the Game Southeast, Josh Bayer, BE'23
Equity Thru Entrepreneuership Fellow


An initiative that will engage youth-at-risk in playing community-based lacrosse with funding, coaching, facilities and meals to expand opportunities for lacrosse beyond the wealthy suburbs of Southeast D.C.

Leaders of the Free World, Lavar Thomas, M.S. international business, BE'22
2021 Hen Hatch Semifinalist


Black male underrepresentation in international experiences (like study abroad programs) and global leadership is a challenge for higher education institutions and multinational organizations. Leaders of the Free World'smission addresses the lack of diversity in the social, philanthropic, public, and for-profit sectors (particularly in global leadership positions) by providing

leadership development and international experiences to young Black men.

Metamorphic Housing Solutions, Carlos Benito, AS'22
2021 Hen Hatch Semifinalist


Community based housing that facilitates peer support for students exiting college and starting professional careers. In the United States, this life transition leads to a depression crisis caused by a collapse in known social circles, but connecting through facilitated housing provides for a new community and opportunity to cultivate new social support systems.

Navigating Access, Mandy Zicherman BE'23
2021 Hen Hatch Finalist


An interactive, crowd-sourced map that provides direction for people with accessibility challenges. For example, location of ramps for accessible access to a building. This is not available on most GPS or maps.

New Age Gym, Aidan Moffa, BE'24

A gym that tries to solve the negative effects of restrictive gym culture on the new generation of people who want to better themselves both mentally and physically.

OnoBowls FoodTruck, Ben Quinutolo, ANR'23

A food truck delivering healthy food options across New Jersey where access to these foods are limited.

People Power, Garrison Davis, BE'23

Addressing climate change and community resilience by crowdfunding and managing solar projects to create virtual power plants.

Pick-Up Sports, Mike Meola, BE'23
2021 Hen Hatch Finalist


An early youth sports program to encourage young athletes to experience multiple sports to become better, well-rounded athletes. Focusing on one sport to early risks overuse injuries and mental burnout, but being a multi-sport athlete promotes healthier and happier athletes long-term.

Repetto Writing Solutions, Will Repetto, doctoral student in English, AS '25 and President of Graduate Student Government

Addressing inefficiencies of inter-team and interdepartmental communication with attention to nuances in language differences between specialties, departments or groups.

ReTeen, Bridget Bergan, HS'22 and Nate George, AS'23
2021 Hen Hatch Semifinalist


A personalized activity finder tailored for aging adults looking to stay busy, mentally sharp and physically active.

ShareWallet, Jason Bangser, BE'22
2021 Hen Hatch Finalist


ShareWallet is the best way to earn money through referral links. Users of ShareWallet have easy access to their and their friends' product and service referral links, making mutual rewards easy.

Soceaze, Derek Mihalecsko, BE'24

A service that connects local businesses with local, qualified college students to run their social media marketing accounts with a time saving and economical solution.

Stemmer, Sam Goetz EG'21
2021 Hen Hatch Finalist


Stemmer is a website that processes recorded songs, making them sound professional.

Supremely Sweet, Santha Rani, AS'22
2021 Hen Hatch Finalist


A chocolate bar (to start) that eliminates all traditional allergens like nuts, corn, gluten, egg, and lactose from its ingredients to provide sweet and healthy options for customers with specialized diets.

Sustainable Fashion Education, Miriam Keegan, AS'23
2021 Hen Hatch Semifinalist, Make it Happen Challenge Finalist


Online education service geared towards educators that want to help students learn about sustainable development through fashion and dressmaking.

Wardrobe Icon, Jack Berman, BE'23
2021 Hen Hatch Semifinalist


An app that curates confidence-boosting outfits based on the personality and preferences of people who want to stand out, but lack the fashion knowledge and expertise to pick out outfits.

Horn Entrepreneurship offers many resources, opportunities and programs for people in the UD community interested in entrepreneurship. Whether you have an idea or not, a product, technology or research, the team is here to guide you. Each person and startup's path is different, so fill out this form and an experienced team member will contact you with recommendations.

About Horn Entrepreneurship

Horn Entrepreneurship serves as the University of Delaware's creative engine for entrepreneurship education and advancement. Built and actively supported by successful entrepreneurs and thought leaders, Horn Entrepreneurship empowers aspiring innovators and entrepreneurs as they pursue new ideas for a better world.