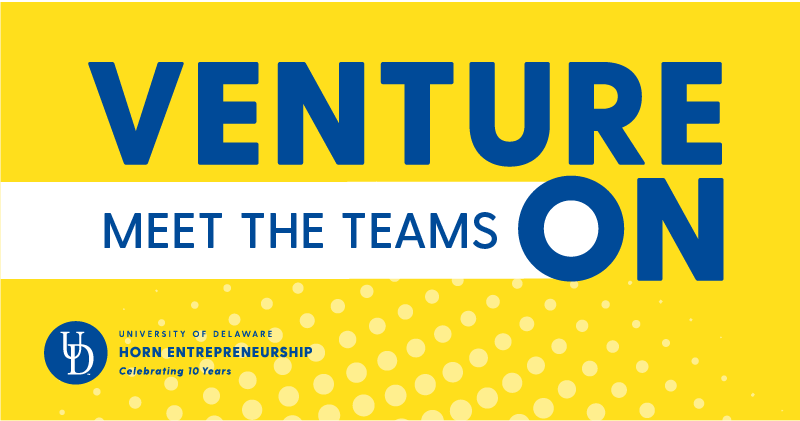 VentureOn is a semester-long application-based program that offers students a chance to validate a problem and build a viable solution in resolving a chosen area of personal interest. Ventures range from social, to business, to product ideas. This semester we had a significant uptick in applicants, with a total of 54 students applying as 48 teams, up from 29 teams in Spring 2022. These 54 students represent six colleges and 23 college departments or areas of study, bringing together a diverse group of graduate and undergraduate students to form a rich network of sharing. The teams will gather at the Venture Development Center, which acts as the hub for Horn Entrepreneurship activities including VentureOn.
Because we have a record-breaking number of student teams this semester, we will introduce our Fall 2022 VentureOn teams in a 3 part series broken up by area of focus: business, work, and education; health, safety, and sustainability; and recreation/retail-based ventures.
VentureOn Fall 2022's Business, Work, and Education Ventures
Carlos Benito '23, Biological Sciences
Sia Precision Education
Problem they wish to solve: We are solving the major problem of disengagement in education for students in low-resource settings. Disengagement ultimately leads to poor educational outcomes and therefore poor career outcomes, low incomes, and low quality of life/social mobility.
Rahul Patel '26, Information Systems
RateMyEmployer
Problem they wish to solve: The inconsistency of terrible employers.
Mckinley Lynn '26, Entrepreneurship and Marketing
Perfect Match Marketing
Problem they wish to solve: Many business owners lack the expertise to create a marketing plan and execute it to its fullest potential. Helping elevate the current and future marketing and strategic plans of local small-midsize businesses.
Heather Stroili '23, Entrepreneurship and Management
Full-Time Fit
Problem they wish to solve: Full-time employees struggle to stay fit and healthy when sitting at a desk all day.
Henry Bartony '23, Chemical Engineering
DOodle
Problem they wish to solve: One problem in education is that most learning takes place in a conventional setting. Without alternative methods of education, much information conveyed to students is often lost or implemented incorrectly.
Dylan Martinsen '22, Entrepreneurship, and Adam Tabak '23, Entrepreneurship
Taste the Convenience
Problem they wish to solve: Grocery stores have trouble gaining and retaining staff, and many people (mainly college students) are looking for ways to make money but don't want to take on the full responsibility of having a job that requires you to work a certain amount of hours.Parker Milton '26, Entrepreneurship
Keep it Local
Problem they wish to solve: Small business owners or managers being too busy to coordinate with other local businesses to plan partnerships or events in order to benefit both of them.
Genpei Ye '24, Marketing and Finance, and David Bichara '23, Biochemistry and Computer Science
CompSciLib
Problem they wish to solve: Computer Science (CS) is challenging, making it have the highest dropout rate of any major in the US. CS students especially struggle with fundamental concepts of CS in topics regarding scientific & computational logic, as most resources neglect them. Without the proper understanding, comprehension, and enforcement of fundamental CS concepts: languages, tech systems, and theories become unapproachable, creating an educational experience that is unscalable.
Errik Onyekwere '26, Entrepreneurship, and Leo McTaggart '26, Entrepreneurship
Quick Way Rentals
Problem they wish to solve: The difficulties of traveling around campus in a reasonable time. Using buses, driving, biking, and walking all have their own unique issues for students getting around campus.
Thomas Stauffer 24', Entrepreneurship
Speedy's Equipment. LLC
Problem they wish to solve: My business allows blue-collar workers and DIY hobbyists to easily rent heavy-duty trailers online, then pick them up at their leisure. I also buy and sell light-duty equipment, mainly zero-turn lawnmowers.
Suryanuj Gupta '23, Information Systems
Backyard Gig
Problem they wish to solve: For many college students, there seems to be a recurring problem in their lives: the shortage of money. Although some get jobs, more than often others choose to focus on their grades because the stresses of maintaining a demanding job and keeping up their grades are too much for them to handle. So, what if there was a way for students to work on their own time for homeowners who need tasks done, without having to worry about strict bosses and rigid schedules?
Lauren Roberts '26, Entrepreneurship
OBEnaturelleCo
Problem they wish to solve: I am solving the problem of workplace mental health and collaboration.
Zachary Atanasov '24, Entrepreneurship
OwnersConnect
Problem they wish to solve: Solving the problem of college entrepreneurs finding the right partners to build their startups.
Maxwell Carey '26, Entrepreneurship
Sports Card Marketing Service
Problem they wish to solve: Helping solve problems and create content revolving around the resale business I have been running for the past 4 years.
Zachary Dapolito '25, Medical Diagnostics Interest
ACAT
Problem they wish to solve: Uncertainty regarding cognitive abilities required in chaotic situations for specific professions.
Alexander Pugliese '22, Entrepreneurship
SkipRope
Problem they wish to solve: We are helping businesses capture additional value from their highest-value customers, turning them into loyal customers while improving their customer experience.
Lynn Roberts '24, Management Information Systems
Yuda
Problem they wish to solve: Companies struggle to procure diverse businesses.
Nicholai Williamson '25, Entrepreneurship and Management, and Brian Tressler '25, Entrepreneurship and Marketing
BonaFyde
Problem they wish to solve: High schoolers can't get the unbiased feel and vibe of a college before they get there.
About Horn Entrepreneurship
Horn Entrepreneurship serves as the creative engine for entrepreneurship education and advancement at the University of Delaware. Currently ranked among the best entrepreneurship programs in the US, Horn Entrepreneurship was built and is actively supported by successful entrepreneurs, empowering aspiring innovators as they pursue new ideas for a better world.