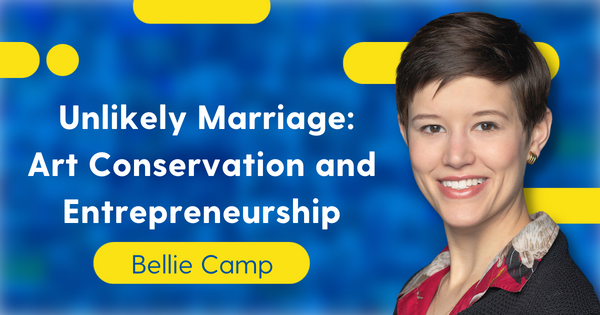 On a daily basis Annabelle Camp is considering and researching the varied facets of art conservation. She is about to begin a post-graduate Kress Fellowship at Balboa Art Conservation Center in San Diego, CA. This new opportunity requires a big move from her last position as a graduate intern in the Textile Conservation Studio of the Victoria and Albert Museum in London.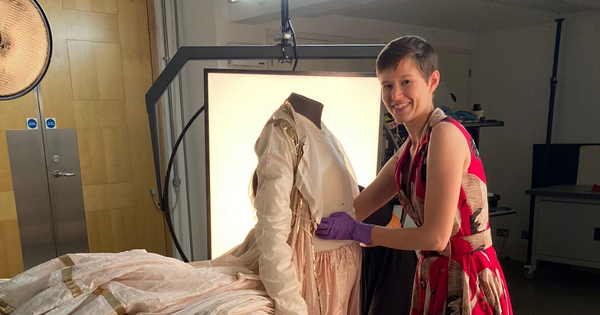 At the V&A, Annabelle conserved a wide range of textiles in preparation for exhibition and loans. Her largest project was the analysis, conservation, and mounting of a 19th-century Indian court ensemble, likely worn by Maharaja Takht Singh of Jodhpur. Consisting of a skirted robe, undershirt and trousers, a turban, and various sashes, Annabelle was tasked with cleaning and stabilizing the garments in preparation for photography and eventual exhibition. As the skirt was the largest in the museum's collection, measuring 92.2 meters around the hem, the project took over 200 hours to complete. Like all art conservation projects, it required collaborative art historical and scientific research, extensive testing, and knowledge of the materials and their construction. These are all skills she developed as an undergraduate and master's student at the University of Delaware.
Annabelle Camp graduated summa cum laude from UD in 2019, earning BAs in anthropology and art conservation before pursuing her Masters in the prestigious Winterthur/University of Delaware Program in Art Conservation. She specialized in the conservation of textiles and organic objects. She graduated with her MS in August 2022, having completed graduate internships not only at the Victoria and Albert Museum, but also the Abegg-Stiftung (private textile conservation studio and museum in Switzerland), the Philadelphia Museum of Art, and the Colonial Williamsburg Foundation.
While completing her graduate coursework, Annabelle took the opportunity to look beyond conservation when fulfilling her elective slots. She wanted to take a course with students outside of her field and looked to Horn for entrepreneurship courses. At first glance, entrepreneurship may seem a far cry from art conservation, but Annabelle saw the synergy between the two. We sat down to learn more about why she chose entrepreneurship for her electives and how it relates to her work.
Q and A
Q: How did you find out about the programs Horn offers?
A: As a graduate student in the Winterthur/University of Delaware Program in Art Conservation we are allowed two electives. I wanted to take a course with students outside of the arts and humanities that would also broaden my perspective on how conservators can utilize our skills outside of the strict confines of a conservation lab. I felt that an entrepreneurship class was the best way to achieve that.
Q: How have the classes you took at Horn, ENTR 651, ENTR 664, etc. impacted your recent research?
A: I took ENTR651, Special Topics in Entrepreneurship with Stephanie Raible. This class allows for a self-guided research project, so I focused on the intersections of cultural and social entrepreneurship with cultural heritage preservation. It opened my eyes to how the field can embrace the language and practices of entrepreneurs to have a larger presence in communities.
Q: How has Horn helped you in ways that are not necessarily entrepreneurial, but in the research field?
A: Horn truly expanded my view of what an entrepreneur is. In the field of art conservation, particularly during graduate training, entrepreneurship can often be viewed as a dirty word or concept. However, conservators are creative and collaborative problem solvers, and I believe more of us should embrace the title of entrepreneur. I believe we can adapt their innovative and calculated risk-taking approaches to the many challenges the preservation sector is currently facing.
What is the unlikely marriage between entrepreneurship and your research? How has it benefited you outside of entrepreneurship specifically?
To be honest, I am still exploring the correct marriage between entrepreneurship, particularly social entrepreneurship, and cultural heritage preservation. I think right now they are just dating. By embracing entrepreneurial practices and engaging in dialogue with entrepreneurs in allied fields, conservators can broaden the scope of funding available to us and create a more sustainable and prolific field which succeeds not only in the conservation of single objects, but has a significantly greater social impact.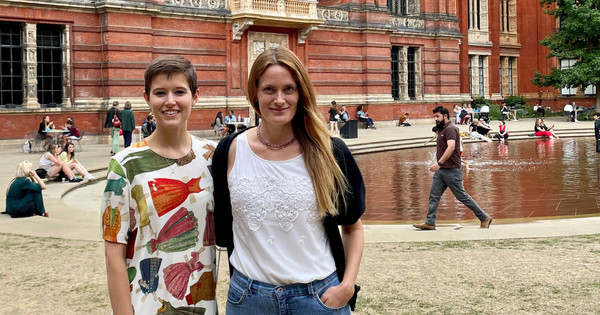 Annabelle's exploration of the intersection of entrepreneurship and art conservation is ongoing. While she has just moved to the west coast for her new position, she will likely be back east in a few years, as she has been accepted into the 2022 cohort of Moelis Advance Access Fellows at Wharton School of Business. Professor Raible was a valuable resource for Annabelle in the MBA application process: "I was one of her recommenders for her application to Wharton's MBA program, where she was accepted and she will go in a few years after having more time full-time in the art conservation field."
About Horn Entrepreneurship
Horn Entrepreneurship serves as the creative engine for entrepreneurship education and advancement at the University of Delaware. Currently ranked among the best entrepreneurship programs in the US, Horn Entrepreneurship was built and is actively supported by successful entrepreneurs, empowering aspiring innovators as they pursue new ideas for a better world.