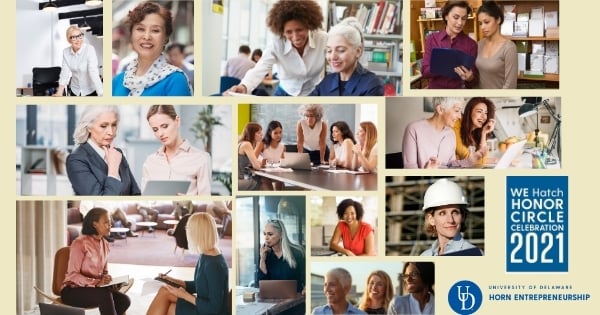 University of Delaware Horn Entrepreneurship honored 37 women as part of the inaugural 2021 WE Hatch Honor Circle, which celebrates women who are supporting and helping each other overcome the unique challenges faced by women innovators. Nominated by their peers, employees, spouses and friends, Honors Circle members have made a lasting impact on their network and community.
Those honored include Sophia Angeletakis, Michelle Trincia Askin, Gail Ball, Jamilah Barnes, Amy Begnaud, Amy Cowerthwait, Deborah Brenner, Carol Curly, Gayle Dillman, Rysheema Dixon, Hattie Duplechain, Cheryl Ecton, Susan Frech, Cynthia Gale, Amber Glassman, Katlyn Grasso, Martha Hall, Daneya Jacobs, Sharon Kelly Hake, Andra Liemandt, Shoshana Loeb, Victoria Luttrell, Michele McCann Kelley, Kaylyn Minix, Colleen Noonan, Rebecca Parsons, Lee Podolsky, Holly Quinn, Stephanie Raible, Dee Robinson, Dallas Shaw, Leanne Sherred, Rebecca Singer, Daphne Thomas,Tanya Van Court, Devona Williams and Amy Zitelman. The full list of honorees and the selected highlights of their impact can be found here.
In addition to celebrating the women who have been nominated to the Honor Circle, four additional awards were introduced to provide special recognition for extraordinary accomplishments pertaining to leadership, inspiration, innovation and entrepreneurship.
Kathleen M. Siegfried Leadership Award
The Kathleen M. Siegfried Leadership Award recognizes exemplary efforts to bring people together to encourage and support women innovators and entrepreneurs, enabling them to realize their fullest potential and exponentially improve their lives.The winner of the Kathleen M. Siegfried Leadership Award is Sharon Kelly Hake, founder of Great Dames.
Amber L. Glassman Inspiration Award
The Amber L. Glassman Inspiration Award recognizes efforts to serve as a role model and inspirational exemplar for other innovative and entrepreneurial women. The winner of the Amber L. Glassman Inspiration Award is Deborah Brenner, founder of Women of the Vine & Spirits.
Carol A. Ammon Founder Award
The Carol A. Ammon Founder Award recognizes the entrepreneurial success that involves launching and growing new ventures that have made a positive impact on human well-being through job creation and/or positive social impact. The winner of the Carol A. Ammon Founder Award is Cheryl Ecton, Founder & CEO of Elite Building Services.
Innovator Award
The Innovator Award recognizes excellence and achievement in intrapreneurship, including internal innovation and new product development. The winner of the Innovator Award is Dr. Martha Hall, Director of Innovation, University of Delaware College of Health Sciences and founder of Dr. Martha Hall Designs and FashionableScience.com.
The WE Hatch Honor Circle is part of the WE Hatch initiative, launched in 2020 to unleash the potential of creative, innovative and entrepreneurial women through curriculum, programming, mentorship and venture funding support. WE Hatch leverages Horn Entrepreneurship's expertise and network to benefit University of Delaware students and women in the community.
About Horn Entrepreneurship
Horn Entrepreneurship serves as the creative engine for entrepreneurship education and advancement at the University of Delaware. Currently ranked among the best entrepreneurship programs in the US, Horn Entrepreneurship was built and is actively supported by successful entrepreneurs, empowering aspiring innovators as they pursue new ideas for a better world.
Link to Giving Day for WE Hatch Initiative below