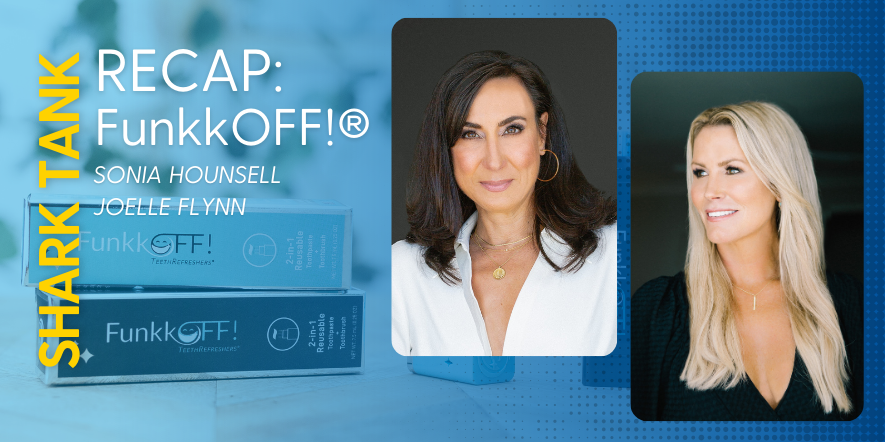 Shark Tank has evolved into a platform for aspiring entrepreneurs to showcase their innovative ideas and secure investments from seasoned investors. On February 17th, 2023, University of Delaware alumni Joelle Flynn and her childhood best friend Sonia Hounsell captured the attention of the Sharks with their revolutionary company, FunkkOFF!®. With their environmentally friendly, reusable (30 x), all-in-one toothpaste and toothbrush combination, Flynn and Hounsell left a lasting impression on both the Sharks and viewers. They even secured a deal with one of the five Sharks, Robert Herjavec. Let's dive into their remarkable journey on Shark Tank and the growing success of FunkkOFF! TeethRefreshers®.
To begin their journey, Joelle and Sonia forged a strong bond during their time at an all-girls school. However, their paths diverged when Joelle pursued her undergraduate degree at the University of Delaware. A lifelong, serial entrepreneur, Joelle started working at the age of 14 and paid her way through the University of Delaware earning a degree in Consumer Economics. At the age of 22, she was the youngest stockbroker hired at Bank of America and managed over $350,000,000 in assets for high net worth clients. From there, Joelle has led many successful entrepreneurial ventures including selling her own fintech company, dabbling in real estate ventures, consulting with startups and much more.
Sonia chose Boston College for her undergraduate and the University of Virginia for her MBA. Following these degrees, Sonia embarked on a remarkable career as a brand marketer and new products launcher in New York, contributing to the establishment of more than twenty-five brands and products over a span of thirty years. In 2009, Joelle relocated to California, marking the farthest distance between the two friends.
In her newfound California home near Napa, Joelle discovered herself attending wine tastings on weekends, only to be disappointed by the stubborn red wine stains left on her white teeth. Determined to find a solution, she started bringing a separate toothbrush and toothpaste to freshen up. Little did she know, this seemingly mundane experience would ignite a spark of innovation. Joelle envisioned a two-in-one, reusable, and eco-friendly solution to tackle this problem head-on. She didn't find a product available in the marketplace, so she started inventing one and filed 8 US patents on her designs and 3 US trademarks on names and logo.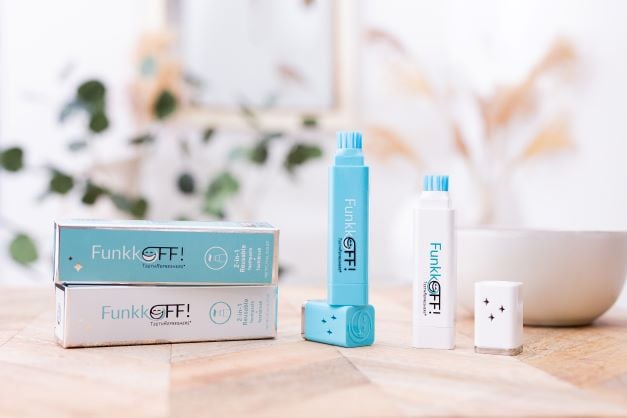 Recognizing the potential in Joelle's unique idea, she and Sonia, her lifelong best friend, decided to join forces in 2019 and launch. Sonia's expertise in the field perfectly complemented Joelle's creative vision, forming a formidable partnership. Despite being based in different cities - Sonia in New York and Joelle in California - the dynamic duo tirelessly works around the clock, united by their shared goal of ensuring the business's success. Their contrasting strengths serve to enhance each other, fueling the growth and development of FunkkOFF!®
FunkkOFF!® went on to be awarded the Blue Hen 17&43 Most Promising Venture 2 years in a row for 2021 and also for 2022 by Horn Entrepreneurship at the University of Delaware. As a University of Delaware alumni, Joelle herself was also inducted into the WE Hatch Honor Circle of Women Innovators & Entrepreneurs in 2022 by Horn Entrepreneurship, further emphasizing their dedication to making their voices heard within the business world.
From a young age, Flynn harbored a deep admiration for Shark Tank, envisioning the day she would present her own product on the platform. As fate would have it, her dreams materialized when FunkkOFF!® experienced a rise in popularity. The brand's rapid growth caught the attention of the Shark Tank team, leading to an invitation to apply for the show—a pivotal moment for Flynn and Hounsell.
Initially, their hopes were dashed as all the Sharks passed on this incredible innovation. However, just when they thought their chance had slipped away, Robert Herjavec, with unwavering belief in their product, summoned the girls back into the Tank. He extended an offer they simply couldn't refuse: $250,000 for a 12% equity stake in their company.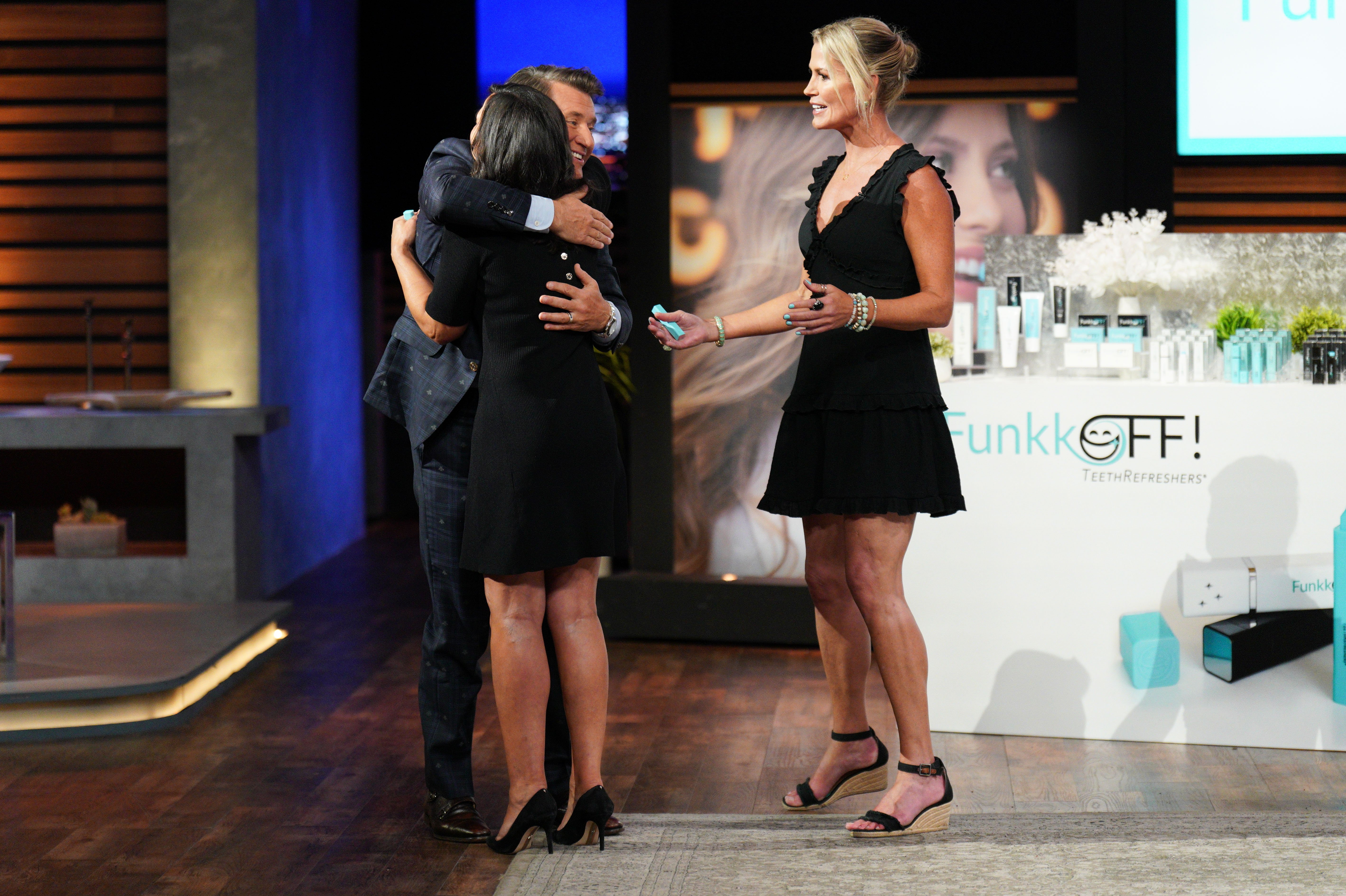 With the deal successfully sealed, Flynn and Hounsell rejoiced in the realization that their hard work and dedication had paid off. The Shark Tank experience not only provided the much-needed capital but also served as a powerful validation of FunkkOFF!®'s immense potential in the market. "Airing and being a part of the Shark Tank Family has been and will continue to be so beneficial to us here at FunkkOFF!® We have witnessed immense growth in almost every aspect of our business from new sales opportunities & channels, worldwide expansion opportunities and partnerships but most of all has allowed us to compete with the large CPG companies in our space overnight. The entrepreneurial platform that Shark Tank provides and highlights for us small but mighty companies is unparalleled, and we are honored to be chosen to be a part of this innovative community forever!", shared Joelle Flynn, Founder & Co-CEO of FunkkOFF!®
These remarkable women provided valuable guidance for young women with aspirations of starting their own businesses. Joelle recommended taking small daily steps, akin to moving five chess pieces, to progress toward their goals. Whether it is sending five emails, jotting down five ideas, or making five LinkedIn connections, any forward movement is worthwhile. On the other hand, Sonia embraces the importance of playing the "long game" in entrepreneurship. She emphasizes the significance of preparedness, being able to adapt to the unknown, and being capable of devising new strategies. These accomplished women have achieved success in their careers and strive to assist others in doing the same.
About Horn Entrepreneurship
Horn Entrepreneurship serves as the creative engine for entrepreneurship education and advancement at the University of Delaware. Currently ranked among the best entrepreneurship programs in the US, Horn Entrepreneurship was built and is actively supported by successful entrepreneurs, empowering aspiring innovators as they pursue new ideas for a better world.