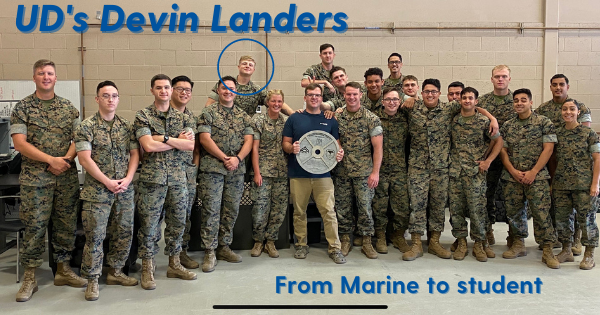 University of Delaware's Devin Landers, Entrepreneurship '23 transitioned from a small town in Maryland, and never seeing a palm tree until the age of 19, to traveling across the world to places like the United Arab Emirates and Kuwait during his military service as a Marine Sergeant. Upon completing his service, Landers and his wife, Jennifer Jee Yun Landers chose to travel cross-country to experience the vast spectrum of American culture. When talking about his travel experiences, Landers said, "Culturally there is something to take away from each place." Lander's journey led him to the University of Delaware, where he began studying entrepreneurship.
Landers and his wife were raised in different states but similar small towns and in situations that limited exposure to the vast experiences they were able to witness during their cross-country personal discovery. Their passion to explore changed their traditional small town view of graduating, attending the local junior college or just getting a job in town. They each went in search of something different from an early age, which led them to their military service, to each other and eventually to the University of Delaware.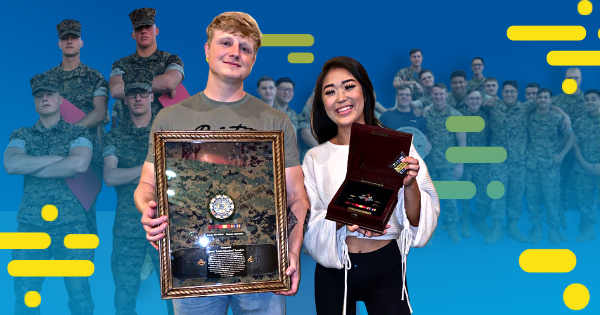 Devin Landers and his wife, Jennifer, receiving their personalized plaques that are given for having a positive impact on their platoons, respectively.
During Lander's service he shared a memorable entrepreneurial moment, He describes it as a moment of leadership and vision. He attended a gym that was popular on social media, with the help of a friend who was a talented video editor, they started Alphasthetics. The goal was to capitalize on the social media attention the gym had and strengthen its brand. Together they created videos, showcasing the gym's equipment and with good editing and added music, the gym's social media presence grew. To his surprise, he began struggling to use equipment because of the increased traffic in the gym. Landers found this to spark his entrepreneurial passion.
Lander's journey to the University of Delaware was different from the average student. Immediately, he found parallels in his journey. First, he was responsible for commanding the members of his platoon as a Sergeant. It led to his ability or a precursor for his entrepreneurial abilities. Now a student with leadership abilities in place, Horn Entrepreneurship was a natural fit. His desire to journey into the unknown, ready for all the risks, benefits, and trivial roadblocks to come, is the heart and core of entrepreneurship.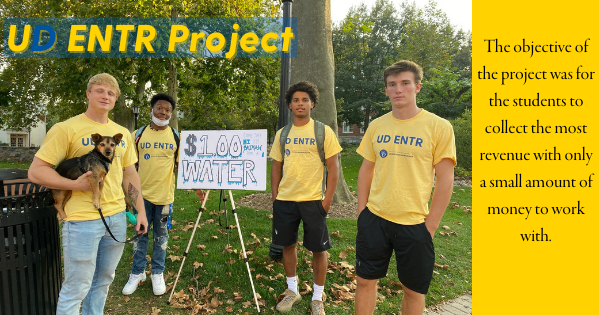 Devin Lander's (left) and his classmates, Quinton Turner, Nicho Williamson and Pierre Auchincloss while conducting a team experiment for one of his intro entrepreneurship classes.
That desire to venture on and journey into the unknown, being ready to face the risks and rewards of the journey, is the heart and core of entrepreneurship.
About Horn Entrepreneurship
Horn Entrepreneurship serves as the creative engine for entrepreneurship education and advancement at the University of Delaware. Currently ranked among the best entrepreneurship programs in the US, Horn Entrepreneurship was built and is actively supported by successful entrepreneurs, empowering aspiring innovators as they pursue new ideas for a better world.