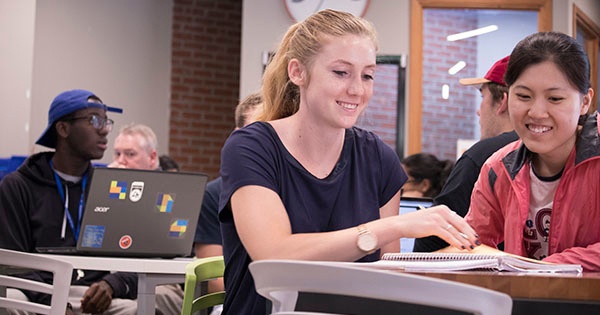 The University of Delaware recently received a $60,000 supplemental grant from the National Science Foundation (NSF) to partner with Delaware State University (DSU) to aid their researchers in commercializing scientific discoveries.
"The partnership will help DSU get their technology and commercialization procedures and practices in place as well as bring teams from DSU into our I-Corps Sites Program," said Director of Commercialization Programs at the Horn Entrepreneurship, Christina Pellicane.
UD's NSF I-Corps Sites Program, which was started with a $300,000 grant from NSF in 2014, provides specialized training and mini grants of $3,000 to teams interested in exploring the commercial viability of their technology ideas, products or businesses.
The partnership between DSU and the UD's I-Corps Sites will not only aid in developing DSU's entrepreneurship education programs, but it will also promote innovation and entrepreneurship at both universities as well as across the state of Delaware.
As DSU is a Historically Black College or University (HBCU), the partnership will promote inclusion of underrepresented minorities within UD's NSF I-Corps Sites and build a culture of inclusive excellence.
"[The partnership] will help our program attract and retain diverse entrepreneurs," said Pellicane. "If we create an inclusive environment rather than just a diverse environment, it will hopefully allow for greater entrepreneurial success for all of our innovators in the future. The facts show, diverse startup teams simply do better."
About Horn Entrepreneurship
The Horn Entrepreneurship ignites imaginations and empowers world changers through educational offerings that emphasize experiential learning, evidence-based entrepreneurship and active engagement with entrepreneurs and other members of the broader entrepreneurial ecosystem. Through participation in Horn offerings, students gain the knowledge, skills, personal capacities, experiences, connections and access to resources needed to successfully manifest innovation and thrive in the rapidly changing world.