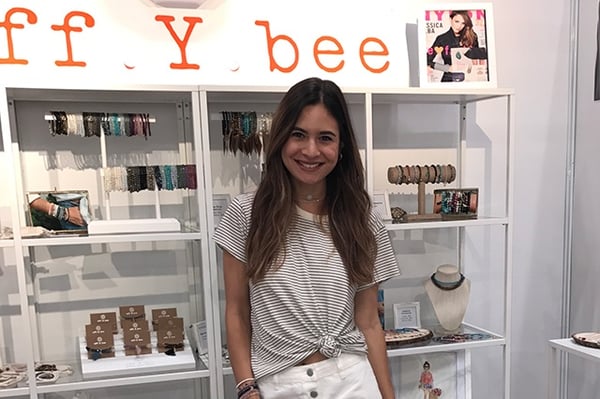 After traveling abroad with Students for Haiti, Alyssa Kuchta found her passion and started selling unique handmade jewelry to fundraise for earthquake relief in Haiti. She taught herself the craft and started her own business in 2011.
"Since graduating from the University of Delaware in 2012, I have been focused on growing my company full-time. I moved to a studio in the East Village, NYC in 2014 where eff.Y.bee is headquartered."
Alyssa works closely with her team to manage a vibrant campus ambassador program. The program has been instrumental in building a community around her brand. "Over the last five years, we have grown to having campus brand ambassadors at over 75+ universities and are now sold in 80+ nationwide retailers."
Alyssa oversees jewelry design and production, fulfills wholesale and online orders, travels for trunk shows and trade shows and comes up with creative content for marketing campaigns. She's grateful that Horn Entrepreneurship provided her with some startup capital and connected her with a UD graduate who has been a close mentor and advisor over the past four years.
"Horn Entrepreneurship was essential to my success. The countless resources, mentorship and connections that were provided to me while a student at the University of Delaware helped build my confidence and prepare me to take my business from just a 'big dream' to a real business. It's been an incredible journey, and I feel so grateful for the ability to pursue my passion!"
About Horn Entrepreneurship
Horn Entrepreneurship ignites imaginations and empowers world changers through educational offerings that emphasize experiential learning, evidence-based entrepreneurship and active engagement with entrepreneurs and other members of the broader entrepreneurial ecosystem.
Through participation in Horn Entrepreneurship offerings, students gain the knowledge, skills, personal capacities, experiences, connections and access to resources needed to successfully manifest innovation and thrive in the rapidly changing world.