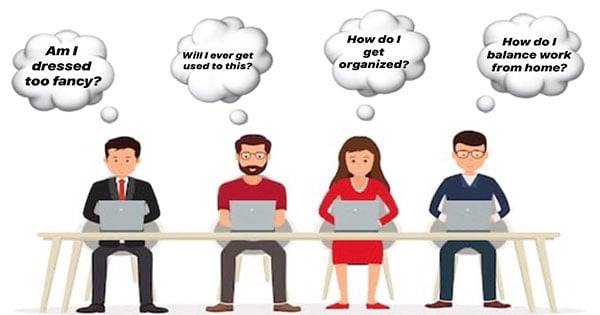 Picture this: You're on your college campus, enjoying life thinking, "Wow this is great! What could possibly go wrong?" And now you find yourself in your hometown on the couch fighting with your siblings, all while trying to organize your new life. It seems like none of us have the answers, but we do have some advice that can help in this tornado of a life we're all living right now. The best thing you can do above all is remember that there is a light at the end of the tunnel and we will all come out as stronger Blue Hens than we were before all of this. So let's walk through your routine while being home and see what tips you can utilize:
You wake up, (upset you're not on campus) you get out of bed. You're not really sure what you have to do for the day. TIP: Get a planner and begin filling it in with your schedule and agenda! Once you figure out what you're doing for the day, you begin your commute to your computer and make a pitstop in the kitchen. You look in the fridge and rummage through the cabinets looking for some breakfast. TIP: Utilize your time at home wisely, eat healthier now that you are home!
Once you choose your grapefruit out of the bowl and cook up some eggs you're ready to start your day. You go upstairs and you're at a crossroads between your bedroom and the bathroom. TIP: Take a shower and leave the sweatpants for after dinner! After you're dressed and ready you make your way to your work space. TIP: It's extremely important to make your work space a separate area from where you sleep or lounge. When choosing your work space, there are a few factors to take into consideration. Try to establish a comfortable space (but not one that will lull you to sleep). If possible, try to make it close to a window – this is for maintaining your sanity. Lastly, make sure to dedicate this area strictly to work!
Now that you're at your workspace, you open your laptop to find that your background is a messy room with dirty laundry all over the floor. TIP: Work on your work space so that it is well-lit and has a professional background that will be seen during a Zoom meeting. Try to move in front of a blank wall, a closet door, or anything that won't leave a bad impression of yourself.
You begin working on your assignments and find that you're a victim of the most common downfall of working from home – the distractions. You find your cute pet won't leave you alone, your younger siblings running around, or your mind drifting off thinking about the refrigerator. TIP: In order to decrease these distractions, make an organized list of tasks, and fully complete one task before moving to the next. For example, wash and dry those dishes from lunch that your brain keeps reminding you are in the sink, before sitting down to prepare for your 2:00 p.m. meeting. Your productivity will falter if you attempt to multitask too much in an already distracting environment.
After decreasing your distractions, you log onto your Zoom with your professional background feeling really awkward. You don't want to unmute your microphone or turn your camera on because no one else is. TIP: Don't be afraid to participate and be vocal in your online appearance. If you have a question or need to speak, it's often a safe bet that there are other people who are wondering the same thing. Build strong relationships with fellow students or colleagues during this time as people in the same situation as you can be a valuable resource. Communication during quarantine is vital. So, you turn your video and microphone on and ask a bunch of questions. You were reluctant to do so, but you feel you gained more from your online meetup because you participated and got your questions answered.
Finishing up your classes, you still have a few assignments and textbook readings to catch up on. TIP: Although you are working from home, it's important to know when to close the books. Small breaks between meetings, classes, or other work time can be beneficial to your overall work-from-home experience. Take advantage of being home by doing a workout, playing games with loved ones, and most importantly getting some fresh air as the weather gets nicer day by day. So before starting your next few assignments, you take a break. You make a snack, possibly fit in a workout, or just hang out with your family. After changing a few different things in your routine, you realize that working and being a student from home can actually be manageable and not too bad.
Everyone has their own unique struggle(s) at home, different factors affect your struggles such as your home environment, your space, or how many family members are also working from home (R.I.P. reliable WiFi). You may also be feeling like these challenges are silly or not worthy of putting in effort to find a solution. Once you work on fixing your small struggles, life locked in at home won't be as big of a problem anymore. To see just how relatable your struggles are, meet the Horn Entrepreneurship Marketing Team and get an inside look at their lives at home.
Meet Meg Marcozzi, Manager, Marketing & Events
Struggle: "I have a hard time disconnecting. I have a family that needs attention (a kindergartener that actually has meaningful work to do, a husband, a cat). In the first few weeks of quarantine, I was working around the clock – work-work, housework, more work-work, more housework, etc. I would have a thought pop into my head, then have to do it immediately.
Solution: "I've built a schedule to accommodate work-work, housework and free time. There are circumstances that necessitate that I modify the daily schedule (and I do), but I don't beat myself up if I have to do a Zoom class for my daughter and sign on to a work Zoom meeting late."
Jasmine Terrell, Marketing Graphic Designer
Struggle: "Juggling working and 'homeschooling' my young son."
Solution: "I adjusted my work schedule to earlier mornings, which has helped so much!"
Melanie Schleiniger, Salesforce Administrator and Special Programs Associate
Struggle: "I have an 8-month-old at home so there are many distractions!"
Solution: "To (try to) fix it, I get up before she does and get as much work done as possible. I work during her morning nap and then I have childcare from 10 a.m to 3 p.m. each day, which is when I get the majority of my work done."
Vanessa Spence, Marketing Communications Coordinator
Struggle: "Waking up each morning and thinking, 'Oh yeah, I am locked in and living inside Ground Hog Day, the movie. When will we get it right?' I stress too much about being not in control."
Solution: "I found my evergreen ideas list lost under a pile of items on my desk. I now feel in charge when checking off completed projects and have found new discoveries. Besides, being more relaxed has allowed for great family time."
Ryan Sigmund, Content and Social Media Marketing Intern
Struggle: "Finding motivation to do work without having anything to look forward to after I finish."
Solution: "I have been trying to find small things to look forward to like painting, watching a movie, or playing video games. I make sure not to do anything non-work related until everything I need to do is done."
Jan Castro, Content Creation Intern
Struggle: "Not having a dedicated workspace, i.e., sleeping, working, eating all in my bedroom."
Solution: "Just focusing on one thing at a time, regardless of what it is. If I'm doing Horn or school work, I try to close or separate any unrelated internet tabs or apps that are still open. If I'm feeling unmotivated or distracted, sometimes I'll just commit to watching a movie or YouTube for a period of time instead of trying to work under that pressure. That way, when I do decide to work, it will be when I'm in a place to actually be productive."
Allison Sanders, Content Marketing Specialist at Horn
Struggle: "Feeling tired and strained from spending too much time on my laptop, also going to bed super late and as a result being tired in the morning!"
Solution: "To fix this, I'm trying to take more breaks in between assignments. I also am trying to work out during the day so I'm tired enough to go to sleep at a decent time."
About Horn Entrepreneurship
Horn Entrepreneurship serves as the creative engine for entrepreneurship education and advancement at the University of Delaware. Currently ranked among the best entrepreneurship programs in the US, Horn Entrepreneurship was built and is actively supported by successful entrepreneurs, empowering aspiring innovators as they pursue new ideas for a better world.