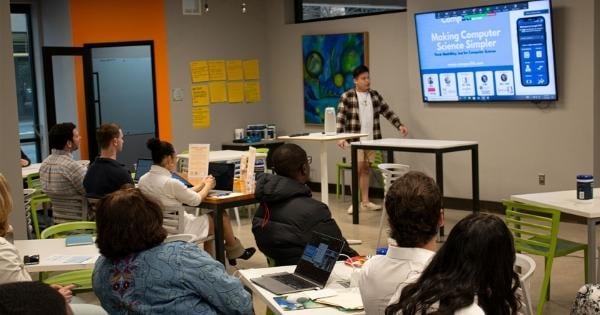 Horn Entrepreneurship held its 2022 Spring Pitch Party on Wednesday, March 23. Students got the chance to pitch ideas for business and social ventures, in hopes of winning various awards and prizes.
The evening was hosted by Dan Lee, Assistant Professor, Horn; Vince DiFelice, Faculty Director of Venture Support and eClub Advisor, along with Isabella Duarte, Entrepreneurship Club (eClub) President. Presenters pitched live at the VDC while over 70 spectators watched via Zoom.
Each team had 90 seconds to pitch their idea to a panel of judges made up of Horn alumni and entrepreneurs. The judges ask questions and give feedback to all teams before making their final decisions on the awards. The Spring Judges included April Singleton, Founder of My Multi, Sam Goetz, Founder of Stemmer IO and former Horn Entrepreneurship Winner, and Ben Rapkin, the General Manager of LIGHTGLASS. All the judges had participated in a Pitch Party during their years as a UD Student.
The event netted 14 teams of students who took advantage of the opportunity to get some real life pitching practice, receive feedback from entrepreneurs, and take in the support of fellow Horn community members.
Teams were vying for the top spot in the competition and the $750 worth of reimbursable funds towards customer discovery, but there were plenty more prizes to go around. The second and third place teams earned $500 and $250, respectively, and there were even more superlatives on the table.
Five teams received a gift card for a restaurant on Main Street, along with the titles Most Creative, Most Interesting, Most Promising, Most Motivated, and Most Amazing First Pitch.
The Most Creative award went to Ethan Kempista and his startup Theseus, The Modular Shoe. Theseus is a sneaker with individual components like heels, toes, and soles, so the pieces can be replaced individually when they wear out and shoes can be customized.
Most interesting was given to Karl Green and Rams Head Brewing. Rams Head is an environmentally sustainable upscale honey wine.
The award for Most Promising went to Derek Mihalecsko of Soceaze. Soceaze is a platform to help small businesses that don't have time to focus on social media.
The team that won the Most Motivated award was Nicholai Williamson and Brian Bressler of BonaFyde.org. BonaFyde is a platform to help prospective college students read reviews and match their perfect college fit.
The Most Amazing First Pitch was awarded to Tyree Cook and WooWipes. WooWipes are designed to help users freshen up on the go, when a shower isn't viable.
Each team was poised, confident, and ready to make their mark on Horn, but these five teams of future entrepreneurs knocked it out of the park with out-of-the-box ideas and a lust for innovation. However, three final teams were able to take the spoils and win some money to help advance their startups.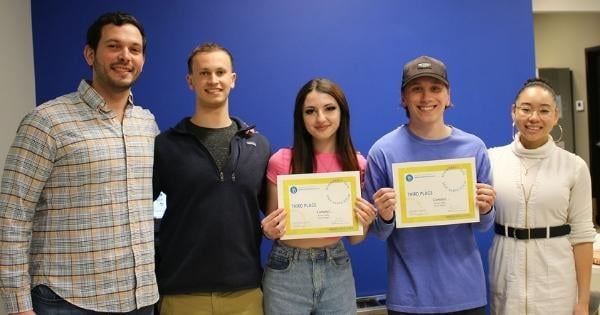 Third place went to Hunter Wills and Emily Paget of Commit. Commit is a browser extension that helps businesses set and track sustainability goals, and allows consumers to see if a company is sustainable.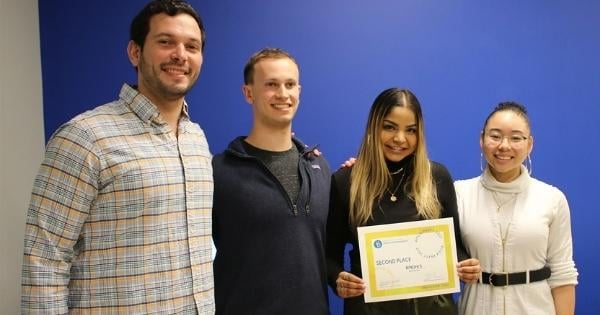 The second place prize was awarded to Aliza Aldujee with BINDHI'S. BINDHI'S is a Delaware-based all-natural dog treat and pet product company.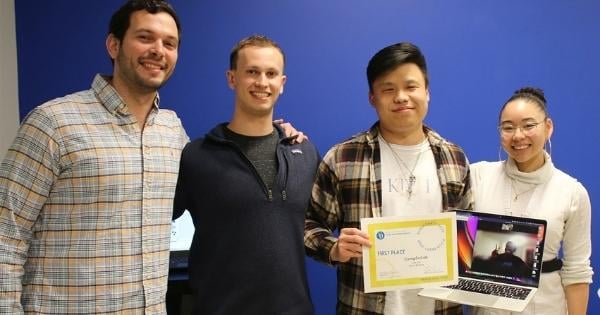 The first place prize and $750 went to Genpei Ye and David Bichara of CompSciLib. CompSciLib is an ed-tech platform that provides technical tools and calculators for computer science students and professionals.
The night was full of smiles, success, and passionate young entrepreneurs ready to take on whatever life throws their way. The 2022 Spring Pitch Party was a big hit, and maybe your startup will be too, when we return for the Fall Pitch Party next semester!
About Horn Entrepreneurship
Horn Entrepreneurship serves as the creative engine for entrepreneurship education and advancement at the University of Delaware. Currently ranked among the best entrepreneurship programs in the US, Horn Entrepreneurship was built and is actively supported by successful entrepreneurs, empowering aspiring innovators as they pursue new ideas for a better world.