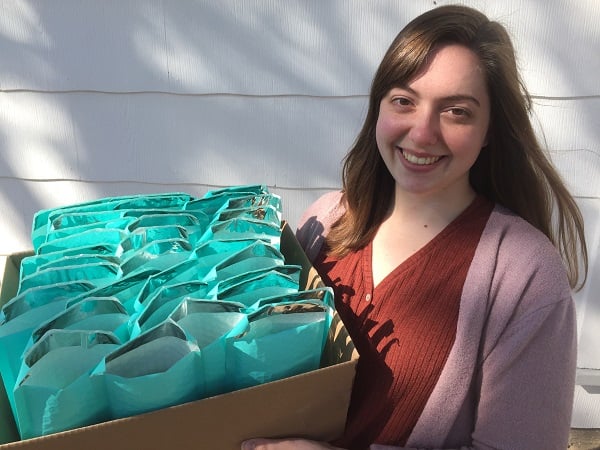 Editor's note: this is the fourth article in a series that explores how the Horn Team practices entrepreneurship.
Enrichment programming at Horn is fundamentally experiential – we coordinate opportunities for our students to do, connect, innovate and create. But with the switch to online classes and virtual living, Horn's enrichment team was met with a new challenge: how can we provide valuable, enriching hands-on experiences without the "hands-on" part?
Delaware Innovation Fellows is one such program that has been affected by this virtual switch. Due to the pandemic, fellows are missing out on one of the program's signature events: the DIF Innovators Breakfasts. DIF breakfasts can open doors: in the past, students have made connections, been offered internships, and discovered passions (and eaten pancakes, of course). But during a pandemic, a fifty-person event with a buffet and handshaking is off the table.
Instead of seeing this as a problem, I saw an opportunity: an opportunity to get creative, try new things and push boundaries. And so, the Virtual Tea Party was born. Instead of meeting face-to-face, students will network with an innovator over zoom. Instead of a breakfast buffet, students can enjoy their DIY tea party kits shipped right to their homes (I would have kept the breakfast theme, but the post office told me I couldn't just send everyone an egg with a stamp on it).
So, in a couple weeks, I'll be throwing a party… there will be no streamers or balloons, no handshakes or hugs. But there will be cake, tea and fun. At this unprecedented time, with so many unknowns and uncertainties, it may feel that there is no room for fun. We can't hang out with our friends. Holiday celebrations with families are cancelled. We can't visit our favorite places, eat our favorite foods or do our favorite things.
But I encourage you to change your perspective, to view this distance not as not a problem, but as an opportunity. An opportunity to connect with loved ones in a new way. An opportunity to spend more time on yourself. An opportunity to cultivate your own fun and throw your own party.
So, here is my invitation to you: you are cordially invited to smile, laugh, be silly, have fun and join the party (just from your respective homes, please).
Lemonade Iced Tea (from Taste of Home)
Ingredients
3 quarts water

9 tea bags

3/4 to 1-1/4 cups sugar

1 can (12 ounces) frozen lemonade concentrate, thawed

Lemon slices, optional
Directions
In a Dutch oven, bring water to a boil. Remove from the heat; add tea bags. Cover and steep for 5 minutes. Discard tea bags. Stir in sugar and lemonade concentrate. Cover and refrigerate until chilled. Serve over ice. If desired, garnish with lemon slices.
About Horn Entrepreneurship
Horn Entrepreneurship serves as the University of Delaware's creative engine for entrepreneurship education and advancement. Built and actively supported by successful entrepreneurs and thought leaders, Horn Entrepreneurship empowers aspiring innovators and entrepreneurs as they pursue new ideas for a better world.