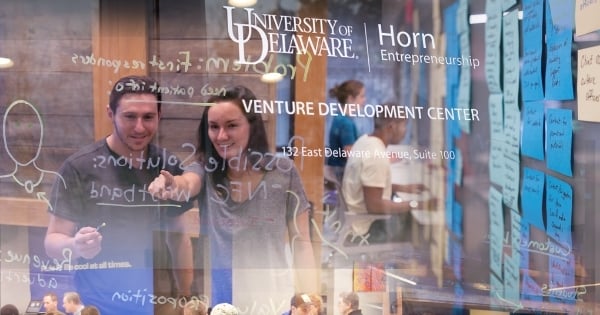 Horn Entrepreneurship's Venture Development Center (VDC) serves as a resource for inventors, technologists and creatives working on entrepreneurial projects. It is known for bringing entrepreneurs' startup dreams to reality, as a gathering spot for problem solvers & out-of-the-box thinkers and a place where a lot of fun stuff just happens.
The Venture Development Center hosts activities and events that forge connections between UD students, faculty, staff and the broader entrepreneurial community. If you are looking for a safe spot to meet with your mentor, team, or just want a place to brainstorm your ideas - this is the place for you!
The VDC is close to all on-campus buildings and Main Street, so it is convenient for all. When you have been connecting with investors or mentors all morning - it is a quick walk to Main Street for a lunch break or a cup of coffee. The VDC is located at 132 E Delaware Ave, Newark, DE 19711. If you have additional questions about our facility, you can feel free to call our front desk at 302-831-439 or shoot us an email so we can learn more about you hornprogram@udel.edu.
Any member of the UD community who is interested in or involved with Horn Entrepreneurship is invited to use the space. Fall 2021 hours are 9 a.m. to 5 p.m. Monday through Friday.
FAQ
Q: Who can use the space?
A: The VDC is open to anyone who is interested in or involved with Horn Entrepreneurship. Not sure if that's you? Just stop in and introduce yourself.
Q: Inside the VDC, what spaces are offered to work?
A: We have so many different spaces offered for working, including our main area and smaller nooks for collaborative group work. We recommend students to email Hornprogram@udel.edu to reserve rooms in advance which would help to avoid any conflicts with any other events/programs or persons that are already using the space. However, if students walk into the VDC and request to use any of the listed rooms, we will always try to accommodate them if space is available.
C

o-Lab – main area

BIM – Big Important Meetings (10 people Max)

SIM – Small Important Meetings (6 people Max)

Mentor Nook D (4 People Max)

Mentor Nook E (3 people Max )

Inspirational Wall ( 4 people )

Informal Tech Room (6 – 8 people Max )
Q: When I get to the VDC, what is the check in process?
A: Prior to arrival, all guests must complete the Health Screening Assessment http://covidcheck.udel.edu . You will be required to show approved results upon check-in.
Parking behind the VDC in Horn spots is still NOT permitted without pre-approval from Horn front desk staff. Horn Parking Policy applies to all faculty, staff and invited guests. Students are not permitted to use parking at the VDC, but there are pay-to-park spots behind the building and metered spots on Haines Street.
Everyone using the VDC must follow the University of Delaware COVID-19 Guidelines.
Q: Can I eat lunch or a snack in the VDC?
A: The kitchen is currently closed for use and eating is prohibited due to COVID-19. However, you are within walking distance to many fun restaurants on Main Street. We encourage you to take a break from your work, stretch your legs and grab a bite to eat on Main Street or at one of many outdoor spaces around campus.
Water cooler is available for use. Staff and students are encouraged to bring their own water bottles.
Q: As a visitor, what are the expectations when working at the VDC?
A: We love the VDC and want it to stay a clean and safe environment for our students, faculty, and staff. The only expectations from visitors are:
Masks must be worn prior to entering the facility and AT ALL TIMES inside the facility.
Masks can only be removed when a staff or student is in a closed, private office space alone. When more than one person is present in any space, a mask must be worn at all times.
A 3-foot social distancing must be observed at all times when more than one person is present.
Q: Why is there a paper airplane in the ceiling?
A: We're glad you asked! It is because of the creativity and competitiveness of our ENTR majors! Professor Laura Gasiorowski talks about how the paper airplane came about. She says, "In my very first class at UD (Intro to Entrepreneurship), we had a paper fight. One team decided to get creative and throw airplanes instead of wads of paper".
The airplane in the VDC represents the way professors teach at Horn Entrepreneurship. Our professors believe that students learn best when they are doing. "The paper fight is just one of many hands-on activities they do in my class. They also go out and conduct customer interviews, build MVPs, build a marshmallow launcher, etc".
Q: I love the analogy of the paper airplane relating to the teaching approach at Horn. What classes do you offer?
A: Laura Gasiorowski's classes definitely employ the 'learning by doing' principle, as do most classes at Horn. These classes are: User-Centered Research Methods for Entrepreneurs and Storytelling (piloting this Spring 2022!). For more information on additional entrepreneurship classes please visit this webpage.
Q: Can I really write on the walls?
A: Yes! Every visitor has the chance to ideate freely by writing on any of the glass surfaces in our building or use materials from the Inspiration Station to bring your vision to life.
Q: What is the community like inside the VDC?
A: The community inside the VDC is inclusive and gives you the opportunity to grow your ideas with mentors and advisors by your side to help. The VDC offers collaborative workspaces, access to computers and printers, and the necessary tools for design thinking.
Still have additional questions? Check out Horn Entrepreneurship's website to learn more!
We hope to see you at the VDC soon!
About Horn Entrepreneurship
Horn Entrepreneurship serves as the creative engine for entrepreneurship education and advancement at the University of Delaware. Currently ranked among the best entrepreneurship programs in the US, Horn Entrepreneurship was built and is actively supported by successful entrepreneurs, empowering aspiring innovators as they pursue new ideas for a better world.