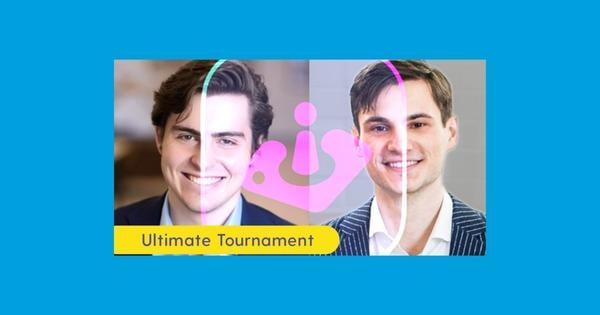 "I bet you twenty bucks I can beat you in this game." Playing video games and involving money in the equation is a situation which tends to occur regularly among gamers. Alex Pickett and Dan Goodman had a goal to create a platform where gamers can play for money.
Alex Pickett discusses his experience working with his startup
Dan Goodman and Alex Pickett started out as just two computer engineering students who had met in class sharing similar visions, to create something. During the summer of 2020, the pair knew they wanted to work together considering their similar passions such as video games, so they applied to Horn's Summer Founders program.
Summer Founders is a twelve week, pre-accelerator program where students work on their startup, gain mentorship and receive a stipend. The program is led by Faculty Director of Venture Support, Vince DiFelice. According to Vince, "One of the team's greatest moves was following up and building a relationship with Horn National Advisory Board member, Brooks Pierce - making him their informal advisor." Brooks is the President and Chief Operating Officer at Inspired Entertainment and has more than 25 years of experience in the gaming industry. He played a key role in guiding the creation of Ultimate Tournament, a virtual arcade platform. Alex Pickett said that "He shared a ton of wisdom around the regulation issues and complexities of traditional gambling vs skill based/social gaming."
After founding Ultimate Tournament, the team created their first product - Ultimate Arcade. This platform allows users to play and compete in arcade games against their opponents– which can lead them into winning cash. Ultimate Arcade includes skill based games, where the user's input determines their output. The team took a game called cyber worms and added a monetary component to it, so it allows the users to play for money, while also allowing them to play for free.
The team recently got accepted into the 2022 summer cohort of the prestigious startup accelerator, Y Combinator. When a company is accepted into the Y Combinator, they receive 500,000 dollars invested into their startup along with the opportunity to work closely with experienced mentors for three months to get their startup in the best shape possible.
What was the Ultimate Tournament startup story? Why did you decide to start the Ultimate Tournament?
Alex: We started off with an idea of creating a software that ties into the stock market and machine learning. We then later changed our business plan to revolve around video games and Esports. We came up with the idea for Ultimate Tournament in summer founders and pivoted just a few months ago after wrestling with compliance for almost a whole year.
In what ways did COVID affect Ultimate Tournament?
Alex: Covid allowed us to build an efficient virtual team. Since we have employees from all over the world, the lockdown allowed our global team to have improved their collaboration through working virtually.
How would you describe your team's dynamic?
Alex: Dan works more with the technological side of the business since he is the CTO, and I work on the managerial side which is how our roles break down. Everyone has their own objectives and tasks that they work on, however every Monday we have an 'all hands' meeting where we just share ideas and check in to make sure everyone is on the same page.
What is the most valuable lesson you learned from Horn?
Alex: Horn taught us to become comfortable with reaching out to people. Whether it's customers or investors, being able to say hey and just chat about anything with them was a valuable skill we learned. Developing these soft skills helps you to form partnerships really quickly and build your network. You will be able to create value for a lot of people very quickly.
What advice would you give young entrepreneurs who are just starting out?
Alex: There's nothing like action. If you have an idea, just start taking steps towards making it happen. You'll find out if you're wrong pretty quickly, and if you're wrong, then do something else or fix it.
The 2022 Summer Founders will be presenting their work at Demo Day on August 18. To register, click here.
About Horn Entrepreneurship
Horn Entrepreneurship serves as the creative engine for entrepreneurship education and advancement at the University of Delaware. Currently ranked among the best entrepreneurship programs in the US, Horn Entrepreneurship was built and is actively supported by successful entrepreneurs, empowering aspiring innovators as they pursue new ideas for a better world.