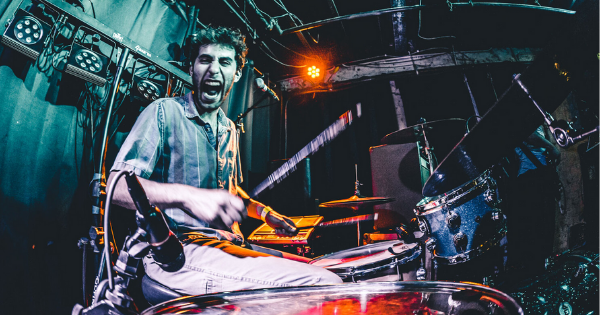 [Photo by Andrew Hutchins]
At 26 years old, Joe Vela had just quit his Philadelphia tech job to commit to drumming full time and to go on tour with his band, Tweed. It had only been a few years after he and his bandmates had graduated from the University of Delaware, and the opportunity to pursue music was one which they all agreed came only once in a lifetime.
"All the band members got together and said, 'We're never going to be 26 again,'" Vela said. "We played 90 or 100 shows in 2016, 2017, and 2018. We've been through three vans, and a ton of miles."
While Vela's musical journey has taken him across the country, the entrepreneurial dimension to his musical career has enabled him to chart new and diverse pathways in the industry. In other words, Vela's ability to make a living as a drummer for his band is just one of the many ways he has utilized his affinity for entrepreneurship – as well as his business management background from UD – across his many music ventures.
Particularly in the ultra-competitive music industry of today, where many artists are independent (without a record label) or self-made, the entrepreneurial practice of creative disruption becomes a powerful tool and helps us to see where these two, seemingly disparate worlds of music and entrepreneurship overlap.
"It's hard being an independent musician," Vela said. "Sometimes people will say, 'Oh, that's a fun job.' But every band or musician has to put the hours and the work in. No one's gonna tell you what to do. So you have to create a space for yourself as an entrepreneur would."
Despite these challenges, Vela has remained just as passionate about music as when he first picked up the drums in the fifth grade. He served as a percussionist in his various school bands throughout middle and high school, although it was his musical ventures outside of the classroom that would come to shape his journey after graduating.
"I always loved music, it was always my deepest passion," Vela said. "My first business was when I was 15 or 16 years old booking bands at bars. We had to fake our age just to watch the shows we booked. That was one of my first entrepreneurial ventures."
In college, Vela started taking music more seriously. As an undergraduate at UD, Vela started an electronic music club alongside his friends and other like-minded electronic music enthusiasts. As a Registered Student Organization with an allocated budget, Vela saw the club as another entrepreneurial opportunity, and he would ultimately utilize the club's budget to host activities such as production workshops, field trips to concerts, and music festivals.
Early on in his college career, Vela had experimented with a handful of different majors and programs. But it wasn't until he discovered and fell in love with the courses offered in the entrepreneurship program that he decided to study business management and entrepreneurship.
Vela's entrepreneurial inclinations at UD would also later lead him to start a business for college note-taking which would ultimately be acquired by Course Hero, an education technology company. It was also around this time that Vela first came in touch with the Horn Entrepreneurship program, which was still in its infancy at the time.
In his sophomore year, Vela met the fellow Blue Hens with whom he would form the indie-electronic band, Tweed. Since its inception, the band has toured for over three years, playing shows and festivals across the country, and sharing stages with other big names in the jam band genre.
Additionally, just prior to the pandemic, Vela had just begun performing live shows as a solo act, as an electronic DJ and producer under the name Bad Leather.
Earlier in 2017, Vela began working on an eight-month-long project that would ultimately become one of his most ambitious yet. Just as he was able to foster a community around music as an undergraduate at UD, Vela took things to the next level as the founder and director of SENSORiUM, Philadelphia's largest independent music and arts festival.
The undertaking proved to be an intense logistical endeavor, Vela said, involving the collective contributions of staff, volunteers, vendors, sponsors, and artists. Moreover, with a limited budget in the festival's first year, Vela and his team had to put in the extra effort to make the event the "ultra-sensory" success they had set out to create.
"We wanted to do something that was really special and unique," Vela said. "The idea with SENSORiUM was that it's an amalgamation of the senses. So we wanted to create a really amazing visual experience and, in addition to the musical line-up, we wanted to have great food and art."
Collectively, Vela's ventures into these different spaces of the music industry bear witness to his strong entrepreneurial spirit, which forms a throughline connecting his various projects. Vela's journey with music tells the story of a kind of entrepreneurship that transcends the conventional notions of product- or service-based startups and instead champions creative disruption wherever it may be found.
For current Blue Hens looking to either delve deeper into music, entrepreneurship, or both, Vela's advice is quite simple: fearlessness. At the end of the day, Vela encourages others to similarly put themselves out there and to stand out from the crowd.
"There's always a hundred reasons to doubt something," Vela said. "But the biggest learning experience you can have as an entrepreneur is just going out, trying things, and making mistakes. At the end of the day, you just have to believe in yourself and believe in your talents and ambitions."
About Horn Entrepreneurship
Horn Entrepreneurship serves as the creative engine for entrepreneurship education and advancement at the University of Delaware. Currently ranked among the best entrepreneurship programs in the US, Horn Entrepreneurship was built and is actively supported by successful entrepreneurs, empowering aspiring innovators as they pursue new ideas for a better world.