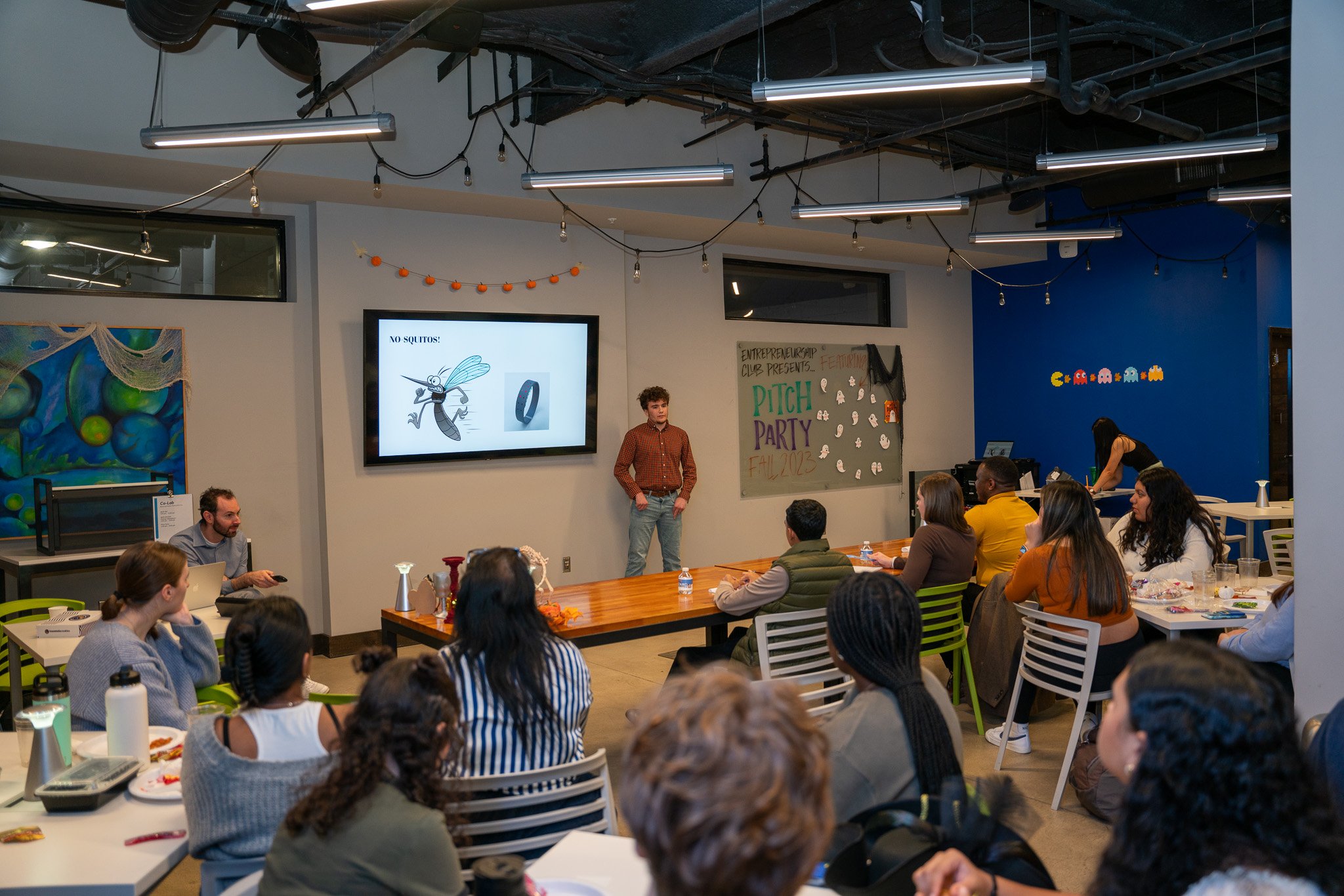 The Fall Pitch Party, hosted by the Entrepreneurship Club and Horn Entrepreneurship at the University of Delaware, brought a night filled with creativity, innovation, and entrepreneurial spirit on October 25th at the Venture Development Center. The annual competition, which was Halloween-themed this year, serves as a platform for budding entrepreneurs to share their game-changing ideas and receive feedback from a panel of experienced entrepreneurs.
The pitching students did not face a rigid, critical examination of ideas, but a supportive environment where innovative concepts could be explored. The event was not limited to those with fully developed business concepts; it welcomed anyone curious about entrepreneurship or seeking inspiration from the entrepreneurial community. Whether participants were looking to expand their knowledge of entrepreneurship or take their ideas to the next level, the Fall Pitch Party offered a valuable opportunity. Even for those who did not wish to pitch their ideas, the Fall Pitch Party provided a great way to become a part of the Horn Entrepreneurship community and get involved in the exciting entrepreneurial environment.
The competition featured a $600 prize pool, with third place receiving $100, second place receiving $200, and first place receiving $300. The winners were chosen by our panel of amazing alumni judges: Maggie Nelson, Shaun Gupta, and Garrison Davis. There were also superlative awards for Most Motivated, Most Interesting, Most Promising, and Most Creative chosen by the audience.
This year's pitches were a great showing of the innovativeness of UD students as a whole, with ideas spanning a wide variety of industries and business models. While each pitch was amazing, after a period of deliberation our judges were able to select three unique business concepts as winners.
Presenting your 2023 Fall Pitch Party Winners:
3rd Place - SafeSip by Mackenzie Frank
SafeSip is a straw that will change colors when interacted with a drug, helping individuals know if their drink is roofied.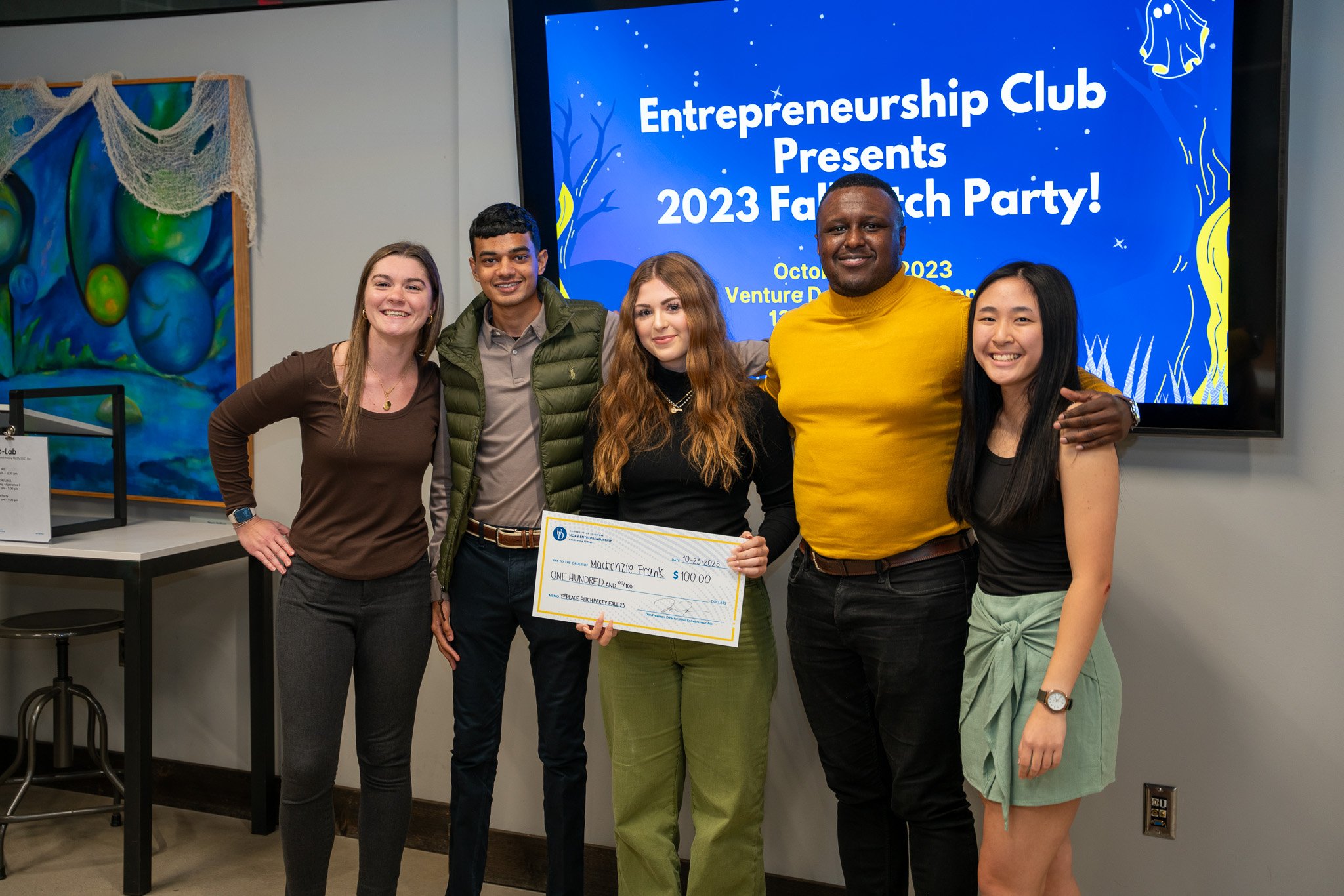 2nd Place-Arima Skincare by Arielle Mahugu
Arima Skincare sells handcrafted, natural, vegan, paraben-free, and cruelty-free skincare products.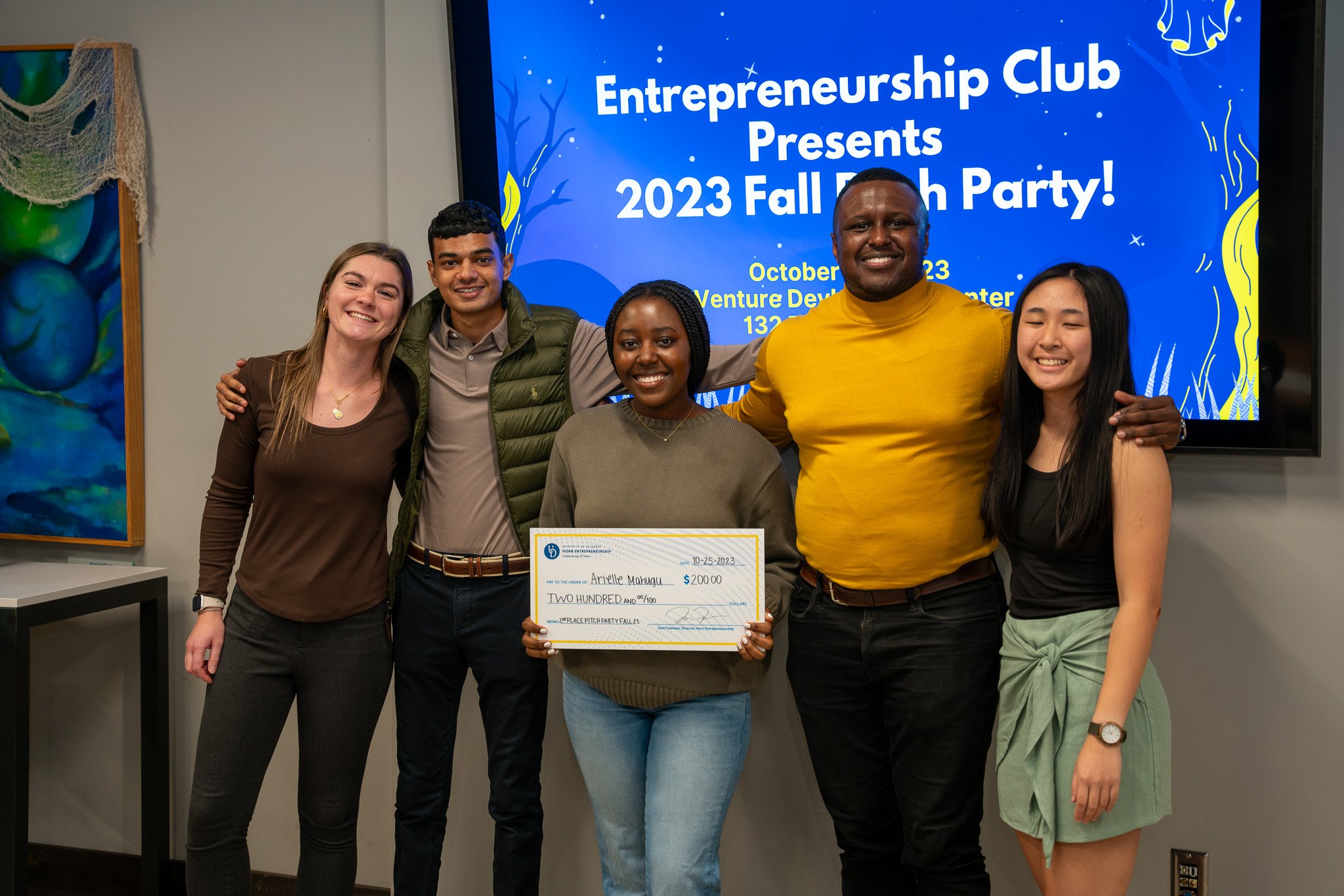 1st Place: Maker Pants by Jenna Tomasch
Maker Pants are one size fits most pants meant to protect the wearer or their clothing in potential hazardous or messy situations.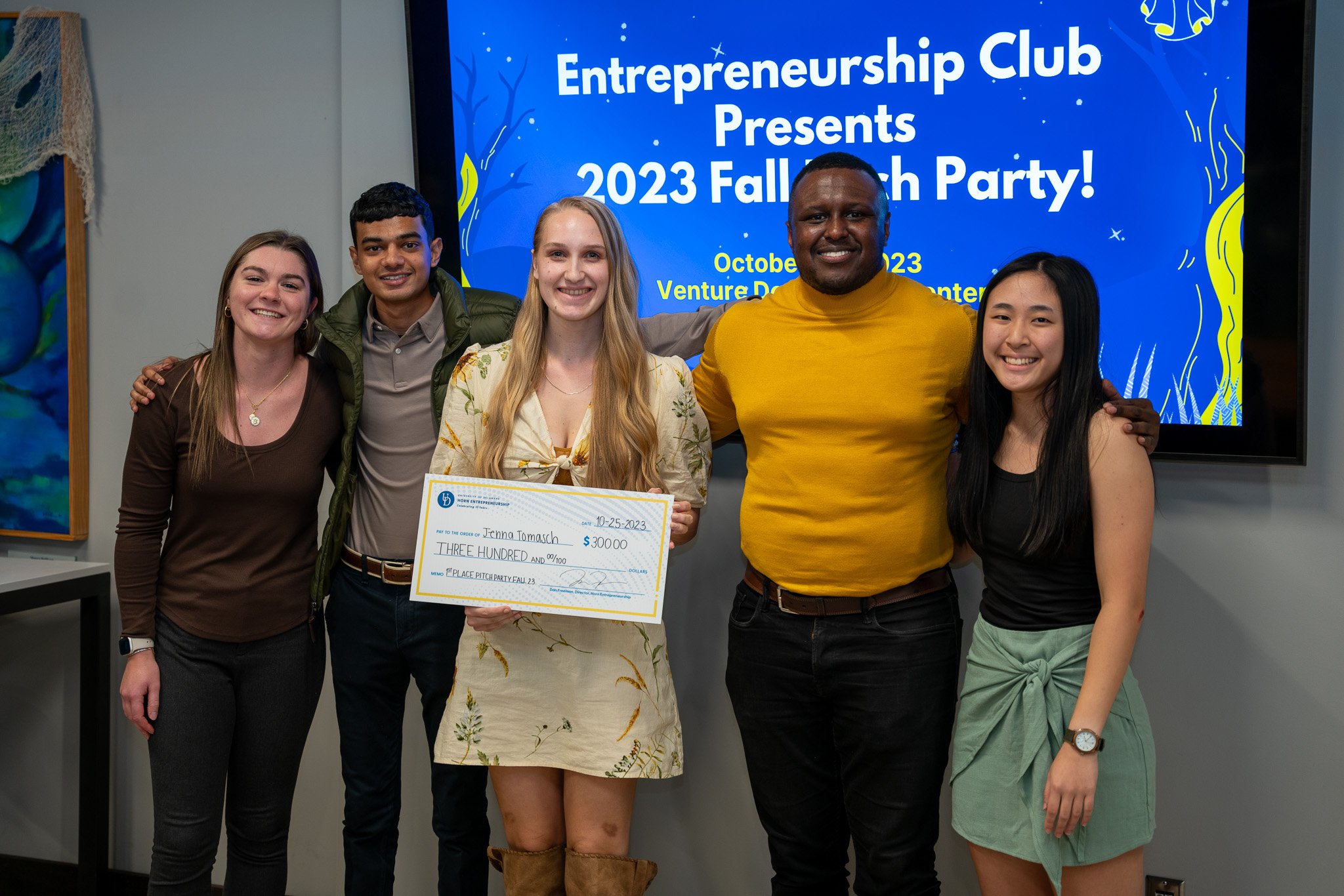 Congratulations to our Superlative Winners!
Most Creative: Simple Home Setup by Samantha Dorazio
Simple Home Setup is an app for people moving into a new home. You enter your city/zip and it gives you a simple questionnaire that goes through everything you might need to set up for your home.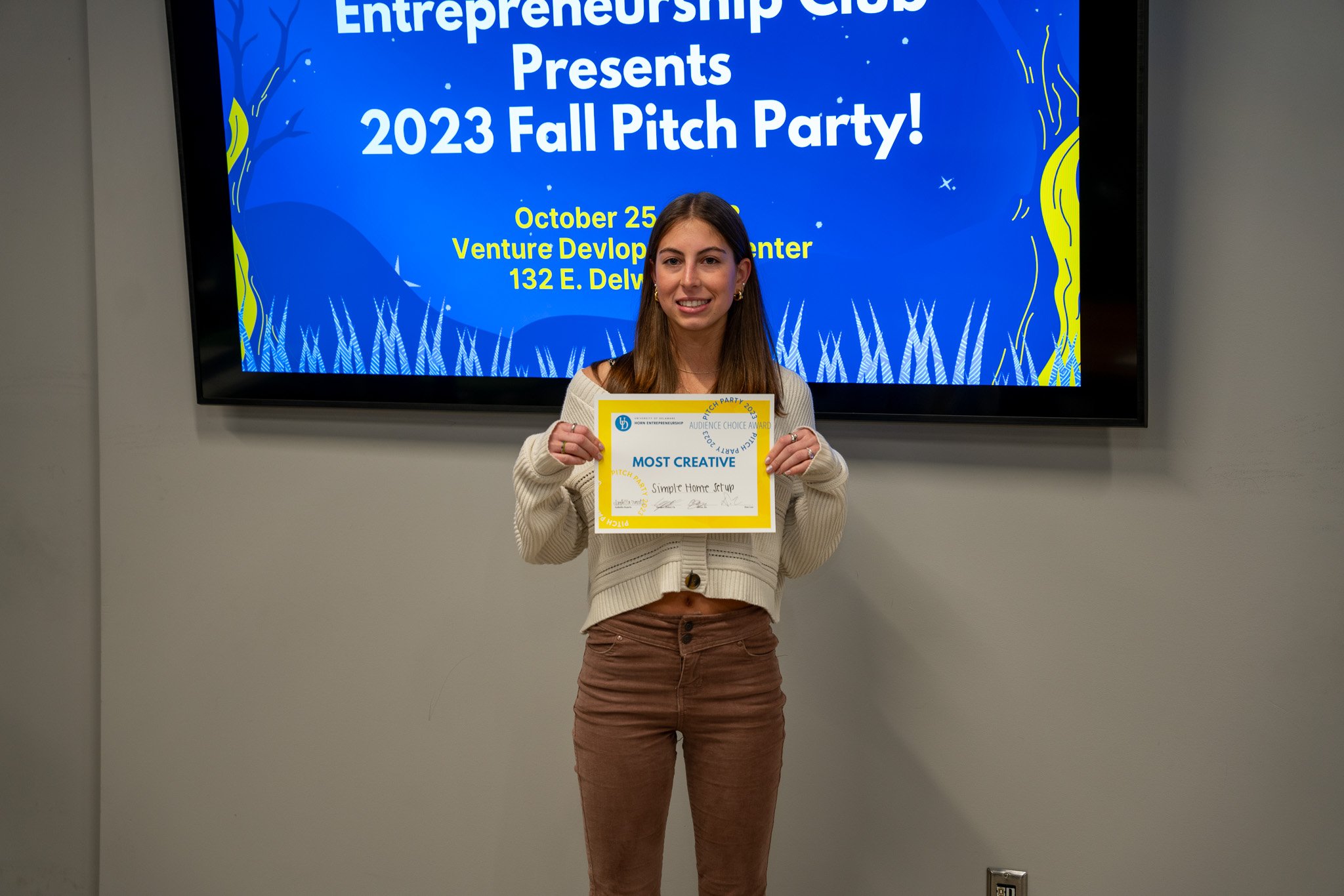 Most Promising: Safe Sip by Mackenzie Frank
SafeSip is a straw that will change colors when interacted with a drug, helping individuals know if their drink is roofied.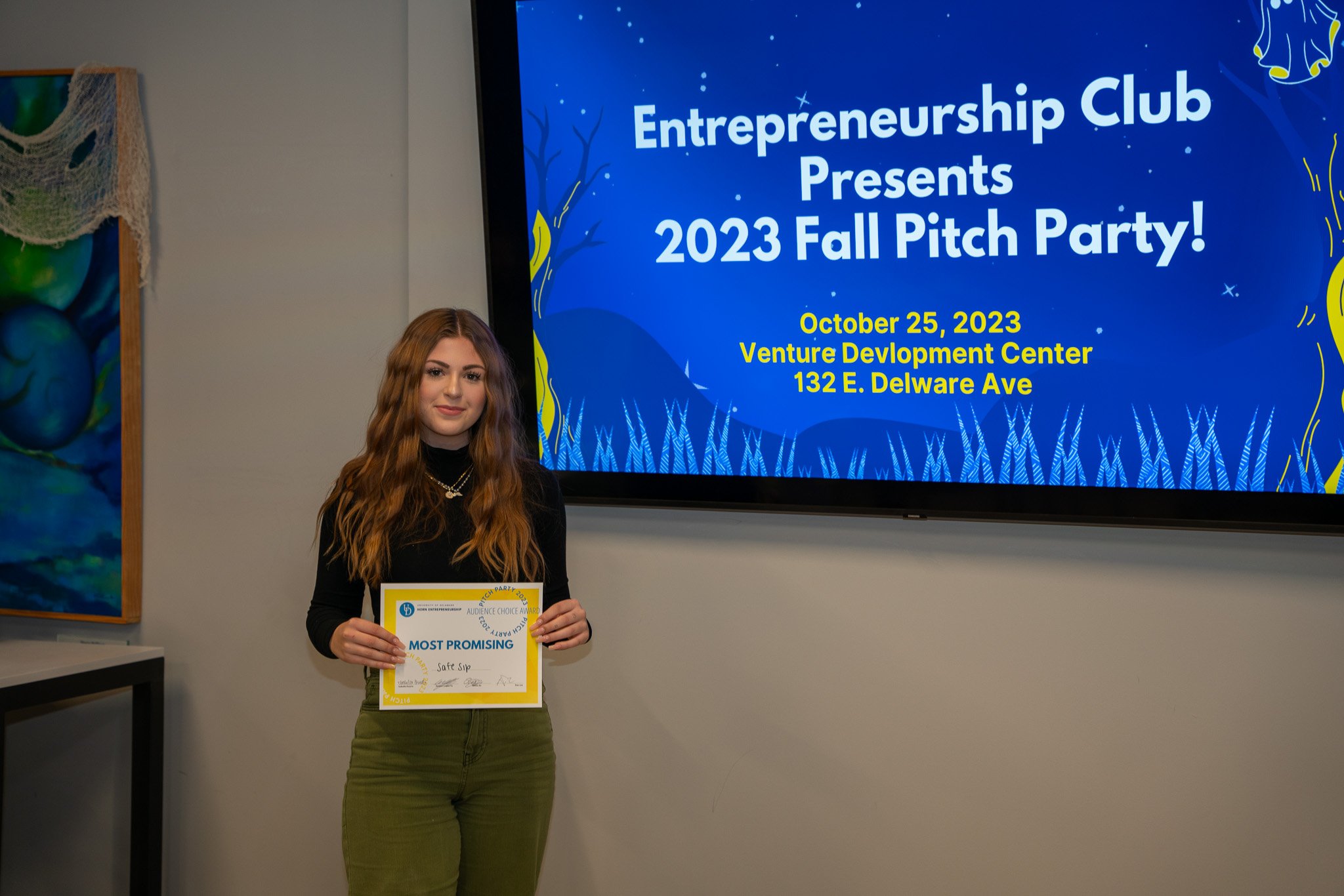 Most Interesting: Archaic Innovation by Cade Krueger
Leveraging generative AI and vector laser technologies to reduce pre-consumer textile waste with the goal of creating zero waste design.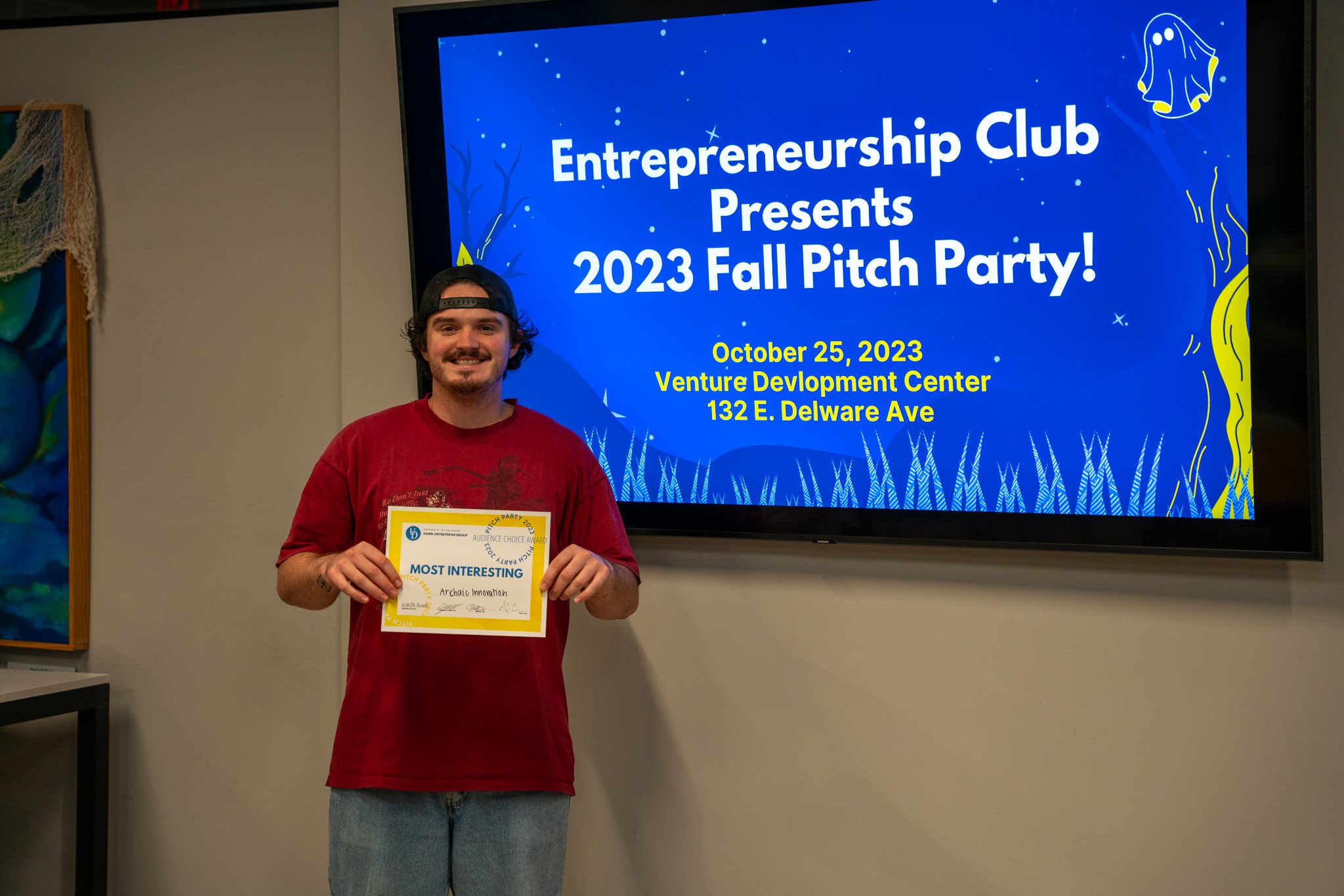 Most Motivated: Stop & Drop Shipping by Matthew Mizrachi and Drew Mcaleer
Stop & Drop Shipping specializes in providing seamless and stress-free relocation services, ensuring a smooth transition to your new home or office.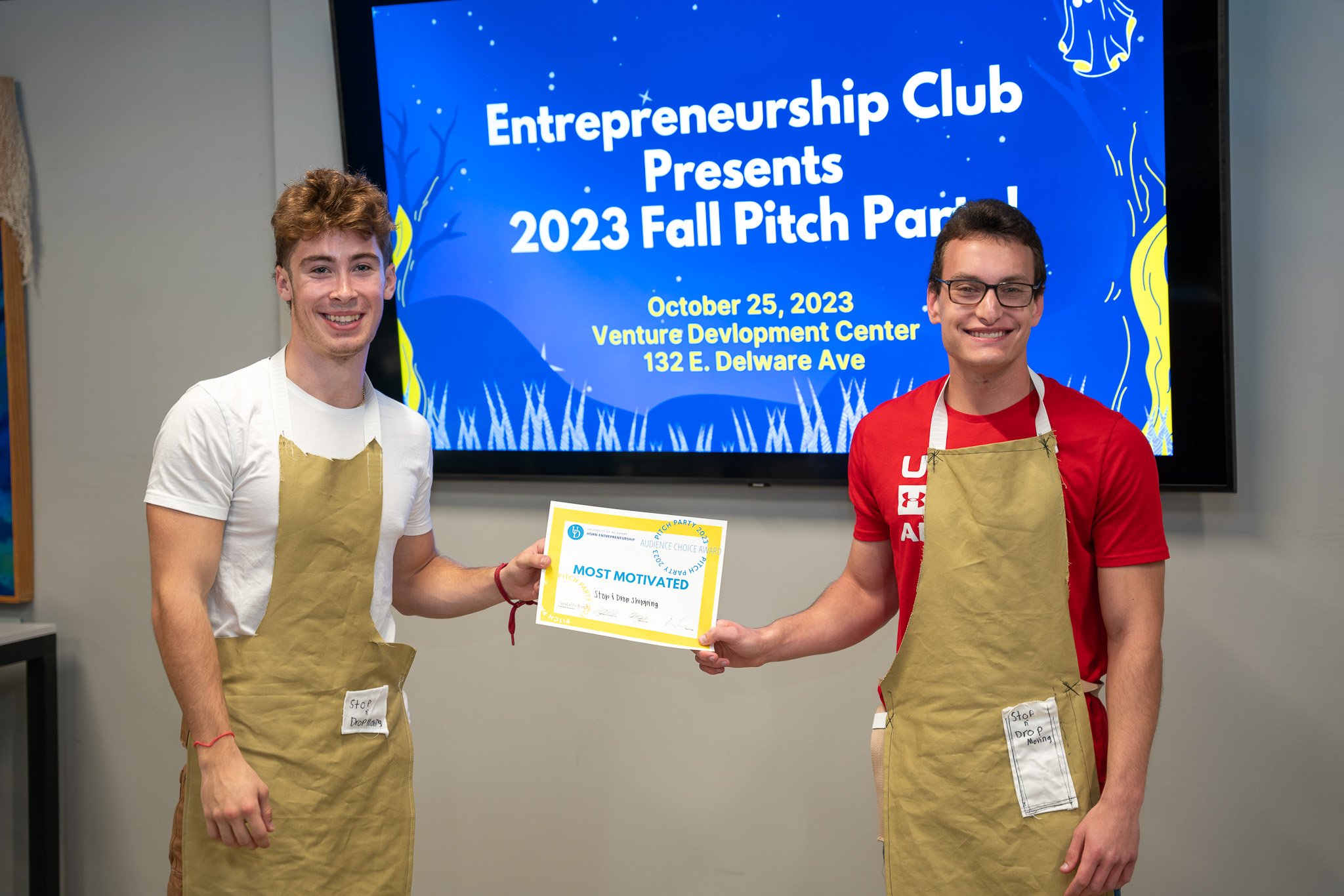 In retrospect, the Fall Pitch Party was a success in fostering innovation, promoting entrepreneurship, and building a supportive community for those with entrepreneurial dreams. This event showcased the community's commitment to the entrepreneurial spirit and provided a platform for students to take steps closer to realizing their entrepreneurial aspirations.
Thank you to everyone that came out to pitch or support!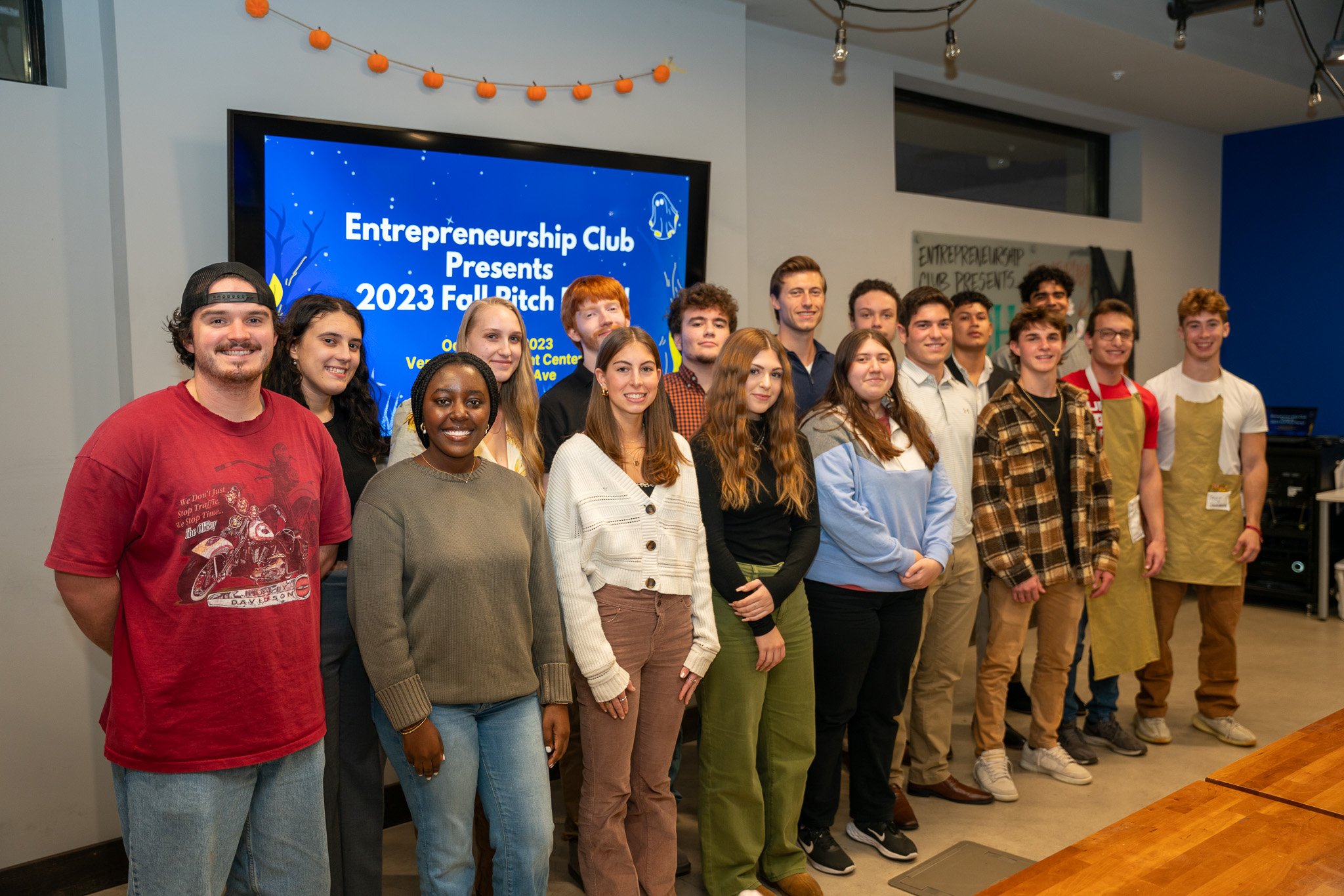 About Horn Entrepreneurship
Horn Entrepreneurship serves as the creative engine for entrepreneurship education and advancement at the University of Delaware. Currently ranked among the best entrepreneurship programs in the US, Horn Entrepreneurship was built and is actively supported by successful entrepreneurs, empowering aspiring innovators as they pursue new ideas for a better world.