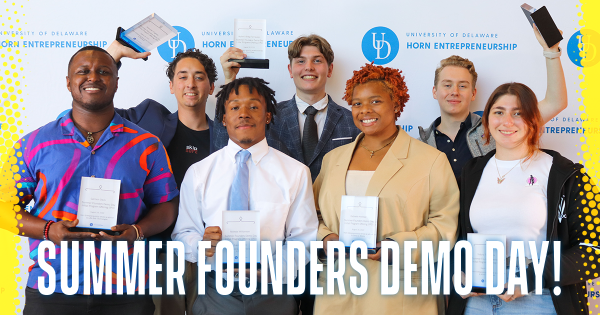 Horn Entrepreneurship's pre-accelerator program, Summer Founders, ended with Demo Day on August 18, 2022. Demo Day is a showcase for entrepreneurial students seeking help from our community. Held in-person for the first time in three years, the room was filled with University of Delaware alumni, former Summer Founders, Horn team members and notable entrepreneurs and business leaders. The agenda included presentations by the 2022 Summer Founders and selected Summer Founders alumni, a networking reception and award ceremony. The Summer Founders program includes all aspects of an accelerator except a financial investment, with cohort members receiving guidance from experienced entrepreneurs, advisors and mentors. The founders are also paid stipends to allow them to fully focus on their startup pursuits as long as they continue to demonstrate progress, much like how they might need to sell an investor on progress to get a next round of funding. Collectively, the Summer founders performed 1,431 interviews and were backed by over 80 advisors. Each one of these startups have significantly pivoted.
A recap of the ventures is below and a recording of Demo Day is available.
2022 Summer Founders
BonaFyde is an online platform that enables two way communication between an international highschooler and current college student, so that the international highschooler can get real insight into the way of life at that college to further prepare themself for a culture that may be different from their own. Nicholai has built relationships with 3 college consulting companies and is currently working with Versan to build BonaFyde's website. Nicholai has also conducted 60 student interviews with international students who would potentially be interested in this idea.
Elena G Beauty aims to provide all-natural hair care products specialized for the needs and type of hair for different ethnic groups. It also includes educational information on the ingredients and their benefits. Elena G. emphasizes enhancing hair, already beautiful without the temptation to use harsh chemicals and damaging hair tools. Gabby has done more than 30 interviews for her startup.
LBT is ushering in an inclusive clean energy future by building a micro investing app for local low and middle income community based solar projects. Its mission is to make sure that nobody is left behind in the transition to clean energy and that people of all income levels can benefit financially.
Lovv Events by Vlad Krylov
LOVV EVENTS organizes high quality charity parties to make helping ones in need easy and fun. Vlad is launching his MVP in September.
SkipRope
by Alexander Pugliese, Chris Liotta, Ethan Linder
SkipRope is the exclusive FastPass to the nightlife industry. SkipRope doesn't just get you to the front of the line, it delivers an exclusive customer experience that turns you into a VIP at your favorite bars & nightclubs. The Skip Rope team has conducted an impressive 106 interviews and has an advisory board, and a development team. Advisory board of Tony Biniaris, Sam Pugliese, and Fuasto Pugliese. Development team of Anthony Sette, Noah Salako, Abraham Salako, and Kenny Travato.
Ukraine-Russia Crisis non-profit by Greg Tarnavsky
Yours Close is a resource aimed at helping refugees from Ukraine find useful and easy-to-find information in the countries where they seek refuge from the Russian invasion. He has helped 3 refugees in-person and 7 virtual refugees.
Wind Therapy is motorcycle gear for women, by women. Victoria Tucciarone believes that every woman should be safe, no matter their size. She has a massive social media presence allowing her to use that platform to perform 1,108 interviews in total which may be a record!
Summer Founders Alumni
New to Demo Day this year was the presentations of former Summer Founders. They provided inspiration as well as a view of future possibilities and developments.
A.I. Whoo is a movement assessment tech company that provides virtual depictions of athletic movements. It analyzes an individual athlete's movement even on a team in a convenient way that can be done during athletic events to increase their performance or prevent injuries. Matt has traction in the regional market and is growing a global presence with strategic partnerships topping $1MM in the next year.
Alchemize is making athletic fight wear that is attractive and fits for women by women for the variety of disciplines in MMA. MMA is an umbrella of multiple fighting disciplines such as Brazilian Jiu Jitsu, Judo, Boxing, etc. Former Summer Founder Maya Nazareth has more than 3000+ customers, 20,000 women in her community, and 40% returning customers to her business.
Bison Ventures solves the problem of investors capitalizing multicultural and women owned businesses at 80% less than businesses overall. This lack of investment is the missed 4.4 trillion opportunity Bison ventures is capitalizing on. To solve this Bison Ventures partners with small businesses and technology startups to improve investment readiness and leverage technology to scale. Garry Johnson has currently raised $56,950 for his business.
Compass360 helps recovery support providers grow their teams and enhance their revenues through staffing and technology so they can provide long-term recovery support to their members. Recently Darian has increased his companies revenue to $125,000 annually along with acquiring 20 peer specialists for his company.
Note: Joel Amin, Jr., and Demetrius Thorn are also cofounders of Wilminvest, but were not present during Demo Day.
Wilminvest's mission is to increase the self-sufficiency, health, and happiness of families in Delaware by providing reliable housing, connections to social resources, and support from the community. They purchase and renovate houses in Wilmington that are vacant or distressed then lease the properties. Wilminvest recently partnered with NCALL to purchase an additional 5 homes, bringing the total number of homes in their system into the teens. The team has also created partnerships with Grey Fox Wealth and other investors to create more opportunities to grow.
About Horn Entrepreneurship
Horn Entrepreneurship serves as the creative engine for entrepreneurship education and advancement at the University of Delaware. Currently ranked among the best entrepreneurship programs in the US, Horn Entrepreneurship was built and is actively supported by successful entrepreneurs, empowering aspiring innovators as they pursue new ideas for a better world.