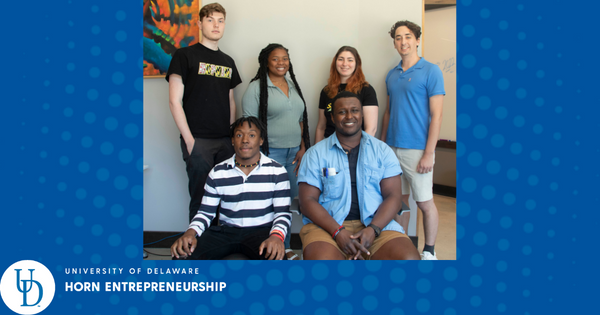 Personal Growth. Self Discovery. Overcoming Obstacles. These are the recurring themes during my interviews with the 2022 Summer Founders. Now mostly through the program, this group of young entrepreneurs have made strides working full time on their ventures.
Summer Founders is a 12-week program designed for students with early-stage startups to work on their ventures and receive a stipend, mentorship and education sessions to help develop their startups. The program culminates on August 18 at Demo Day. Led by Vincent DiFelice, Senior Instructor of Entrepreneurship & Faculty Director of Venture Support, Summer Founders also draws upon the experience and knowledge of many alumni, industry leaders and seasoned entrepreneurs. I recently chatted with each Summer Founder. Below is a summary of their startups and progress so far:
BonaFyde by Nicholai Williamson
Problem: BonaFyde tackles the problem of high school students not being able to get authentic insight into a college before they pay the money to attend. Bonafyde aims to give the good, the bad, and the ugly of a college without it being a chore during the process.
Progress: Nicholai's idea of success in the beginning was that he wanted to build the platform of Bonafyde, but this has changed as a result of talking to potential customers and learning the customer discovery process in Summer Founders. This taught him that he needs to be passionate about the problem and not the solution.
Q: What does success mean to you?
A: "Success means self discovery - using my startup to discover what my true passions are and what industry I belong in."
Little Bob Technologies by Garrison Davis
Problem: Little Bob Technologies is filling the gap in fundraising for community solar projects through crowdfunding so low- to middle-income communities are not left behind in the green energy transition.
Progress: Garrison Davis learned a lot about the market for crowdfunding solar projects during the Summer Founders program.
Q: What does being an entrepreneur mean to you?
A: " As an entrepreneur, it's not enough just to want to be rich, you genuinely have to eat, sleep, and breathe this problem you're trying to solve. I see entrepreneurship as a service to others"
Elena G Beauty by Gabrielle Holliday
Problem: Elena G Beauty aims to provide all-natural hair care products specialized for the needs and type of hair for different ethnic groups. It also includes educational information on the ingredients and their benefits. Elena G. emphasizes enhancing hair, already beautiful without the temptation to use harsh chemicals and damaging hair tools.
Progress: Through Summer Founders, Gabrielle learned that it's important to get input from advisors.
Q: How has your perspective on entrepreneurship has changed since the beginning of Summer Founders?
A: "I didn't realize how much of an impact other people have on your startup. The advisory sessions are important because I get input from other people to develop and improve my business model."
SkipRope by Alexander Pugliese, Chris Liotta, Ethan Linder
Problem: SkipRope is a company solving the problem of waiting in lines for countless hours, especially going to conventions, bars, and clubs. The solution is a non-replicable pass to a venue, similar to a VIP pass. These passes can be traded between users on marketplaces through digital wallets and allows customers to determine the value of the asset.
Progress: Skip Rope has evolved through the Summer Founders through Alex learning the value of teamwork along with working within his means.
Q: After asking Alex what the most valuable lesson you learned throughout the Summer founders program he replied:
A : "One of the most important things I learned during my time at Horn is working within your means. I started Summer Founders as a solo member and grew to a team of four each with a different skillset so SkipeRope can be the best it can be."
Wind Therapy Gear
Problem: Wind Therapy Gear is addressing the size inclusivity of women's motorcycle gear.
Progress: Through customer discovery, Victoria received validation that the problem exists as well as belief in herself to be an entrepreneur.-Almost!
Q: How has your perspective changed throughout the program?
A: "It opened up a whole new realm of possibilities for me. I went from 'this is going nowhere' to considering a MVP."
Ukraine-Russia Crisis non-profit by Greg Tarnavsky
Problem: Greg Tarnavsky founded a nonprofit that helps Ukrainian refugees find resources in their countries of refuge by helping remove barriers such as language.
Progress: Greg refined his pitch and gained knowledge of nonprofit organizations.
Q: What advice helped you the most?
A: "Many philanthropic investors mentioned that it's unsustainable to run a nonprofit based solely on grants and donations. One of the best pieces of advice was from Garry [Johnson] - using merchandise to raise funds for the nonprofit."
Join us for Demo Day on August 18 to hear from these student entrepreneurs. In addition to their pitches, there will be a networking session where you can meet and talk with each Summer Founder.
Author's note - the Summer Founders mentioned so many names of people who have helped them this summer. We couldn't include them all. Thank you to everyone who spent time shaping the next generation of entrepreneurs.
About Horn Entrepreneurship
Horn Entrepreneurship serves as the creative engine for entrepreneurship education and advancement at the University of Delaware. Currently ranked among the best entrepreneurship programs in the US, Horn Entrepreneurship was built and is actively supported by successful entrepreneurs, empowering aspiring innovators as they pursue new ideas for a better world.