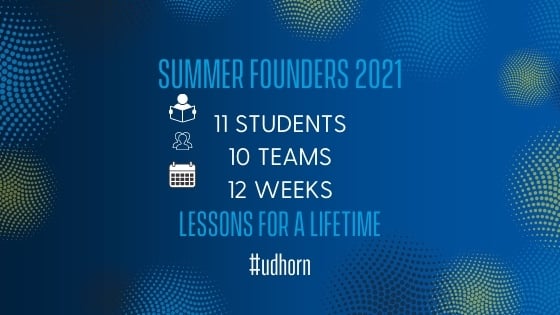 Summer Founders 2021 Teams Announced
Ten University of Delaware student startup teams have been selected to participate in Summer Founders 2021, Horn Entrepreneurship's intensive 12-week pre-accelerator for student ventures.
Throughout the summer, founders will be working to validate and propel their startup models, seek customer validation, and meet with expert alumni and community partners in related fields through weekly mentoring and advisory sessions.
Summer Founders will conclude with Demo Day in August, where each team will get to pitch their idea to members of the local business community supporting economic development.
The startups participating in Summer Founders 2021 currently includes:
Cybersec Labs by Casey Rock, CE '22, Computer Science: Cybersec Labs is identifying problems with the cybersecurity education space and is providing the market with a fun and realistic way to learn skills to defeat hackers.
Stemmer, by Sam Goetz, CE '21, Mechanical, Electrical, and Computer Engineering: Stemmer is seeking to solve a problem that occurs when music audio engineers waste time organizing files that artists send them to "mix" by automating this process.
Spray Less, by John Mouser, BE '21 and David Breyla, BE '23; Entrepreneurship and Entrepreneurship: Spray Less is a startup that specializes in vinyl car wraps and graphic design.
QuickDress, by Curtis Aiken III, AS' 22, Communications: A startup that both helps retailers know what is in potential customers' closets and assists customers in knowing what is in their closet inventory.
First State Fund, by Mohammad "Mo" Mahmood, AS '23, Entrepreneurship minor: First State Fund provides entrepreneurs with the resources they need to succeed in the state of Delaware.
SYNO, by Carlson Cheng, CE '23, Computer Science, Neuroscience, and Cognitive Science: SYNO is an innovative streetwear startup. AR brings the next level of self-expression to fashion. When users can customize clothes' visual effects through a Snapchat-like camera.
Next Step Global Healthcare, by Colton Keetley, BE '23, Entrepreneurship: Next Step Global Healthcare is looking to solve the problem of healthcare business owners not being able to sell their small to medium size businesses.
Safe Smile, by Domenic Messimo, BE '22, Entrepreneurship: Special Space is a safe online platform made for individuals with special needs to grow socially and strengthen their communities.
Common Grounds, by Lynn Roberts, CHS '23, Molecular Biology, Biotechnology minor: Common Grounds is an in-person space that connects people from diverse cultural backgrounds in a fun and engaging way. The world is changing and Common Grounds will be a safe space for all communities to get the conversation brewing.
Grow the Game Southeast, by Josh Bayer, BE '23, Entrepreneurship: Grow The Game Southeast, will serve to integrate the game of lacrosse into marginalized Southeast DC communities with an opportunity to experience, and learn the game.