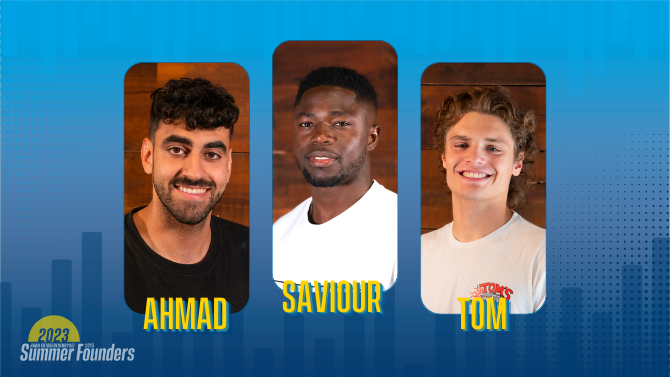 As Summer Founders Demo Day gets closer and closer, get to know a little more about our amazing cohort members and their ventures. Ahmad, Saviour, and Tom are all about growing the impact they can have on other people, individually helping others through marketing, education, and cars. Read on to learn about their stories, the value their startups bring, and their focuses for this summer.
Ahmad Hazzaa, Founder of AllOne
An entrepreneur from a young age, Ahmad Hazzaa had his fair share of ventures in industries like dropshipping, jewelry, and real estate before choosing to focus on AllOne, a consultative marketing agency designed to help small to medium-sized businesses succeed. Ahmad boasts a diverse background that includes time living in Egypt, France, and California and proficiency in French, Arabic, English, and Japanese, contributing towards his tremendous ability to communicate and encourage dialogue between different people and entities.
Although Ahmad's desire to be an entrepreneur had always been steadfast, it was his engagement at the Venture Development Center within the Horn Entrepreneurship community that crystallized his dedication to AllOne. Initially employing tools and strategies that would eventually underpin AllOne in his prior ventures, Ahmad's realized through a data-driven entrepreneurial approach the value of his marketing ability in itself. Notably, Ahmad's participation in Vince DiFelice's esteemed Startup Experience and Business Accelerator courses cemented his trajectory and propelled him toward his present course, culminating in his application for the Summer Founders program. As he continues to expand his network and cultivate collaborations with fellow marketing firms such as Diginuity, Ahmad's horizons are broadening, presenting a wealth of new opportunities to anticipate and embrace.
Using a unique set of marketing tools and strategies, Ahmad and AllOne use automation to make the customer experience as easy and attractive as it can be. With a specialty in reviews, customer interactions, lead generation, payment processing, and messaging, AllOne is the perfect way for small to mid-sized businesses to increase customer engagement. These businesses often lack the extensive resources and expertise required to effectively navigate the complex world of modern marketing, making partnering with a dedicated marketing firm and gaining access to a team of seasoned professionals a perfect fit for both sides. This enables businesses to not only enhance their brand presence and engage their target audience more effectively but also to achieve sustainable growth and stay competitive in today's dynamic marketplace.
Saviour Anyagri, Founder of Saviour Organization
Saviour Anyagri's journey as an entrepreneur commenced nearly two decades ago, spanning across continents and driven by a profound purpose. Raised in the impoverished village of Yabrago in Garu, Upper East Ghana, alongside his parents and three older brothers, Saviour and his family faced a huge problem in a lack of access to education. This fundamental challenge later ignited the inception of his startup, Saviour Organization.
To ensure Saviour and his brothers received an education, Saviour's parents were forced to make four-hour daily bike rides, traversing across two rivers, to bring their children to the closest school. Saviour's prowess in soccer eventually led him to a football club, cultivating his passion until he garnered the attention of Right to Dream, a soccer academy in Ghana's Eastern region. There, he received invaluable training, education, and nourishment, culminating in a scholarship to The Hotchkiss School, a prestigious boarding institution in Connecticut, USA. Guided by the support of his host families, the Allyn's and the Fleisher's, Saviour progressed to Wofford College on a full soccer scholarship before transferring to the University of Delaware. While at UD, the upstanding student-athlete continued his soccer career and completed his bachelor's degree in Human Relations & Administration, and he is now in the MBA program with a concentration in Entrepreneurial Studies.
To support youth in Ghana and Africa as a whole, Saviour established Saviour Organization to provide resources and help students find schooling in the way that soccer helped him. What initially began as sporadic soccer tournaments during infrequent trips home to see family has since evolved into a multi-faceted venture at the intersection of sports and education, one that envisions constructing schools, donating vehicles, and hosting sports events throughout the year. Regardless of the approach, Saviour's dedication to making a difference is unwavering. To help advance the cause, Saviour has assembled a team of 8 individuals, including cofounder Seidu Shamsudeen, family members, his host mom, friends, and others passionate about the noble project. A pivotal milestone came on March 23, 2023, when they unveiled a tent structure designed to offer free education to children deprived of formal schooling. Through this initiative, these eager students are exposed to an array of subjects, kindling a thirst for knowledge that transcends their circumstances.
Saviour's engagement with Summer Founders serves as a conduit for continuous growth and networking, aligning with his goal of fostering education and opportunities within rural Ghana. With a steadfast spirit, he persists in his journey, both as a learner and a leader, striving to illuminate paths toward enhanced education and brighter prospects in underserved areas.
Thomas Stauffer, Founder of Tom's Refurb
Raised amidst classic cars in Rising Sun, Maryland, Thomas Stauffer's lifelong passion for automobiles was ignited from the very start. His early memories involve being chauffeured to preschool in a '66 Ford Mustang, courtesy of his father. Starting off with simple car sketches, Tom's affinity for mechanics blossomed remarkably; by the age of 13 he had started a small engine repair shop by the name of Tom's Refurb. Fuelled by the venture's success, he took the profits to buy his first car, a 1967 Ford Mustang that he appropriately christened "Noise Complaint" and meticulously rebuilt from the frame up. His passion and success within the automotive business grew with that engine repair business throughout his time in high school before eventually shifting into buying, selling, and investing in cars, which he found to be much more lucrative.
Soon after came the Tom's Refurb brand, which aims to "Keep Hot Rodding Alive" through unique, relatable automotive content. As newer generations gravitate towards other types of cars like imports or trucks, it's increasingly difficult to find people who appreciate vintage cars as well as their restoration and modification, and even more so to find those with the ability and finances to practice the craft. Herein lies the significance of Tom's work – via platforms like Youtube and TikTok, he dispels the notion that hot rod culture is inaccessible or unaffordable, while also showcasing its inherent coolness and entertainment value. Beyond amassing a substantial online following exceeding 500,000, Tom's multifaceted journey has seen him acquire a car dealership license and establish Speedy's Equipment, LLC, a venture catering to heavy-duty trailers and light equipment. Propelled by a trinity of passion encompassing automobiles, engines, and machinery, he has adeptly channeled his hobby into a thriving profession.
This summer, Tom has committed himself to refining and growing his businesses through consistent labor and constant focus. Daily filming, editing, and weekly content releases have propelled his social media presence to resonate with an audience surpassing half a million regular viewers, with viral videos further extending his reach. However, his goals for the summer go far beyond just increasing his audience on Youtube and TikTok. The synthesis of his three ventures into a unified entity – potentially under a parent company structure with property acquisition and investor involvement – stands out as a prominent ambition. In recent stride, he also launched a Tom's Refurb merchandise line, featuring stickers, sunglasses, vanity plates, tee shirts, jackets, and hats. The newly introduced line of merch, which began shipping on August 10th, echoes the messages of the Tom's Refurb brand, elegantly adorned with the business' logo and the resounding motto of "Keep Hot Rodding Alive". With so much accomplished already, we eagerly await to see the final product of a summer of hard work and dedication at the Summer Founders' Demo Day.
Register here to attend the Summer Founders Demo Day on August 17.
About Horn Entrepreneurship
Horn Entrepreneurship serves as the creative engine for entrepreneurship education and advancement at the University of Delaware. Currently ranked among the best entrepreneurship programs in the US, Horn Entrepreneurship was built and is actively supported by successful entrepreneurs, empowering aspiring innovators as they pursue new ideas for a better world.