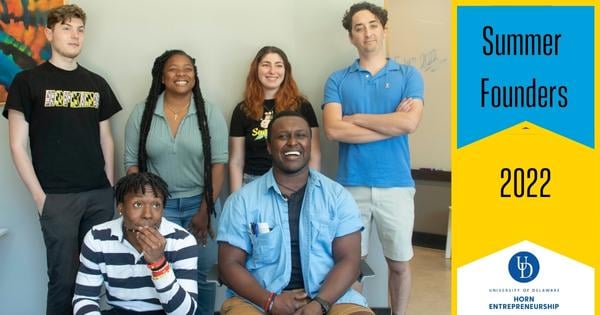 The summer founder teams at orientation on June 6, 2022, await a full 12 weeks ahead of them.
This summer six teams have been selected to participate in Horn Entrepreneurship's Summer Founders, a 12-week pre-accelerator program for student ventures.
The Summer Founders opportunity provides its participants with a combination of training sessions and resources, coaching, mentorship, and events to facilitate their venture's journey from idea to launch. At the end of their training in August, the teams will be prepared to present for demo day, where each team will pitch their ideas to members of the local business community.Venture startups participating in Summer Founders 2022 include:
Wind Therapy Gear: Victoria Tucciarone, College of Arts and Science, Class of 2023
Wind Therapy Gear's goal is to improve the size inclusivity of women's motorcycle gear
starting with jackets sizes 1x to 6x.
Little Bob Technologies: Garrison Davis, College of Business and Economics, pursuing his master's degree in International Business.
Two non-UD team members Dakota Pekerti and Alisha Pegan are also working alongside Garrison in this startup. Little Bob Technologies is enabling the rapid transition to renewable electricity by creating a crowdfunding platform to make funding and organizing community solar and energy storage projects easier than ever.
Elena G Beauty: Gabrielle Holliday, College of Business and Economics, Class of 2023.
Elena G. will provide all-natural hair care products specialized for the needs and type of hair for different ethnic groups. It will also include educational information on the ingredients and their benefits. Elena G. emphasizes enhancing hair, already beautiful without the temptation to use harsh chemicals and damaging hair tools.
2Web3: Alexander Pugliese, College of Business and Economics, Class of 2022.
2Web3 is a B2B company providing fully managed blockchain solutions to capitalize on the immense opportunity the technology presents, such as solving their business problems and boosting their model.
BonaFyde: Nicholai Williamson, College of Business and Economics, Class of 2025.
BonaFyde tackles the problem of high school students not being able to get unbiased insight into a college before they get there. BonaFyde aims to be an anonymous platform where high schoolers can hear what college students are saying about their respective colleges and pose their specific questions.
Ukraine-Russia Crisis non-profit: Greg Tarnavsky, University Studies, Class of 2023.
A foundation that will help Ukrainian refugees find help in their countries of refuge. The startup will address the issue of the lack of information available to Ukrainian refugees.
About Horn Entrepreneurship
Horn Entrepreneurship serves as the creative engine for entrepreneurship education and advancement at the University of Delaware. Currently ranked among the best entrepreneurship programs in the US, Horn Entrepreneurship was built and is actively supported by successful entrepreneurs, empowering aspiring innovators as they pursue new ideas for a better world.