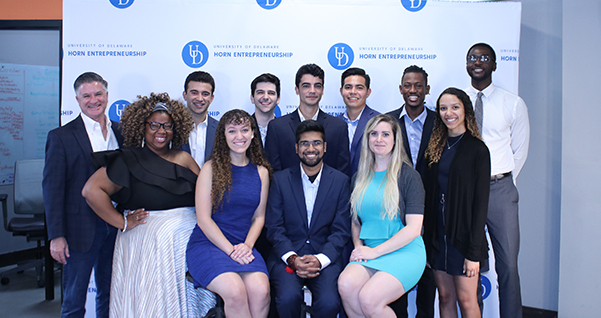 The Summer Founders teams convened one last time on Tuesday, August 20, at the Venture Development Center for the 2019 Demo Day. The eight startup teams worked diligently all summer on their respective ventures, and each was able to showcase that hard work through their individual presentations. Along with the Summer Founders teams, the Venture Development Center was filled with potential investors, UD alumni, and other members of the Horn Entrepreneurship community.
"Demo Day is probably one of the proudest days I've experienced. It's awesome to not only see the students' ideas pitched so flawlessly, but also to see all of the alumni and former program members come out to support them," said Garry Johnson, a graduate of the Summer Founders program from years past.
Summer Founders is a 12-week pre-accelerator program for students with startups powered by the University of Delaware Horn Entrepreneurship. The program provides some funding to allow students to develop their businesses and teaches students how to manage themselves in professional settings. Demo Day is the culmination of all the time and work the student teams and their mentors invested in the program. Teams had their own displays stationed throughout the Venture Development where they were able to discuss their ventures and network both before and after individual pitches were given.
According to another Summer Founders graduate, Peter Fomin, the program is only getting better. "This group of mentors and entrepreneurs was the best year yet, and I see Summer Founders as becoming more and more refined every year."
2019 Summer Founders Participants
360VR Technology: Founder Suryansh Gupta, College of Engineering, Computer Science, Class of 2020. 360VR Technology is a virtual reality and drone solution company with an emphasis on creating technological solutions to make vital information available to first responders.
EmpowHER: Founder Amanda Monachelli, Alfred Lerner College of Business and Economics, Entrepreneurship and Technology Innovation, Class of 2021. EmpowHER is a women's undergarment venture that recognizes that many women have asymmetrical breasts and looks to provide comfortable, well-fitting undergarments to women of all shapes and sizes.
Little Brother: Founder James Mesaros, College of Arts and Sciences, Philosophy, Class of 2020. A cybersecurity venture with a concentration on protecting personal conversations, Little Brother develops new technologies that secure private conversations in.
Snoop: Founders Andrew Cercena, Lerner College of Business and Economics, Entrepreneurship & Technology Innovation and Finance, Class of 2021 and Nick Novoa, Lerner College of Business and Economics, Marketing, Class of 2021. Snoop helps students trying to decide which college to choose and their families by providing in-depth services that inform them about what schools are really like to attend.
Compass: Founder Darian Elmendorf, Lerner College of Business and Economics, Entrepreneurship & Technology Innovation, Class of 2019. Compass is a web platform that provides peer support to individuals struggling with mental health conditions and guides them towards certified specialists so they can get the help they need.
The SEWcial Cafe: Founder ChaCha Hudson, College of Arts & Sciences, Fashion & Apparel Studies, Class of 2019. The SEWcial Cafe is a community sewing space made to be a place for women to create, collaborate and develop handmade products in a relaxed and inspiring environment that encourages innovation.
Potluck: Founders Abu Kamara, College of Arts & Sciences, Mathematics, Class of 2020 and Hope Vega, College of Health Sciences, Nutrition and Dietetics, Class of 2020. Potluck is a grocery and snack delivery service for ethnic foods that partners with small ethnic grocery stores to make foods available that would not usually be as accessible for international students and communities.
Fash'IN': Founder Kelsey Kosinski, College of Arts & Sciences, Fashion & Apparel Studies, Class of 2019. Fash'IN' is an innovative clothing brand focused on making comfortable, fashionable clothes that people of all shapes, sizes and ability levels can wear so that people with disabilities can find clothing that fits, is stylish and can be put on independently.