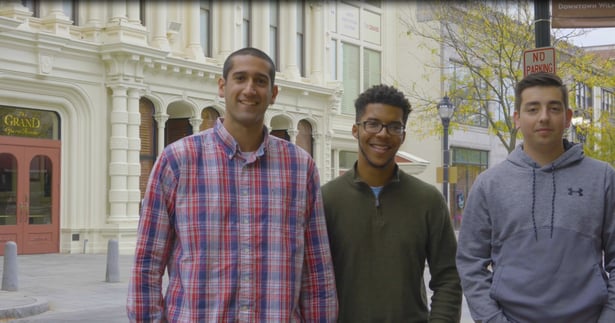 Jason Bamford recognized a need for a more immersive experience in entrepreneurial education at the University of Delaware and three months after a compelling conversation with Vince DiFelice, the Horn Entrepreneurship Summer Founders pre-accelerator program was born.
"The idea for Summer Founders started out in University Innovation Fellows," said Bamford, a member of the Stanford program that 'empowers students around the world to become agents of change in higher education.' "The work we were doing with UIF was about trying to address gaps in the entrepreneurial ecosystem and we found a real lack of full-time summer programming for students to work on their ventures with funding."
The problem was one Bamford was familiar with, as he had been desperately trying to sink himself into a venture throughout his time at the University, but found himself struggling to find funding, connections and in-depth guidance. The junior Biomedical Engineering major approached Vince DiFelice, Manager of Venture Programs at Horn Entrepreneurship, to describe his findings with UIF, and why students like himself needed the intensive programming.
"I really wanted to help students interested in starting a venture with a consistent, real, full-service accelerator," said Bamford. "I took my findings about the gap in the programming to Vince and he had been working on the problem himself and I think the conversation really served as some motivation to get the program going. It was a wild three-month turnaround."
The conversation occurred early in the spring of 2016 and the Summer Founders program ran with eight teams in the summer of the same year. Participating students and teams, instead of summer jobs or vacations, opted for the funded 12-week pre-accelerator to work on their ventures, connect with mentors at weekly meetings, dive into educational workshops and receive guidance from an adviser.
The program, now in its fourth year of operation, has produced a near 70% launch rate from its list of ventures, a promising figure fitting for the University's precedence for innovation. The success, according to Bamford, comes from the community of entrepreneurs dedicated to bringing in the next generation of innovators and creators.
"Summer Founders is where I met all of my mentors and it was insanely valuable, to bring in successful people twice a week and try to connect with them and pick their brain to learn how to better yourself and your venture," said Bamford. "The mentors come from people in your niche and it allows you to really get close to the problem and find the best solution. I still talk to all of the contacts in my book from Summer Founders to this day."
Summer Founders provided an impactful growing experience for Bamford and his venture, GeoSwap, which went on to win first prize at Hen Hatch 2017 and provide Bamford and his teammates post-graduation positions. Of the ventures that have gone through the Summer Founders program, 90% of founders have gone on to find professional and entrepreneurial positions within their field of interest. The success is shared amongst the Horn Entrepreneurship community and most founders return to mentor the next class of entrepreneurs.
"I really can't describe how incredibly impactful mentors were for me and my venture and my broader life experience," said Bamford. "It's really inspired me to come back each year to work with and mentor the next wave of student entrepreneurs, to inspire more positive change and give back to the wonderful community of doers that helped me enjoy the challenge of starting a venture."
The Summer Founders program is accepting applications on a rolling basis for 2019. Anyone with an idea may apply here. Those interested in exploring more of the Horn Entrepreneurship program offerings can email hornprogram@udel.edu to set up a consultation.
About Horn Entrepreneurship
Horn Entrepreneurship serves as the University of Delaware's creative engine for entrepreneurship education and advancement. Built and actively supported by successful entrepreneurs and thought leaders, Horn Entrepreneurship empowers aspiring innovators and entrepreneurs as they pursue new ideas for a better world.