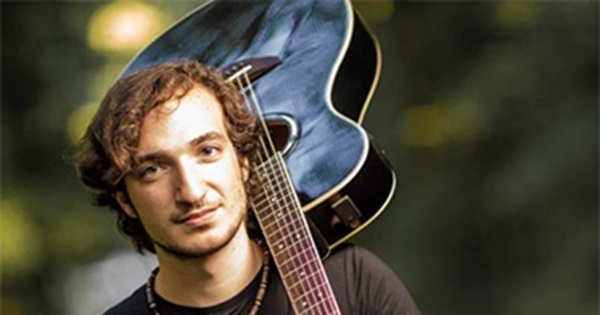 Mariano Di Gabriele, Entrepreneurship and Technology Innovation Class of 2018, has utilized classroom skills to help his singing and songwriting career. The Wilmington raised musician just released his debut EP, "Thicker Skin", on streaming services SoundCloud and Spotify. The debut project includes the charity track "Endlessly Devoted" which raised more than $200 for the B+ Foundation to fight childhood cancer. "Thicker Skin" is the culmination of years of writing and developing in Di Gabriele's time at the University of Delaware.
"I have gained a lot from the Entrepreneurship and Technology Innovation major," said Di Gabriele. "The biggest thing I have learned is that not everything is black and white; there is a lot of grey." He offered some advice in that, "Going into the creative process, there are no sure things and you have to experiment, you have to be willing to push the limit and break from tradition a bit."
"Thicker Skin" is inspired by Di Gabriele's journey through creation. He states that, "As long as one person comes out saying they got something out of it in a positive way. That's my ultimate goal." The artist went on to say that the going can be tough but persistence is key to seeing a final product that one can be proud of. Di Gabriele's participation in the Entrepreneurship and Technology Innovation major has given him hands on experience and different methods to approach songwriting and creativity.
This hands-on experience includes classes like Entrepreneurial Innovation, which involves coming up with a solution to a world problem. Di Gabriele had to design that solution in order to mitigate the issue. He further explained, "That course was us saying here's the problem, we'll study it as much as we can, and then use that information to come up with the best solution possible. It's the same thing with my music career, and my classes were very helpful in that regard."
"The classes are amazing with hands on learning that teach flexibility and freedom," said Di Gabriele. "Tony Middlebrooks has been an inspiration and a huge help to me personally as he has given me different strategies to come up with ideas throughout the creative process. I have used his idea of divergent thinking (applied knowledge) to generate as many solutions and thoughts as possible to explore some really interesting things in my music."
About Horn Entrepreneurship
Horn Entrepreneurship ignites imaginations and empowers world changers through educational offerings that emphasize experiential learning, evidence-based entrepreneurship and active engagement with entrepreneurs and other members of the broader entrepreneurial ecosystem. Through participation in Horn Entrepreneurship offerings, students gain the knowledge, skills, personal capacities, experiences, connections and access to resources needed to successfully manifest innovation and thrive in the rapidly changing world.