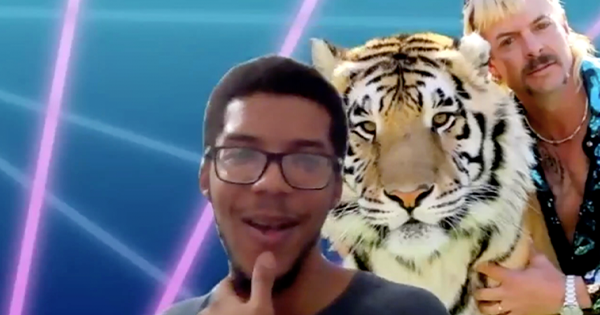 It's not everyday that you find yourself pitching in the presence of the "Tiger King" himself. But for participants of VentureOn's most recent spring pitch party, the Joe Exotic cameo was just one of the quirks that came with having to pitch virtually.
"What's up guys?" Horn Entrepreneurship alumni and pitch party judge Jordan Gonzalez, AS17, asked as he appeared on the screen, jokingly sporting a greenscreen background of the zookeeper turned Netflix phenom.
Meanwhile, Horn's own Administrative Assistant Sue Parkowski displayed a background of the Venture Development Center, evoking the bygone era when students and faculty could convene in the space to work and socialize.
"One of the best things that you guys can do – when the opportunity presents itself again for us to physically be next to each other – is to just get in that building and be there as much as you can," Gonzalez said of the VDC. "When you can be around like-minded individuals, get around them as much as possible."
Although there has been a change of venue, VentureOn's virtual pitch party continues to offer such an opportunity for students to once again be around like-minded, entrepreneurial, and problem-solving individuals. And while students could not pitch in person at the VDC, the slightly more relaxed and playful atmosphere of Zoom may have eased some of the pressures of having to pitch a business idea in 90 seconds.
"This was my first time really pitching over Zoom," Tom Rodgers, BE20, said. "I've done plenty of in-person pitches, but having to navigate it was interesting. I appreciated the view points, especially, from the judges that were recently in our position, so they really know where we're coming from, and know the struggles of just getting started."
With a total of 13 teams participating, totaling about 30 students, the virtual meeting room was filled with life. Participants populated the chat with supportive messages and advice after teams completed their pitches. And since all participants had computer cameras enabled, students could continue to gauge non-verbal feedback and reception from both judges and students in real-time.
Whereas past pitch parties were more question-and-answer based, the online format allowed for more immediate and direct verbal feedback from this semester's panel of judges, which included Gonzalez, Morgan Young, AS18, and Joel Amin, BE19, all recent alumni of Horn and seasoned VentureOn entrepreneurs.
Pitches ranged from small-batch, home-made vegan candies, to "Impasta Straws," a sustainable, pasta-based drinking straw alternative.
"It's obviously really hard to get everything you want to say into just 90 seconds," Susan Varghese, AS21, said, who had also pitched for the first time. "It's also a challenge in a good way."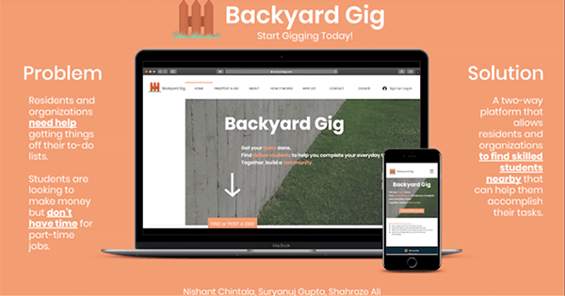 Since pitching and startup building is so heavily dependent on feedback, social distancing and quarantine can be particularly challenging for entrepreneurs who may have lost their outlets to share, pitch, develop, and refine ideas with friends and colleagues in person.
As a result, aside from having a chance to get some much-needed practice in pitching from home, continuing VentureOn offers a supportive mechanism for students and their ideas, as judges and students can update, interact, and celebrate successes with one another. The result is a resilient entrepreneurship community that has every intention of staying open for business.
3rd place was given to Backyard Gig by Nishant Chintala, BE20, Shaun Gupta, CE20, and Shahroze Ali, CEOE22, with 2nd place subsequently going to Apprentice Marketers by Tom Rodgers. 1st place and the grand prize of $750 was ultimately rewarded to Pickup Sports by Mike Meola, BE23, as the announcement of the winners was met with both physical applause and clapping emojis.
"It's special just to be here to try to help you guys, and we're here for you," Vince DiFelice, a senior instructor of entrepreneurship, said. "People sometimes ask, 'Why does Horn do as well as it does?' And I say, 'It's because we just do what's right, and that's what's best for the student."
About Horn Entrepreneurship
Horn Entrepreneurship serves as the creative engine for entrepreneurship education and advancement at the University of Delaware. Currently ranked among the best entrepreneurship programs in the US, Horn Entrepreneurship was built and is actively supported by successful entrepreneurs, empowering aspiring innovators as they pursue new ideas for a better world.