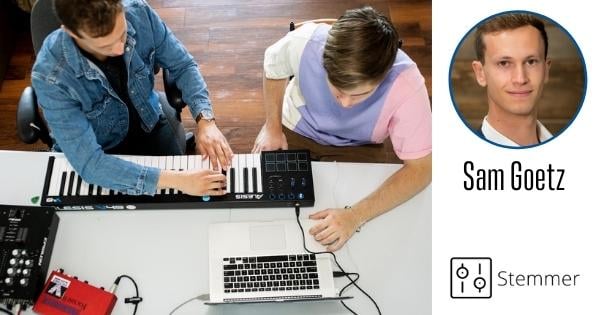 The basis of entrepreneurialism is to make life easier for the community. By bearing the process of creating a startup, an entrepreneur finds solutions to an issue, which makes someone's day a bit easier. Through the University of Delaware Horn Entrepreneurship, students can pursue new ideas while receiving world-class education and advice to help their ideas flourish. No idea is too big or small, too niche or broad.
A startup that has recently achieved great success is Stemmer, a company founded by Samuel Goetz, a Senior Mechanical Engineering student. Before attending UD, Goetz studied music recording at a community college, mainly because he made pocket money in high school by creating instrumental rap music, commonly referred to as rap beats, and it turned into more than just a hobby. He transitioned to the University of Delaware in 2019. Where he immediately created a new student organization, the Music Production Club. It was a way for him to develop a strong UD network. He found it difficult to blend into the UD community at first, since he transferred in and was two years older than the typical UD freshman he encountered in his engineering classes.
The idea of Stemmer was formed around a realization Goetz had through talking with artists and audio engineers about automating the protocol for making music radio-ready. Combined with the fact that multiple customers from high school days kept calling for old audio files, he realized the complexity of file storage and how difficult compatibility was across platforms for audio engineers. Hence, Goetz created Stemmer, a website that processes multiple files from various platforms into radio-ready recordings. The name, Stemmer, was originally just a working title for the process, because the type of files audio engineers work with are called "stems," but it ended up sticking and became the company name.
Although there have been some shifts in the company's co-founders, Goetz has been the founder since the beginning. "I think the hardest part is that you don't have somebody to be accountable to, you can just stop working on it," said Goetz. He hopes to build his team with a co-founder moving forward. He believes Horn played an integral part in getting the company to where it is today. Goetz has been a participant in VentureON since 2019, a semifinalist in Hen Hatch 2020, a 2020 Summer Founder, and a 2021 Hen Hatch finalist.
Stemmer automates the work of an audio engineer, and Goetz believes it will "grow the whole marketplace for everybody." He compares it to editing apps on iPhones, as they have not eliminated professional photographers. "In fact, that tech seems to have caused more photos to be taken in general," he further explains. "I think Stemmer makes music creation more accessible, and more songs will be recorded as a result."
Recently, Stemmer pitched in the semifinals of the Music Tectonics Conference's Swimming with the Narwhals pitch competition. The event is a hybrid event that allows music technology innovators across all industry boundaries to share ideas and collaborate. More than 50 tech startups applied, and Stemmer was one of 10 in the semifinals.
After graduation in December 2021, he hopes to focus all his energy on building the company by fully automating the software and launching it more publicly, and wants customer feedback from his target market. He is working now with a handful of customers who have had rave reviews. He plans to open more connections with over 300 future customers already on a waiting list. Being a full-time student and trying to get a start-up off the ground can be a difficult task, and he is excited to fully prioritize Stemmer in 2022.
About Horn Entrepreneurship
Horn Entrepreneurship serves as the creative engine for entrepreneurship education and advancement at the University of Delaware. Currently ranked among the best entrepreneurship programs in the US, Horn Entrepreneurship was built and is actively supported by successful entrepreneurs, empowering aspiring innovators as they pursue new ideas for a better world.