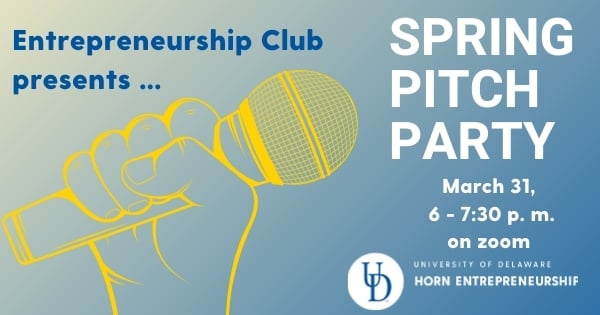 Horn Entrepreneurship and eClub welcome alumni Lily Wolfe, Brianna Bannach, and Farhad Baqi as judges for this year's Spring Pitch Party on March 31 from 6 to 7:30 p.m. over Zoom! Join the audience and spectate as UD student teams pitch innovative ventures for a total of $1,500 in funding and resources.
Any undergraduate student is allowed to pitch, and any student, faculty or staff may attend. The event is free, although registration is required to pitch or attend. Spots to present are limited, and are filled on a first come, first served basis. Spectators are encouraged.
Gear up for a pitch and get out there this semester or plan to watch the newest entrepreneurial ideas on campus. Here are some awesome benefits of participating as a presenter while with friends and the Horn Entrepreneurship community.
Become a Hen Hatch Contender
Presenting in Horn Entrepreneurship Spring Pitch Party can provide a valuable bridge towards other startup competitions like Hen Hatch, all while helping you refine your venture and pitch execution. The winners of the post revenue track are automatically given a slot to the 2021 Hen Hatch semifinal round, and even if you don't make the top three you can still refine and submit your business concept in the preliminary rounds. Designed to be a learning experience, the Pitch Party provides a great opportunity for entrepreneurs of all levels to watch others pitch, practice pitching themselves, and receive feedback from people of varying backgrounds with different perspectives. Whether it's your first time publicly pitching or your 100th, delivering your pitch to an attentive audience will always help you prepare for the next step.
Practice makes perfect
The Spring Pitch Party provides the perfect opportunity for students to hone their public speaking and presenting skills, giving participants 90 seconds to pitch their most interesting business ideas and innovations to a small group of judges and attendees.
Alvaro Buenano, a junior in the College of Arts & Science and president of eClub, describes the need for practice using a simple analogy, "Pitching is very similar to going to the gym. No one goes to simply be there. Every single person is there to work on themselves and their goals." Presenters and audiences at each Pitch Party respect one another, aid in making connections and encourage learning from one another.
Experience the Fun eClub Can Offer
eClub is the place to be to enjoy community, new perspectives, and explore entrepreneurial challenges. Whether it's pitching to our friends or a live audience. Whether it's networking with friends and finding someone to partner with on your idea. Whether it's coming to all of the virtual speaker meeting and receiving all of the free value these experienced entrepreneurs offer, you will always walk out with more than you entered with.
About Horn Entrepreneurship
Horn Entrepreneurship serves as the University of Delaware's creative engine for entrepreneurship education and advancement. Built and actively supported by successful entrepreneurs and thought leaders, Horn Entrepreneurship empowers aspiring innovators and entrepreneurs as they pursue new ideas for a better world.