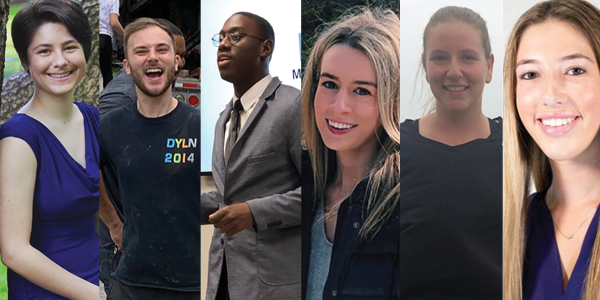 (From left to right, Sierra RyanWallick, Bryce Fender, Abdul Musa, Casey Scott, Danielle Fisher, and Lilly Checkoff)
One recent graduate and five students, most of whom belong to University of Delaware's Horn Entrepreneurship and others from the Department of Human Development & Family Sciences (HDFS), College of Arts and Sciences and the Biden School of Public Policy and Administration, have been accepted into the Clinton Global Initiative University (CGIU) this year. A program launched by former president Bill Clinton in 2007, CGIU seeks to engage the next generation of leaders on college campuses as they address the world's most pressing challenges.
Each of the six students have selected one project, or a "Commitment to Action," which they will be researching and pursuing over the course of the program. Currently, students are able to develop their projects by working with a coach or mentor who was a former CGIU student, and by taking online modules on social change and entrepreneurship.
Their hard work will ultimately culminate in the CGIU Annual Meeting, an international conference which will be held in Edinburgh, Scotland this April. For the six students representing UD, the three-day long event will bring together other CGIU students, mentors, and leaders with whom they may want to build partnerships, network, or share resources. On the last day, CGIU students will also have the opportunity to do a half day of service in the host country of Scotland.
The CGIU campus liaison for UD, Stephanie Raible, is an Assistant Professor and Faculty Director of Social Entrepreneurship.
"This is one of our most successful years," Raible said. "There have been 37 other students [accepted] prior to this point. CGIU started in 2007. So it goes to show that from 2007 and 2019 cohorts, there were only 37 UD students that have participated. And this year we have six, so that's noteworthy."
---
Sierra RyanWallick is a sophomore entrepreneurship major whose interests in sustainability led her to her CGIU project on UP Bags, or Upcycled Plastic Bags. UP Bags is a social venture aimed at reducing pollution of plastic bags already in circulation by creating usable items out of these otherwise discarded bags.
"When I heard about CGIU, I knew I wanted to apply to find other like-minded and passionate people around the world who are dedicated to solving problems facing their communities," RyanWallick said.
Bryce Fender recently graduated this past year, with a double major in marketing and management and minors in Spanish and social entrepreneurship. His venture, Wilminvest, is a partnership with government and non-profit housing organizations that seeks to transform vacant properties into homes for families in need.
"CGIU is an excellent opportunity for anyone who strives to make a difference in the world to meet like-minded folks from around the world," Fender said. "I am beyond honored to be a part of this incredible program, and am looking forward to learning more about best-practice housing models in Scotland.
Abdul Musa is a sophomore public policy major with a public health minor. He also has certifications in First Aid Response Care and CPR. Musa established the Musa Health Foundation, a foundation driven to have an impact in countries in West Africa that are in need of more robust and comprehensive public health systems.
"Many of the people of Sierra Leone die premature deaths to preventable diseases and sicknesses," Musa said. "With the progression of medical training and procedure, public health advancement will come to the people of Sierra Leone and other West African Nations."
Danielle Fisher is a senior human services major with minors in disability studies and psychology and a certificate in social entrepreneurship. Her project, Be Well Water, addresses the challenges and health consequences of water accessibility and transportation in developing nations. The primary goal of Fisher's organization is to be able to develop a carrier product with a water filter that makes transporting water less physically demanding, while also quickening the process of transportation and allowing for cleaner water.
"I wanted to be a part of CGIU to have a community of like-minded global changemakers and learn from others about how to improve upon the world," Fisher said. "Hopefully, in the long-run, we can help build wells that are closer to villages so young girls and women can spend less time transporting water and more time in school or in the community."
Casey Scott is a senior English major and social entrepreneurship minor. Her project focuses on the importance of education, community awareness and engagement regarding the national opioid crisis. Scott hopes to create a physical product, such as an art installation on a city street, that will tie together these elements while simultaneously grabbing the attention of its viewers.
"I'm very grateful for the opportunity to be a part of such an incredible organization," Scott said. "I think that being a cohort member of CGI will be really great for the expansion of my venture, and I hope that I'm able to make a positive impact on as many people as possible."
Lilly Checkoff is a sophomore entrepreneurship major with a nutrition minor and a certificate in innovation and entrepreneurship for health. Checkoff's venture, Tools for School, is a teen-led nonprofit organization that raises money to purchase backpacks and school supplies for underprivileged children in the South Jersey and Philadelphia area.
"Currently, I am working with my CGIU mentor, Brinda, to get in touch with larger companies such as Crayola," Checkoff said. "We hope they'll consider being a partner and donating supplies."
About Horn Entrepreneurship
Horn Entrepreneurship serves as the creative engine for entrepreneurship education and advancement at the University of Delaware. Currently ranked among the best entrepreneurship programs in the US, Horn Entrepreneurship was built and is actively supported by successful entrepreneurs, empowering aspiring innovators as they pursue new ideas for a better world.