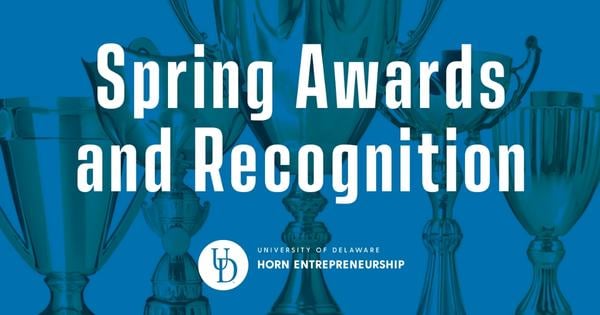 The last six months might have flown by for you, but the last six months these students, alumni, faculty and staff were building their businesses, becoming better students and professors, and more. Take inspiration from their achievements in this article.
Student Startup Recognition
Backyard Gig, a startup launched in mid 2020 by University of Delaware student Shaun Gupta, won the Alumni Ventures' 10KE Program receiving $2,000 and the eMerge Americas 2022 conference startup showcase. This startup winning the eMerge Americas 2022 conference startup showcase is notable because only 100 startups were selected throughout the world for this showcase. Backyard Gig also won $2,000 in grant money through the Alumni Ventures' 10KE Program. This startup was 1 of 25 in the country to receive a grant funded by the Alumni Ventures 10KE program. This grant was intended to help cover living expenses incurred during the internship or process of incubating your own startup.
Spray Less was in a technical.ly Delaware article titled "With lessons from Carvertise and UD, the young founders of Spray Less are going 'full force'". This article is about David Breyla, Noah Lux and John Mouser dedicating all their time to their startup, Spray Less.
Chiron was featured in a Sanford School News article titled, "International Win for Sanford Sophomore's Entrepreneurial Team." This was the summit of the Diamond Challenge 2022 where They received $3,750 to be used as venture funding or for higher education scholarships.
Supremely Sweet won two competitions over the last six months. On the 3rd of May Supremely Sweet advanced to the quarter-finalsof the 2022 competition Pepperdine Most Fundable Companies. On the 4th of March, Supremely sweet made it to round 2 of 2022 semifinals of the Texas Christian University startup competition.
UP Cycle Design run by Sierra RyanWallick who received a press mention, in an article in Vista Today,"Why This Landenberg Resident and Other Entrepreneurs Choose to Run Their Business". Sierra RyanWallick has also received an Advisory Board Position at Girls for Business. She announced after receiving this position,"I am honored to announce that I have accepted an Advisory Board position for the nonprofit Girls For Business (GFB)." GFB is a non-profit organization based in the United States (but serving international participants).
Student News & Awards
On MSNBC Vladimir Krylov Ukrainian and Russian roommates unite the community at University of Delaware with a video interview.
On 3/21/2022 Miriam Keegan was featured in an article on UDaily titled a "Passion for sustainability" about promoting sewing as a means to reduce waste.
Spring Pitch Competition
On March 23, Horn held its Spring Pitch Competition. First Place at the Spring Pitch Competition was CompSciLib who won $750, then second place went to BINDHI'S winning $500, and finally, Commit won Third Place award at Spring Pitch Competition $250.
BonaFyde.org won the Most Motivated award at the Spring Pitch Competition and a Gift card to Main Street restaurant. Rams Head Brewing won the Most Interesting award at the Spring Pitch Competition receiving a Gift card to a Main Street restaurant. Most Creative award at Spring Pitch Competition was given to Theseus, The Modular Shoe, receiving a Gift card to Main Street restaurant. Most Amazing First Pitch award at Spring Pitch Competition went to WooWipes and received yet another Gift card to Main Street restaurant. Most Promising award at the Spring Pitch Competition, Soceaze, receiving a Gift card to Main Street restaurant.
UD Undergraduate Entrepreneurship Awards
Congratulations to the four seniors receiving the 2022 Outstanding Senior Award Jason Bangser, Madison Topczewski, Markos Zerefos, and Caitlyn Tobio all receiving $500 each. The 2022 McCall Award went to Carlos Benito and Lynn Roberts respectively, receiving $2,500 each. The 2022 Horn Entrepreneurship Award went to Anthony Denney receiving $1,500.
Alumni Achievements
On 2/28/2022 TheraV received 2 recognition names. They achieved the Milestone: The first batch of TheraV ELIX 2.0 devices have finally arrived meaning you can purchase a device for anyone who deals with phantom pain from a lost limb and wants relief. They also have an office at NextFab in Wilmington. They achieved the UBS Grants Program "Democratizing the Friends & Family Round, a grant given " in partnership with Hello Alice.
Horn National Advisory Board member Grace Leong was named one of PRWeek's Women of Distinction.
TRiC Robotics won $1350 at the 2022 AngelCon pitch competition winning the Audience Choice Award. Tric Robotics, according to their website, is an automated, non-chemical treatment that makes farmers more profit with less treatment.
Nicholas Delmonico who is the founder and CEO of Strados Labs was chosen as one of the top 101 United States CEOs operating in the wearable technology space on Best Startup.
Ultimate Tournament is part of the Y Combinator Summer 2022 startup accelerator follow-on Programming, which started on the 5th of May 2022. Ultimate Tournament also received a press mention which was a Case study done by UD alumni startup on ContainIQ. This article is about how Ultimate Tournament Improved Observability While Reducing Costs By Nearly 90%.
Faculty & Staff News & Recognition
Cristina Archer is an Eco-entrepreneurship faculty advisor Geography Professor and she was awarded the Unidel Howard Cosgrove Career Development Chair in Environment. An article titled, "Honoring success, supporting future achievement" written about her in UDaily talks about her journey to receiving this position.
Dan Lee, assistant professor of entrepreneurship in the Alfred Lerner College of Business and Economics, recently edited the March 2022 special issue of the Journal of Economic Psychology on intergroup conflict. More information about the article can be found here.
Stephanie Raible is the author of Chapter 16 on Yunus Social Business's fantastic leader, Saskia Bruysten of Yunus Social Business. She also was featured in an article found in UDaily, A Practice-based Approach to Social Innovation on 2/25/2022. On 5/20/22 She received a Scholarship from Women Community Leaders and Their Impact as Global Changemakers.
The Wilmington Green energy company, Versogen, secured the Series A round of Venture Capital investment of 14,500,000$ in Versogen Company.
The Lerner Outstanding Teacher Award went to Entrepreneurship Professor Laura Gasiorowski.
The Leon & Margaret Slocomb Professional Excellence Award for 2022 UD Award went to Tricia Monnig for being a great advisor.
About Horn Entrepreneurship
Horn Entrepreneurship serves as the creative engine for entrepreneurship education and advancement at the University of Delaware. Currently ranked among the best entrepreneurship programs in the US, Horn Entrepreneurship was built and is actively supported by successful entrepreneurs, empowering aspiring innovators as they pursue new ideas for a better world.