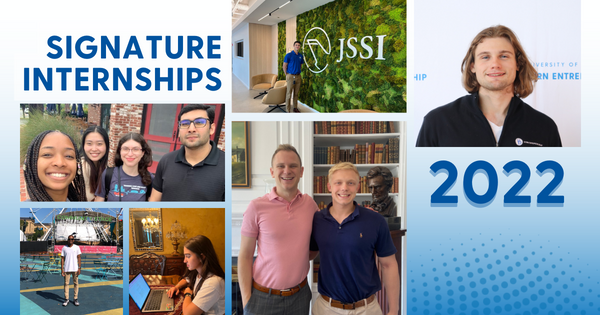 The Signature Internship Program by Horn Entrepreneurship connects entrepreneurship majors with organizations for the purpose of helping these students gain hands-on experience.
The Signature Internship Program is an opportunity for entrepreneurship majors to apply their classroom learnings and skills in meaningful work environments, gain exposure to various roles and industries and open the opportunity to network for future full-time roles. This summer 21 students worked in a variety of positions and industries from corporate industries to assisting small businesses.
I profiled a handful of students in the program who had internships this summer to showcase their achievements and highlight an important memory they have had through their journey.

Derek
Mihalecsko
This summer Derek was an intern for Jet Support Services Incorporated in the Parts and Leasing Department as part of the operations team. This internship has given him the opportunity to work on many different aspects of the business with projects ranging from profit analysis of customers to improving the warehouse efficiency.
Derek's favorite memory
"Getting to travel to Wisconsin for the annual Oshkosh Airshow. We had the opportunity to look inside huge aircrafts, watch planes do crazy tricks in the sky, and we finished off the day at a BBQ with some co-workers. I also enjoyed traveling to our warehouse in Kentucky and getting to meet all of our employees that work there."

Ryan Hartlin (pictured on Right)
Ryan's internship took place at ISI (Intercollegiate Studies Institute), which is based in Wilmington, DE. He worked as a marketing intern with his focus on developing editing skills to produce videos to an online audience in real-time. His other responsibilities consisted of working directly with the marketing team to create and produce social media posts on all platforms (Facebook, Twitter, Instagram, and YouTube), curate and repurpose content from ISI's vast archive of material, and edit video content for cross-platform distribution
Ryan's favorite memory
" I was given the opportunity to go to Washington, D.C., and stay at the Omni hotel for the annual AEF (American Economic Forum) conference. The conference's purpose was to bring together conservative politicians, intellectual and thought leaders to debate the best path forward for the conservative movement. My responsibility was to get good video clips, edit the videos, add subtitles and captions, then post them to all social media platforms as soon as possible. This was an amazing experience because I got the opportunity to travel for work and take a leadership role in helping organize and run a large event. Another point to add is it was cool getting to experience workplace culture and how each company has its own values and tradition they follow."
Devon Jones
Over the summer, Devon worked for a company called Our People Entertainment. The main project that he worked on is called the OVAL XP, which is a summer long festival and beer garden located in the Eakins Oval in front of the Philadelphia Art Museum steps. He worked on behind-the-scenes production for the festival from sponsorship and vendor support to on-site set-up and maintenance. Devon also assisted UD alumnus and co-founder, Will Horrocks, with day-to-day tasks in the office and on-site.
Devon's favorite memory
"During my second week of working, I was tasked with being the production runner for a day. This meant that I had to drive a large sprinter van (by myself) through the narrow streets of Center City, Philadelphia, and make runs for the OVAL XP production crews and contractors to gather equipment and inventory for them. This included many trips to the hardware stores for tools and equipment. Although I started out a little nervous, being that I was still new to the company, my supervisor, Will Horrocks, was confident that I could do it, so I was honored that he gave me that task. He mentioned that everyone in the company and many people in the industry have done the same role, so that is a great way to start out in the industry. It ended up being easier than I thought it would be, and I had a fun time doing it as well. I was able to gain some early respect from the OPE team by stepping up and being the runner for a day."
Mandy Zicherman (pictured in Center)
This summer Mandy had been interning for JPMorgan Chase and Co. this summer. Throughout her internship, her main responsibilities included preparing, organizing, and analyzing data; creating marketing and survey materials; hosting networking events; and working on a group business case. The internship program also provided professional development and training workshops, which she also attended.
Mandy's favorite memory
"I worked together with three other interns in my program on a business case. At the end of the internship, we presented our proposed solutions to the JPMorgan Chase Human Resources Operating Committee, which was exciting because we were interacting with senior leaders."
Max Sewell
This summer, Max interned with the marketing & events team at Horn Entrepreneurship. His main project was to increase the engagement on Horn's LinkedIn page. In addition, Max wrote blog articles about events, students and alumni; worked on social media campaigns; and took photos with the goal to raise the visibility of Horn.
Max's favorite memory
"An important memory of my internship is meeting the Summer Founders teams. I met a few in my previous classes and seeing them seriously pursue their ideas then making them into functioning business models was inspiring. The founders who were in my classes were: Alex Pugliese, Garrison Davis, Gabby Holliday, and Greg Tarnavaski."

Ashley Levinson
This past summer, Ashley interned at LuxGym Group with her main project being to Identify and execute on prospective partnerships to increase their lead generation. Her job responsibilities included growing LuxGyms outreach, calling leads to schedule onboarding calls, and researching ways to gain brand awareness.
Ashley's favorite memory- During my internship I had the chance to connect with the company's founder, and UD alumni, Blake Armentano over professors, classes, campus events, and more"
Nathan Abel (not pictured)
This Summer Nathan has been working with Alchemize Fightwear, a company founded by UD alumna Maya Nazareth. Since the company is growing at a fast pace, Nathan's responsibilities tend to shift day to day depending on what is needed. For example, some days he will edit website pages for the company and be responsible for fulfilling orders and working with inventory, while other days he is responsible for the ambassador program along with writing and scheduling sms updates to customers.
Nathan's favorite memory
"I got to meet and briefly talk to Charlie Horn while my boss (Maya) was on a call with him. It's also extremely interesting to watch a company evolve especially when you can see how your work is directly benefiting the company."
Professor Ted Foltyn runs the Signature Internship Program. His many years of experience in sales and marketing working in a variety of roles for Johnson and Johnson provides him with a vast network of contacts and business experience. The program is currently open to all Entrepreneurship majors who have completed their freshman year. Contact Ted Foltyn via email tjfoltyn@udel.edu for more information if interested in the program.
"Our Signature Internship has provided our ENTR majors a great opportunity to further their skills while exploring industries and roles related to entrepreneurship. It clearly has benefited both our students and the employers who participate!" says Professor Foltyn.
About Horn Entrepreneurship
Horn Entrepreneurship serves as the creative engine for entrepreneurship education and advancement at the University of Delaware. Currently ranked among the best entrepreneurship programs in the US, Horn Entrepreneurship was built and is actively supported by successful entrepreneurs, empowering aspiring innovators as they pursue new ideas for a better world.