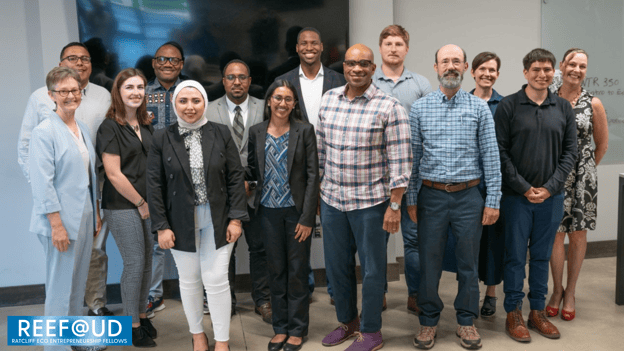 University of Delaware students showed their passion for the environment on Monday, May 8, at the 3rd Annual Ratcliffe Eco Entrepreneurship Fellows Pitch Day, hosted by Horn Entrepreneurship at the Venture Development Center. This year's six teams of eco-entrepreneurs pitched their innovative and creative business ideas persuasively, addressing unique environmental issues to a panel of expert judges for a prize pool of $6,000.
A joint project of Horn Entrepreneurship and the College of Earth, Ocean and Environment, and generously funded by the Philip E. & Carole R. Ratcliffe Foundation, the Ratcliffe Eco-Entrepreneurship Fellows program at the University of Delaware (REEF@UD) provides entrepreneurship training, mentorship and funding support to innovators who seek to create businesses, commercialize discoveries and develop new products that will solve environmental problems or improve sustainability. Over a four-month period, Fellows are instructed in best practices to successfully execute design thinking, evidence-based entrepreneurship, new product development and technology commercialization. To guide Fellows as they work to develop and refine their initial ideas, seasoned mentors with different areas of expertise share team-specific guidance as they implement customer discovery research, incorporate sustainable product design concepts and pursue promising commercialization pathways.
The REEF@UD program is open to upper-level undergraduate and graduate students as well as members of the community who are passionate about innovating solutions for our greatest environmental challenges. The program is offered each spring semester and culminates each year with a pitch day for each team to showcase the fruits of their efforts as Fellows, presenting business proposals to their peers and external judges to earn continued support and mentorship. This year's pitch day included some fantastic ideas and ventures with the potential to make a powerful impact on our planet.
Megan Pillsbury, Director of the Ratcliffe Eco Entrepreneurship Fellowship Program at UD, was impressed by the ingenuity, dedication, and spirit of community shown by the cohort, which was the first of her tenure as director.
"I was inspired not only by the creative ideas and professional presentations of this year's REEF@UD cohort, but also how supportive and inclusive they are with each other," said Pillsbury. "It was amazing to see what the Fellows were able to accomplish in just four months in the form of well-organized pitches. This generation is gearing up to make a transformative and exciting impact."
Thank you to our exceptional judges, three seasoned business professionals with expertise in sustainability: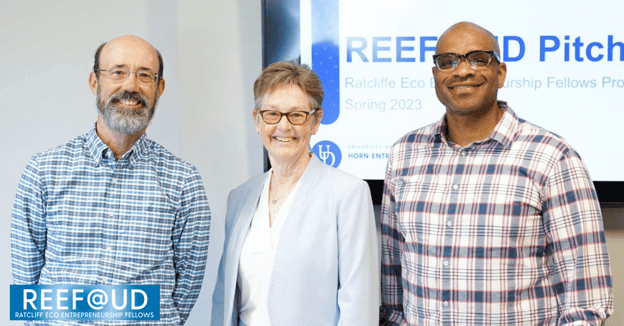 Carlene Cassidy


Chief Executive Officer, Philip E. & Carole R. Ratcliffe Foundation

Thomas Dietz


Sustainability Champion, Member of the UD Sustainability Council

Mark Crawford


Investor, Company Builder, Board Member, Former CEO, Horn Entrepreneurship Venture Capitalist in Residence
Teams
Off The Hook - Sustainable aquaculture for a sustainable earth.
by:
Miranda Keefer - Senior Marine Science & Eco Entrepreneurship student at the University of Delaware.
ELYTE Energy - Delivering economical and green hydrogen energy storage for fixed and portable applications.
by:
Dr. Jalaal A. Hayes - Founder & CEO, member of the UD community.
Samuel Jenifer - Chief Technology Officer, member of the UD community.
RECON Inc - Repurposing construction waste to reduce CO2 emissions.
By:
Isheta Kulshreshtha - Junior at the Charter School of Wilmington, member of the UD community.
Global Recycling - Recycle plastic waste into affordable, and long-lasting roof tiles in Cameroon.
By:
Sylvain Nzeyang - Product Manager, member of the UD community.
Drain Shield - Protecting the oceans from storm drain erosion and pollutants.
By:
Court Herschelman - Entrepreneurship major at the University of Delaware.
Louis Del Cueto - Geology MS student with BS in Environmental Science at the University of Delaware.
Vissume - Reducing the environmental footprint of corporate hiring
By:
Ivan Garcia - Member of the UD community
Earthbound Stories - Empowering climate migrants through their stories
By:
Eman Al-Drous - PhD student in English at the University of Delaware
Winners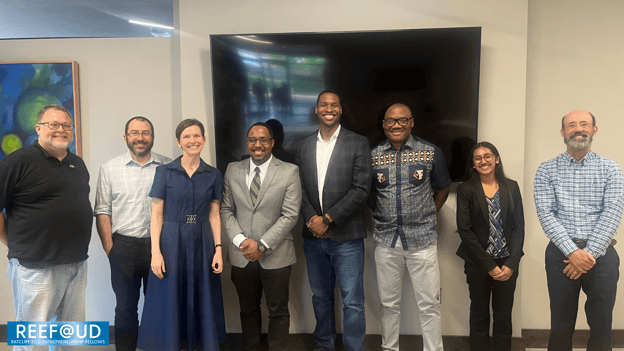 1st Place - $3000 - Global Recycling by Sylvain Nzeyang
2nd Place - $2000 - ELYTE Energy by Dr. Jalaal A. Hayes and Samuel Jenifer
3rd Place - $1000 - Recon by Isheta Kulshreshtha
About Horn Entrepreneurship
Horn Entrepreneurship serves as the creative engine for entrepreneurship education and advancement at the University of Delaware. Currently ranked among the best entrepreneurship programs in the US, Horn Entrepreneurship was built and is actively supported by successful entrepreneurs, empowering aspiring innovators as they pursue new ideas for a better world.