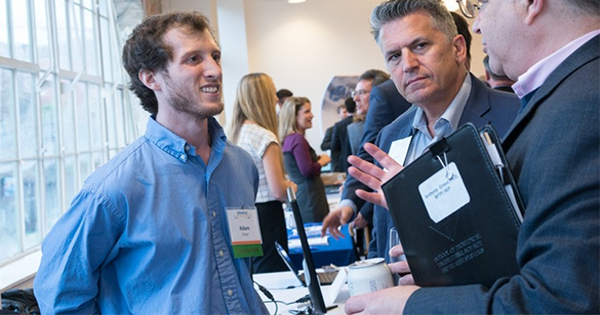 Doing something new and pulling from past experiences can be intimidating for anyone. But you also know one way to achieve significant personal growth in life is through exposing yourself to situations out of your comfort zone. What better way to start the semester with that mindset and channel it with a submission to Horn Entrepreneurship's Hen Hatch 2020 competition? Even if your idea isn't fleshed out enough or is lacking in some aspects, Hen Hatch judges and mentors will give feedback that will allow you to refine your concept. Some of the most successful startups from Horn Entrepreneurship to participate in the competition have failed to make it past the first round of judging.
Adam Stager, founder of TRiC Robotics and seasoned "Hen Hatcher" with five ideas in the semi-finals since 2017, says that the submission process and semifinals pushed him to do more research and made his team more persuasive when speaking to investors.
"Hen Hatch has been a critical part of my development as an entrepreneur. Like many students, I have a lot of ideas about what could be a business, but the written part of the submission process pushes me to make a compelling argument. It gives me a good reason to test my hypotheses, pressures me to do online research and talk with customers. By thinking through every aspect of our business concept it becomes more concrete and we get much better at articulating our perceived value to other people. For our team this process has not only helped improve the way we deliver our message, but it has also made us more comfortable presenting and answering questions from potential investors."
Still on the edge? Even if your business idea ends in failure, participating in Hen Hatch helps develop valuable career focused skills like public speaking, problem solving, and creative thinking, along with providing the opportunity to network with countless business professionals in the entrepreneurial community. It's okay to fail. Most Hen Hatch participants find themselves with quality job opportunities, not everyone builds a startup company. Every entrepreneur has learned from failed experiences and benefits from the lessons it does provide.
Two tracks are available. Track one is designed for currently enrolled undergraduate and graduate students. Track two provides entry to University alumni, faculty and staff to submit their ideas. In both cases individuals or teams can submit more than one concept but a separate application for each idea is necessary.
About Horn Entrepreneurship
Horn Entrepreneurship serves as the creative engine for entrepreneurship education and advancement at the University of Delaware. Currently ranked among the best entrepreneurship programs in the US, Horn Entrepreneurship was built and is actively supported by successful entrepreneurs, empowering aspiring innovators as they pursue new ideas for a better world.