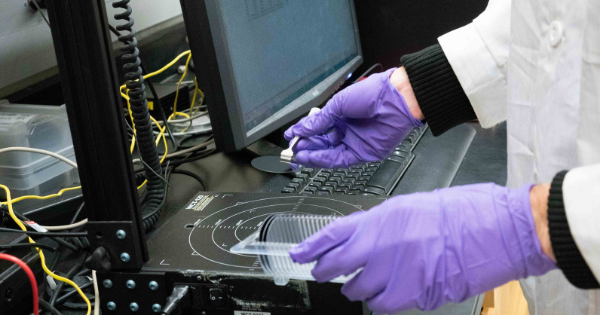 Seventeen research teams will participate in the National Science Foundation Innovation Corps (NSF I-Corps) Sites program to assess the commercial viability of their academic research, university intellectual property, or any STEM-related technology. The 20th cohort to enter the program at Horn Entrepreneurship started their five-week series of workshops and market research on October 5.
The teams hail from University of Delaware, Delaware State University, Rutgers University, Texas A&M, University of Memphis, University Science Center, Bucknell University, Lehigh University, and the Delaware entrepreneurial ecosystem.
The teams to watch are:
Note: entrepreneurial leads are listed first.
Branched chemicals from biomass | UD - Sunitha Sadula, and Dionisios Viachos
Process to capture plant oils for versatile use as precursors in food, surfactants, fragrances, detergents, and plastics.
Carbon Victory Gardens | UD - Emma Ruggiero, Jules Bruck, Leigh Muldrow, and Anne Shehab
Pre-designed residential consumer products providing a collection of carbon-sequestering plants.
Concrete-based CCUS | Prairie View A&M (Texas) - Olanrewaju Tanimola, Aderemi Oki, and John Anerousis
Cost reduction through a new process of amine-based carbon capture, important in lowering carbon emissions.
Dry fabrication of Li-ion battery electrodes | UD - Ali Rashti, and Koffi Yao
A novel spray deposition technology provides a solution to solvent-free fabrication of lithium-ion battery electrodes.
E-Lotto | UD - Usama Mahmood, and Jagrav Naik
A platform for people to buy lottery tickets online.
eSquad Technology LLC | DESU - Ann Knettler, and Lifang Zhang
A mobile App. It enables friendly wagers among family and friends or groups without charging a percentage like in sportsbooks.
iBranch Lab Consultants | UD Community -Sandy Almassou
A full service laboratory consulting firm to assist startup labs and other laboratories
Injectable hydrogel drug delivery system | Bucknell University - Nolan Morrison, and Brandon Vogel
A disolvable injectable gel capable that can deliver water-insoluble pharmaceuticals for three weeks or longer.
Labours of Love | UD Community - Jennay Peterson
Complete support and holistic care during birthing and postpartum.
Learning Dashboard | Lehigh University - Asante Asiedu, Romeo Bahoumda, and JohnDerek Daniels
Virtual tours and immersive media content from throughout Africa and its global Diaspora. To be viewed online or in virtual reality.
NPCo | DESU - Michael Nicholls-Pierce, and Dr. Von Homer
Create a one-step digital application to process, file, and organize photographs.
Paper Trails | DESU - Pedro Moore, and Aakash Sundar
An improved method for securing investment transactions that lowers cost, increases speed, and improves transparency.
PopCheck Technologies, Inc. | Univ. of Memphis & The University Science Center, PA - Erika Dillard, Tamara Baynham, and Aron Starosta
AI-driven remote monitoring devices that predicts and prevents the development of surgical complications such as venous clots.
Resource sharing platform| Lehigh University - Kaja Skerlj, Michael Lehman, and Maureen Rinkunas
Enables organizations to provide resources and opportunities to disconnected youth (age 16-24) on their mobile phones in an automated and secure way.
See Meds | UD Community - Talitha Humes
A mobile medication reminder app for patients and caregivers that minimizes effort and errors.
Spectator | UD and Rutgers University - Himaghna Bhattacharjee, Dionisios Viachos, Jakub Konkol, and George Tsilomeiskis
Software for extracting chemical information from materials using photo spectroscopy.
StudyWrap | UD - Scott Rutherford, Teomara Rutherford, and Kerry Duck
A mobil app that interfaces with student learning management systems to allow students to set goals, benchmarks, monitor progress, and engage in study activities while creating a sense of community.
---
The NSF I-Corps Sites Program provides business training and grants of $3,000 to teams interested in assessing the commercial viability of their projects based in the fields of science, technology, engineering and mathematics (STEM).
The program is based on the "lean startup" method for an entrepreneurial approach to determine market-fit. It is designed for research innovators by focusing on understanding the needs of potential customers, first-hand exploration of industrial processes and practices, and what is needed to create a successful venture for a novel tech-innovation.
A future cohort is planned at UD, in early 2022 and will mark the first cohort for UD as a partnership in the new NSF regional Innovation Hub. For more information on NSF I-Corps, please visit our website.
About Horn Entrepreneurship
Horn Entrepreneurship serves as the creative engine for entrepreneurship education and advancement at the University of Delaware. Currently ranked among the best entrepreneurship programs in the US, Horn Entrepreneurship was built and is actively supported by successful entrepreneurs, empowering aspiring innovators as they pursue new ideas for a better world.