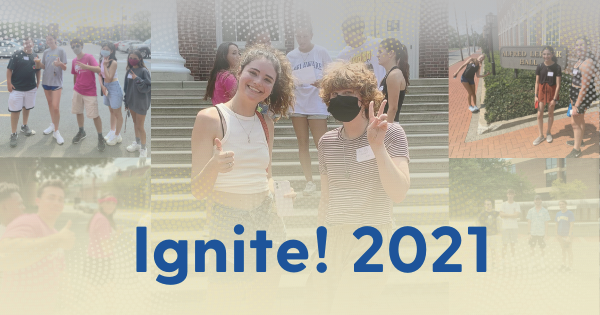 First impressions are everything; we have heard the old adage from our parents, professors, and bosses. We have learned to dress smartly, make eye contact and offer a strong handshake. But how does an entrepreneurship education program make a first impression? How does Horn Entrepreneurship shake hands with its newest students?
That is where Ignite! comes in. Each year, Horn Entrepreneurship welcomes its newest Entrepreneurship majors and Delaware Innovation Fellows to campus with the Ignite! Early Move-In Program. Through this program, a select group of innovative students kick off their college experience and connect over food, collaborative activities and (most importantly) fun. In particular, Ignite! 2021 represented an enthusiastic return to campus and in person community activities; by adhering to covid protocols and adopting some creative thinking, participants enjoyed a safe and healthy Ignite! experience.
With a fast paced and high energy atmosphere, the program is designed to expand students' comfort zones. Students are encouraged to meet new people and try new things. This year, Ignite participants were introduced to a variety of skills that they will continue honing throughout their four years at UD. Igniters learned the basics of brainstorming with a divergent thinking exercise entitled Worst Restaurant, where they designed the worst possible dining experience they could imagine. They learned the true meaning of teamwork and collaboration with a giant Group Juggle activity that spanned all three floors of Gore Hall. They were even introduced to a Horn classic, Pitch Karaoke, which combines innovative design thinking and spontaneous pitching skills.
The program also helps Horn students feel more comfortable and prepared for their first semester at UD. Not only are they given the opportunity to make meaningful connections with their peers and learn more about Horn offerings, but they also get comfortable navigating campus. Rather than offer a traditional tour, Igniters became acquainted with their new environment by competing in a cross-campus scavenger hunt. This year's hunt included challenges such as singing Happy Birthday on the steps of Memorial Hall, and taking a picture with a Delawarean.
Ignite! was founded by Horn student Zack Jones in 2016; this peer-to-peer element is integral to the spirit of the program. Seasoned horn students and ambassadors are included in every step of the planning and facilitation. They serve as group leaders, workshop facilitators and event support. Oftentimes, these student ambassadors serve as impromptu mentors to the first year students participating in the program. Freshman Delaware Innovation Fellow, Jay Favors shared that the student Ignite! leaders, "made sure to answer every question that was asked and gave great advice for the upcoming semester."
Time and time again, we hear from students that Ignite! is one of their favorite college experiences, and the program makes a big impact on their lives. Through Ignite, Horn students get to experience a lot of "firsts". They meet college friends for the first time. They try Main Street foods for the first time. They spend time in the Venture Development Center for the first time. They feel part of the Horn community for the first time. So it seems that the old adage remains true; first impressions really are everything.
About Horn Entrepreneurship
Horn Entrepreneurship serves as the University of Delaware's creative engine for entrepreneurship education and advancement. Built and actively supported by successful entrepreneurs and thought leaders, Horn Entrepreneurship empowers aspiring innovators and entrepreneurs as they pursue new ideas for a better world.