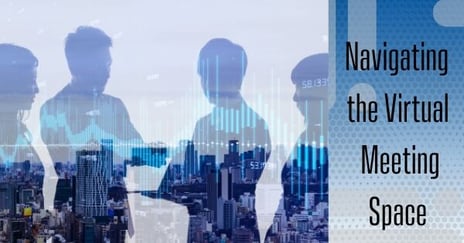 Adapting to the Big Shift to Online Events
Four months ago we were sent home to limit our in person interactions. We were amateurs but zoom was there to help. We forgave the family interruptions and learned everyone's pet's name, and sometimes could not find that link! It was new to everyone and it was comforting to see others struggle with the new normal like you were. Now four months have gone by and we no longer have a pass on its
temporary. How do we regain professionalism in what will become a hybrid world? We learned over time that zoom is not a one program fits all kind-of platform. Requirements changed, group sizes fluctuated, and there is a need for advanced features.
With technology always growing and changing, virtual events are on the rise. A big part of being an entrepreneur is being able to adapt to these changes and thrive within a new environment. Virtual meetings will become part of a personal toolkit for many students, companies, and event planners. In order to be successful and host virtual events, it is important to understand the basis of how we can adapt to the virtual lifestyle. With the right approach, you can still generate great results from virtual events – here are some tips to help you optimize your approach.
How will I possibly move my event to a virtual platform?
Having to move your event to a digital platform can be an extremely stressful and scary undertaking if you don't know how to use your resources! Many different video platforms have been a major lifesaver in keeping the event industry alive, as well as keeping families, friends, and colleagues connected. Hosting physical events can be expensive, both in the cost and time of travel. This is why moving your events digital can lead to a surprising advantage of saving money while still delivering a successful experience. This guide will help you decide which platform to run your event on, what type of format your event should be, and how to plan and execute your event.
You may ask yourself, how do I keep my attendees engaged?
When it comes to keeping attendees engaged, it is crucial to understand your engagement levels with attention indicators and reports. Understanding your attendees and what their level of engagement is can lead to whether or not your event will fulfill its potential. In other words, you (probably) won't need to engage your corporate meeting attendees as much as you will with your first-grade class. Knowing this, you can gauge how many features you'll need to plan during your event.
Video conferencing platforms often offer many different options including using features like chatting, administering polls, offering Q&A sessions, allowing attendees to "virtually react" with the clapping emoji, or a thumbs up to reinforce a positive reaction to your speaker! In addition, hosts are able to separate the participants into breakout rooms to ignite different discussions, and even breakout sessions for virtual conferences and conventions.
Lastly, a clear agenda for your virtual events is key. Writing a schedule of information or content you want to get through is important for the event to run smoothly and to keep attendees engaged.
KEY TAKEAWAY: Remember to keep in mind the importance of keeping your virtual event simple for your attendees, speakers, and planners.
Think about the goals of your overall conference. Although using different features may be fun and exciting, they may not be necessary to use depending on your goal. Look at your goal and ask yourself questions like, "Do I need to present a lot of stats and outsourced information or do I want to simply have a casual conversation with my attendees?
Thinking about whether or not you are able hold your event on Zoom or another digital platform?
When choosing the right digital platform for you, there are many factors to consider. These factors can include pricing, time, and the amount of attendees possible. A large scale of different events including conferences, summits, sales kick-offs, analyst events, workshops, and training have all been transformed into successful digital experiences for users.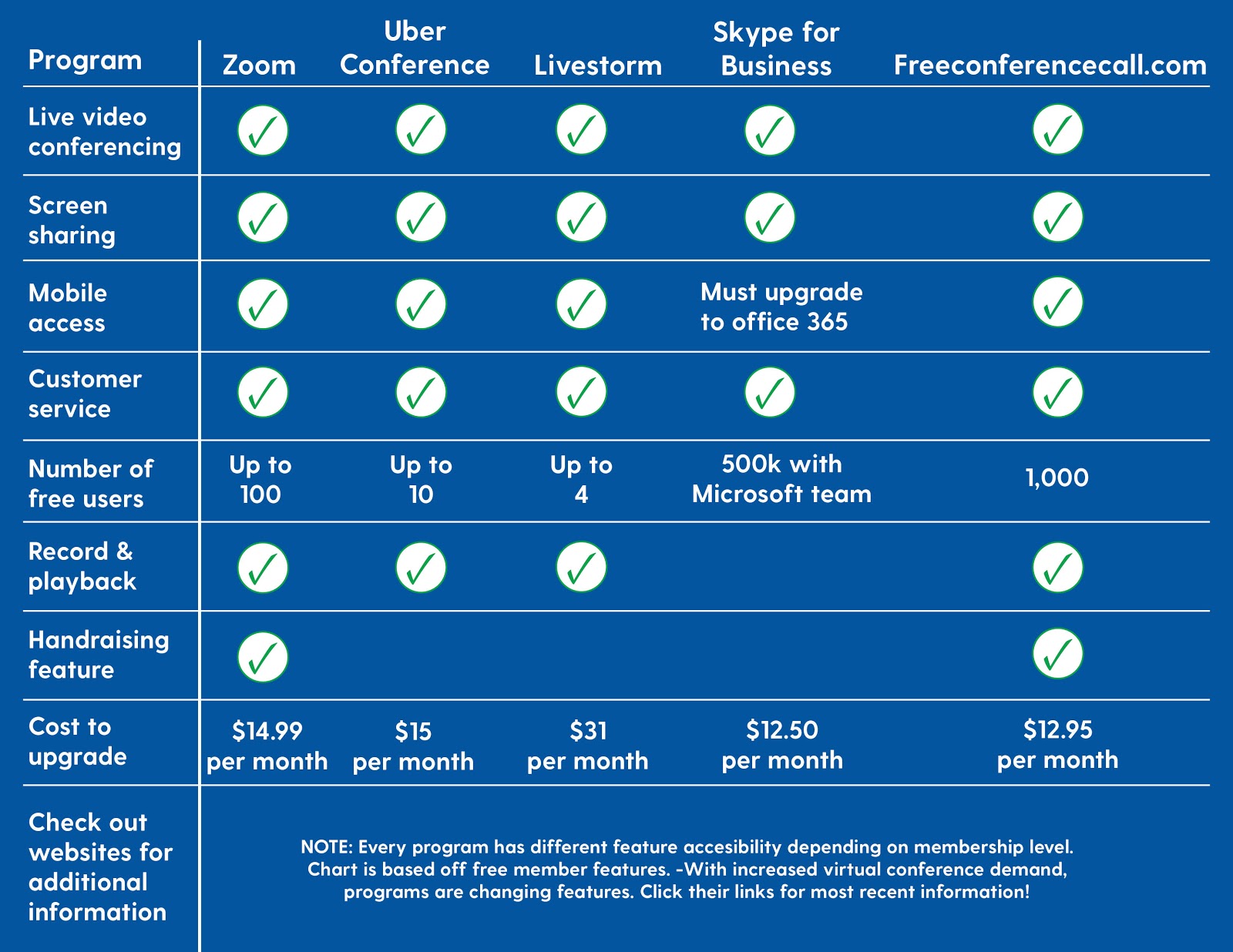 Zoom
offers events to host up to 100 people. If your event requires a different setup, you can access the Zoom Video Webinar and have up to 10,000 attendees in the webinar. This includes an additional feature of streaming with Facebook or YouTube Live. Utilizing
Facebook Live
is an "oldie but a goodie." This is a feature of the Facebook social network that uses the camera on a computer or mobile device to broadcast real-time video to Facebook! You can choose who you want to see the video and use this to engage your audience. Look into other platforms to see what they have to offer such as
UberConference
,
Livestorm
, or
Skype for Business
.
Check out these websites for additional information on pricing and features:
Should I choose a Web Conference set up or Video Conference set up?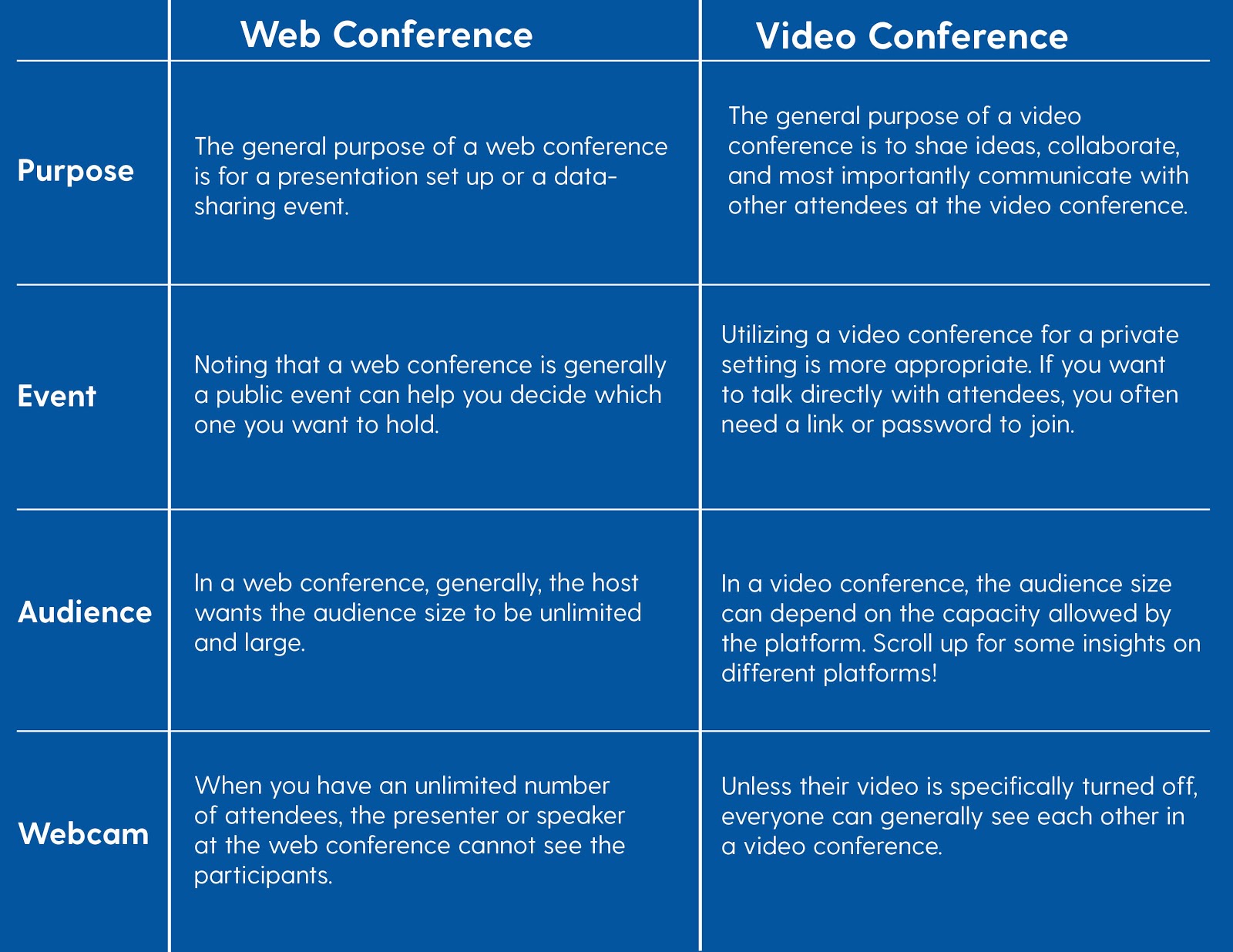 After going through a few different aspects of this chart, you may quickly realize the main differences between these two. Generally, a web Conference may be better suited for marketing, product reviews, demonstrations, or lectures. On the other hand, video conferences may be better suited for private panel discussions with an executive board or corporate team meeting.
Got it?
Keeping up with revolutionizing technology can be a strenuous, but crucial task. With COVID-19 affecting our daily lives, many changes will come to different industries, especially events. In order to be successful you'll need to do your research on different event trends, platforms, and programs to enhance your delivery. Grab your tool box and begin gathering your tools for virtual events!
About Horn Entrepreneurship
Horn Entrepreneurship serves as the creative engine for entrepreneurship education and advancement at the University of Delaware. Currently ranked among the best entrepreneurship programs in the US, Horn Entrepreneurship was built and is actively supported by successful entrepreneurs, empowering aspiring innovators as they pursue new ideas for a better world.