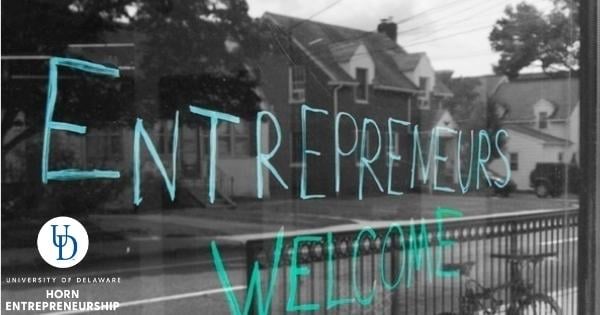 Horn Entrepreneurship offers many opportunities for you to make the most of your tuition! Its home, the Venture Development Center (VDC), is open to anyone at UD. Whether you have an idea or not, you can participate, network, be inspired and learn.
There's a lot happening this fall. Listen to alumni and learn from their experiences at Free Lunch Friday (yes, free lunch!). You can go to E-Club to meet people interested in entrepreneurship and network with other students. During VDC community sessions, you can meet like minded people working on their ideas or team up with a friend and work on yours. Then you can pitch your ideas at the Fall Pitch Party or enter UD's startup funding competition, Hen Hatch! Unless noted, these opportunities are located in the Venture Development Center.
Free Lunch Friday - Every Friday starting Sept. 9, 11:15 a.m. - 12 p.m.
Horn Entrepreneurship and E-Club are bringing back the acclaimed Friday lunchtime speaker series, starting off with alumnus Darien Elmendorf, founder of Compass360. Free Lunch Friday is open to all University of Delaware students. Lunch is free on a first come, first served basis.
E-Club - Every Tuesday from 6 - 7 p.m (begins Sept. 13)
Entrepreneurship Club, or E-Club, is a Registered Student Organization (RSO) for students interested in the world of startups, socially responsible business, change-making and creativity. Meetings are weekly and open to all University of Delaware students. For more information, contact club president Isabella Duarte: iduarte@udel.edu.
VDC Community Sessions - Every Wednesday from 6 to 7 p.m. (begins Sept. 7)
This program is for students, with or without ideas, interested in exploring innovation, creativity, startups and social ventures. Open to all University of Delaware students. No start up or idea required; attend whenever you like; come early, come late. Join a community of like minded peers.
Application-based Programs
VentureOn Application Deadline - Sept. 19, 11:59 p.m.
VentureOn supports student entrepreneurs in the UD community at any point in the startup process. It is designed for those with a startup seeking mentoring from experienced entrepreneurs and investors, funding, support from peers as well as a place to work on their startup 24/7, Apply to VentureOn for the Fall semester. Apply now to get the support your idea needs to grow!
Siegfried Entrepreneurial Leadership Fellows - Nov. 15, 9 a.m.
The Siegfried Entrepreneurial Leadership Fellows program is a highly selective, unique, one-year experience designed to expand and deepen understanding of leadership and oneself as a leader, connect and learn with others, and inspire initiative for positive impact. University of Delaware students who have taken ENTR/LEAD253 are eligible to apply.
Competitions
Hen Hatch Application Deadline - Sept. 16, 11:59 p.m.
Hen Hatch is the University of Delaware's premier startup funding competition, where entrepreneurial students make connections, collect feedback on ideas and compete for startup cash and prizes totaling $50,000. Submit your idea or startup to compete! Questions? Reach out to hornhenhatch@udel.edu.
Fall Pitch Party - Oct. 26, 6 - 9 p.m.
Hosted by E-Club and Horn Entrepreneurship, the Fall Pitch Party is just that - fun and pitches. Ideal for students just beginning their entrepreneurship journey, the Pitch Party is a relaxed opportunity to practice pitching and public speaking skills. Students are given 90 seconds to pitch their most interesting business ideas and innovations to a small group of judges and attendees with an opportunity to win a prizes. Stay tuned for registration.
Other Big Events
Siegfried Workshop & Awards Dinner - Nov. 10 - Invitation-only
The Siegfried Workshop & Awards Dinner is an invitation-only event that celebrates innovative leaders in the Horn Entrepreneurship community. A collaboration between the University of Delaware and The Siegfried Group, the event consists of a workshop and an award presentation for outstanding contributions to the understanding and practice of entrepreneurial leadership.
Hen Hatch Final Round - Dec. 1 - Audion
Watch the finalist teams pitch to win a share of the $50,000 prize pool. Cheer on your friends, classmates and student entrepreneurs! Stay tuned for registration.