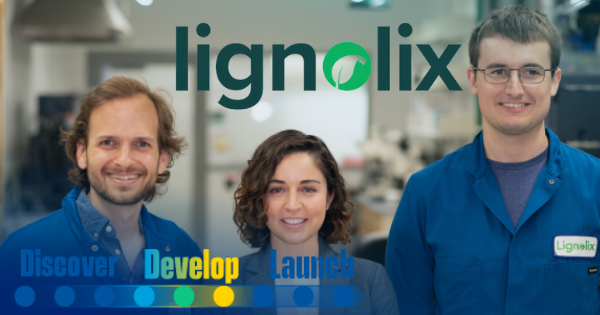 This article is part of a series describing how UD Horn Entrepreneurship assists teams in moving their inventions and innovations into the marketplace, a process known as commercialization. A customized blend of resources, including training, mentorship, and funding, is provided to each team through the Blue Hen Proof of Concept Program. Additional mentorship and support is provided by Horn Entrepreneurship partners including the Office of Economic, Innovations and Partnerships and Delaware's Small Business Development Center.
Imagine how a jar filled with a gooey brown liquid, the residual components of plant waste, would become the focus of a purposeful and sustainable use. In 2019, Eric Gottlieb, a post doc and Robert O'Dea , a graduate student, imagined the possibilities. Eric Gottlieb, now CEO of Lignolix, recalls the unappealing look of the lignin, a glue-like compound that provides rigidity in most plants.
The company, Lignolix, named for lignin and unlocking its potential, takes plant waste and converts it into usable products.
"Lignin is the most unloved part of plants" says Gottlieb, "but it holds sustainable solutions."
Lignin is commonly a wasted byproduct of the creation of paper from wood and can be broken down into components useful for making items like cosmetics, adhesives, flavorings and fragrances.
From the beginning:
Gottlieb recalled the team's first instinct was to utilize the material for a myriad of industrial uses but found that technical ideas come with unique challenges. Unlike with apps or household products, technical ideas are more wide-spanning and require connections with a variety of industrial sources to fully develop. His understanding of commercializing a product developed over a much longer process, one that UD Horn Entrepreneurship guided the team through.
The team's go-to-market strategy changed many times, and a number of ideations eventually narrowed down a product that would become the basis of a business.
Lignolix won a $3k I-Corps Site grant and a $50K I-Corps Teams grant both in 2019. NSF I-Corps also provided a short eight-week course that led to further discovery with potential customers and relevant industry contacts. Working off the progress and connections made as an NSF I-Corps team, Lignolix found more support in the Delaware entrepreneurship community in the form of funding and resources; UD FastPass competition provided their current working space at Delaware Innovation Space, Inc. They were recently awarded a VentureWell Summer 2021 E-Team grant and the team continues to find support and resources through Horn Entrepreneurship's New Venture Development initiative.The Lignolix team consists of Thomas H. Epps, III, PhD, CSO ; Eric Gottlieb, CEO; and Robert O'Dea, CTO. Recently, Christina Pellicane, COO, has joined the team.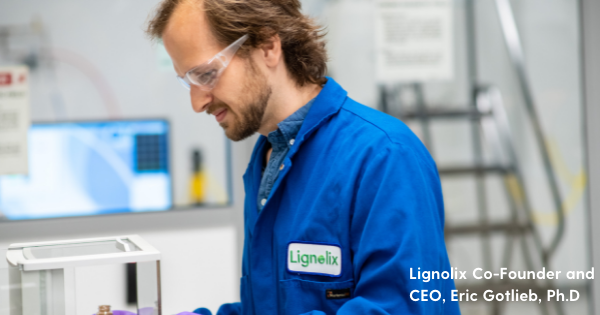 Moving forward:
Horn's resources not only assisted Lignolix's team through funding, but also helped in gaining learning opportunities that eventually connected the technical research to an entrepreneurial approach to commercialization. Gottlieb feels just capturing the right language and what mattered to customers was tremendous. Communicating research discoveries tends to lean on features and technical detail of what you have found.
"A challenge was looking at our customer approach differently. We needed to translate what we had discovered, the science, into what customers felt was beneficial. Our third step was to effectively communicate that. Once we understood the difference it helped with funding opportunities tremendously, and helped in being able to fund continued research." Gottlieb continued, "The rigidity of most other research funding sources does not allow for the same unique benefit of exploring commercialization at the same time." Gottlieb added, " Horn's resources filled in those gaps and connected us to people that are relevant to what we are doing. Finding the right people with an introduction through Horn made all the difference to our progress."
That is why they are excited about approaching product market fit with a customer that wants what they have created and is willing to work with Lignolix. In preparation, they built out the team by hiring Pellicane, who was the Director of Commercialization at Horn before joining Lignolix. Lignolix is poised for growth right now, with a customer ready to work with their product and help them further refine it for commercialization and ultimate launch of the company.
Looking back:
When asked about the early startup days Gottlieb shared his very first lesson:
"Be as open minded as possible and never assume you have what they are looking for. Progress is made by listening to the needs of your customer. As a result, the product we have now is nothing like what we started out with and never would have arrived here if not for listening."
Do you wish to explore options for your research? Horn Entreprenuership may be able to help.
About Horn Entrepreneurship
Horn Entrepreneurship serves as the University of Delaware's creative engine for entrepreneurship education and advancement. Built and actively supported by successful entrepreneurs and thought leaders, Horn Entrepreneurship empowers aspiring innovators and entrepreneurs as they pursue new ideas for a better world.