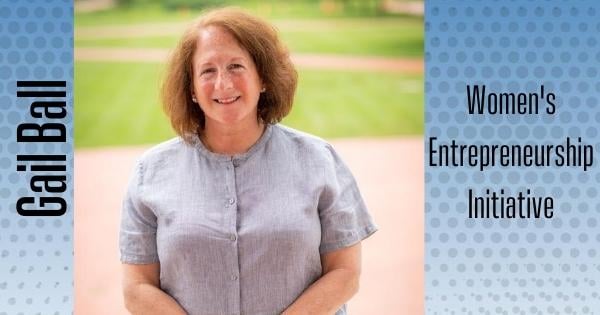 Having freshly graduated college, Gail Ball was at her first job when she encountered exclusion and discrimination in the workplace because she was a woman.
An avid golfer, Ball decided to sign up to join her workplace's recreational golf league. But her enthusiasm was cut short to find that her participation was strictly forbidden.
"I got a note saying, 'No, you're not invited. No women,'" Ball said. "I was astonished. And they encouraged me to just 'go away.' But I couldn't."
Ball proceeded to file a complaint with the human relations commission. She eventually received approximately $6.30 in compensation – the difference between the links' negotiated group rate and the public rate of play.
Soon after the commission deemed this calculation as an adequate remedy, the golf league withdrew their open invitations and became a private club. And although Ball reflects positively on the rest of her professional career, the encounter left a lasting impression.
"I just share that to demonstrate that discrimination based on gender, or race, or the color of your skin, or your religion... It creates obstacles that make your success harder," Ball said. "This particular incident, people might laugh, but it prevented me from getting access to a professional network that might have helped me advance my career."
In the larger context of her own entrepreneurial journey, the experience illustrated how these seemingly isolated events are part of larger histories and structures which can arise as potential barriers for female founders as they launch startups, build businesses, and pursue lasting impacts.
"Women entrepreneurs are a sizable community," Ball said. "But they are a community that experiences the entrepreneurial journey differently than men experience it. And many of those differences are also significant disadvantages."
Now, as the new associate director for Horn Entrepreneurship's upcoming launch of a women's initiative, WE Hatch, Empowering Women in Innovation and Entrepreneurship, Ball is reflecting on what these differences and disadvantages may mean for the entrepreneurial journeys of the women and other underrepresented groups of today.
WE Hatch, which will launch with a keynote virtual event on Thursday, September 24, from 4:00 - 6:00 p.m. aims to uniquely enhance and expand upon Horn's already diverse offerings, resources, and activities, to ultimately provide a more robust and inclusive educational ecosystem.
"There is content, capacity, and community that we need to build that is specifically targeted to women and their ability to overcome these more significant obstacles," Ball said.
In an effort to overcome obstacles and break down barriers, Ball hopes that Horn Entrepreneurship can lead the way for greater entrepreneurial engagement and empowerment for female founders and teams.
The foremost challenge, however, is how these obstacles in entrepreneurship can manifest in a variety of ways and across all scales of the entrepreneurial journey.
Such gender-based differences can range from the explicit to the more elusive: Different pressures which force women's' startups to stay small; competing priorities in personal life; or even certain predispositions which investors have, such as the tendency to perceive pitches from female founders with more hesitance and risk than their male counterparts.
The research documenting these phenomena, Ball expressed, is extensive.
"2% of all venture capital goes to female founding teams," Ball said. "That's absurd. They are, in fact, trying to start up the majority of businesses. They just don't ever get to the scale and/or the place where they can even go for venture capital, in the same proportions. And when they do get to ask for venture capital, they get 1/7th the average award size of a man, if they even get [anything]."
Other studies yet reveal how significantly equity gaps are stymieing collective economic progress and growth. A 2015 report by the McKinsey Global Institute found that $12 trillion could be incrementally added to the global GDP by 2025 by advancing women's equality, promoting participation, and closing gender gaps in work and society.
Ball's data-driven approach to the early-stage development also seeks to make tangible the program's own ambitions and concepts such that they are grounded in empirical and academic study, and are accurately identifying and addressing these gender-based obstacles with a focus on the local sphere of Horn and UD.
Her expertise in the field of "econometrics" stems directly from her time at the Wharton School, during which she studied with a professor who would later win a Nobel Prize for his creation of the field, Ball said.
Since graduating as one of only 25 women in her class, Ball's career in business and entrepreneurship has included working for the government and the Richmond Federal Reserve, building econometric modeling tools, as well as fintech and fundraising.
Working with teams small and large, Ball has advocated for and led diversity and inclusion efforts across the companies she has worked for, serving as a leader and change-maker in women's networks, alumni networks, and employee resource groups.
"When the company gets behind making a change, change happens," Ball said.
Ball now resides in Wilmington, Delaware, where she is continuing work on her very own startup, WellSpices, a direct-to-consumer, single-use spice packet solution.
Ball eventually joined the Horn team when director Dan Freeman and founder Charlie Horn discussed with her the beginnings of an initiative that would bridge the systemic equity gaps for women innovators and entrepreneurs.
WE Hatch itself, moreover, is one of the first steps in a larger, ongoing effort by the Horn team to be purposeful in pursuing equity through entrepreneurship.
"Our mission is to close that gap," Ball said. "And that's what I'm still doing, in academic communities where I have influence."
Editor's note: Plans for the Fall semester are to begin virtually. The launch of We Hatch will take place on September 24, from 4:00- 6:00 p.m. on Zoom. It will include Erica Nemser, Chief Executor at Compact Membrane Systems as a keynote speaker. Additional events and information for the new and exciting opportunities of the initiative will be announced – register now through September 24, 2020. All are welcome to attend.
About Horn Entrepreneurship
Horn Entrepreneurship serves as the creative engine for entrepreneurship education and advancement at the University of Delaware. Currently ranked among the best entrepreneurship programs in the US, Horn Entrepreneurship was built and is actively supported by successful entrepreneurs, empowering aspiring innovators as they pursue new ideas for a better world.