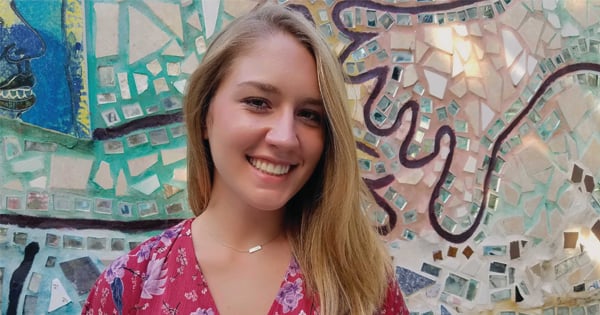 Jamie Fisher, Communications Class of 2018, finished her senior year at the University of Delaware with a desire to enter an entrepreneurial working community. By applying patience and making authentic connections, Jamie got off to a dream start with Trapica, an artificial intelligence targeting optimization and marketing automation for marketers, in Philadelphia, PA.
Trapica was founded by CEO Mike Teitelman and CTO Yoav Melamed. Jamie joined as the first full-time employee and now finds herself working on a small team with a strong startup culture in Philadelphia, a city rife with entrepreneurial opportunity.
Jamie developed a deep affection for entrepreneurial working cultures through her entrepreneurship minor and found a love for event planning and organization with UDance. UDance is a fundraiser for pediatric cancer research backed by the B+ Foundation and has raised millions of dollars for research and direct financial support for families since its inception over ten years ago.
"I had the opportunity to be a part of the UDance executive board during my final two years at school, building out programming for one of the biggest events on campus," shared Jamie. "I knew that was a skill I had developed with UDance, but through my entrepreneurship minor and courses, I found that I really loved the startup environment and the people involved in it."
Jamie's first taste of an entrepreneurial working lifestyle came in a summer internship as a sales and marketing intern with KickUp, an edtech startup in Philadelphia. There, Jamie was exposed to the startup community in Philadelphia while building out research for the sales team and producing content for social media.
Once Jamie got a fuller grasp on what an entrepreneurial working culture would be like, she knew that's what she wanted to pursue. "I had taken entrepreneurial selling with [adjunct professor] Ted Foltyn and built a great relationship with him. Ted connected me with a marketing agency, but I wasn't sure if it felt right. I hadn't done an intense job search even as I was in my final semester, but my gut instinct told me to keep looking."
Jamie soon found herself digging through the depths of the internet, exploring unfamiliar and unpopular job boards. "I just sort of stumbled upon a post for an associate role at Techstars that ended up being perfect." Techstars is a large seed accelerator organization that helps startups gain traction, engage with mentors and prepare for fundraising. "I knew going into Techstars that it was only a three-month position and that it was more akin to an internship in terms of what I had my hands on. Long term, I saw it more aligned with my passion and goals so I took the leap."
Through the Techstars role, Jamie was able to apply her event organization and management experience while being engaged with burgeoning startups in Philadelphia. Trapica, a participant in the accelerator, arrived with just one of its cofounders, and the Techstars team decided to pair Jamie with the passionate founder. Over the three-month period, Jamie built a relationship with Mike Teitelman and Trapica as well as other participants in the Philadelphia startup ecosystem. At the end of the program, with uncertainty looming, Jamie was offered to be the first full time employee for Trapica. It was the culmination of months of preparation post-graduation and a dream start to an entrepreneurial career for Jamie.
"As the first employee I've been involved in a lot of different capacities, even as the team has grown," explained Jamie. The recent graduate knew that working in a startup meant flexible hours with lots of independent work and suggests students consider what their strengths and preferences are when considering where they take their career. "There's a lot of tech in the AI portion of what we do, but I focus on the customer experience, managing their accounts and making sure to integrate feedback and provide solutions to problems. Beyond that, I've worked in marketing and helped get the word out about Trapica and our product."
Jamie, the Marketing and Client Success Manager, loves being able to put her hands on so many different projects. "There's nothing more rewarding than working in a company at these early stages; there's so much growth and it all happens before your eyes."
Jamie hopes to see her career continue to grow and holds a strong interest in client relations and streamlining company processes. The future is as uncertain as ever, but based on her network and experience, the young professional is confident the right opportunities will continue to arise. "Being exposed to the entrepreneurial community at Horn Entrepreneurship helped me find a space that I'm truly comfortable in, excited and passionate about and it's served as the foundation for my first career moves and beyond."
About Horn Entrepreneurship
Horn Entrepreneurship serves as the creative engine for entrepreneurship education and advancement at the University of Delaware. Currently ranked among the best entrepreneurship programs in the US, Horn Entrepreneurship was built and is actively supported by successful entrepreneurs, empowering aspiring innovators as they pursue new ideas for a better world.