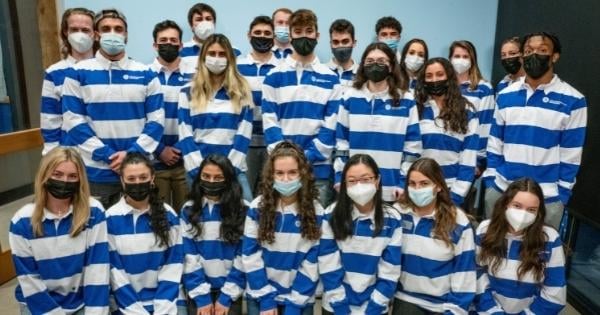 Horn Ambassadors are UD students across various majors who have become well acquainted with Horn Entrepreneurship through their own participation. Now they help newcomers share their knowledge. These students serve as Horn Entrepreneurship experts, who provide a bridge to new and prospective students, as well as helping at Horn events. Over the next few weeks, we will highlight each ambassador, so you can get to know the stories behind the smiling faces.
Emerson Marine, Program Coordinator, Enrichment, had this to say about the new Horn Ambassadors for 2022. "We are so excited to welcome 10 new ambassadors to the team this semester; they are outstanding representatives of Horn Entrepreneurship, the entrepreneurship major and the Delaware Innovation Fellows program. Horn ambassadors are an integral part of the Horn community and play a crucial role in recruiting the next generation of innovators and entrepreneurs to join UD, and the many courses, events and enrichment opportunities that Horn has to offer."
With Spring right around the corner, and mask mandates lifted for all non-classroom buildings at the University of Delaware, there will be many in-person events this semester. Horn Ambassadors will help host many of these events, such as decision day, and they are excited to let everyone see their smiles! When they aren't helping build the Horn community at live events, they can often be caught studying and helping their friends at the Venture Development Center.
Meet the Newest Horn Ambassadors
Nicho Williamson '25, Entrepreneurship
Nicho is from Kingston, Jamaica, and is the co-founder of BonaFyde. Looking to give prospective students a more authentic view of colleges they are choosing from, BonaFyde is a startup you will hear more about after receiving most motivated at the Spring Pitch party.
Samantha McGhee '25, Entrepreneurship and Fashion Merchandising & Management
Samantha is busy developing a unique brand of clothing with an international appeal. She grew up in the suburbs of Philadelphia and is completing her freshman year at UD.
Heni Patel* '25, Computer Science
Heni is from Zambia, Africa, and she has skydived in California. Now a days, you may see her at the front desk in the Venture Development Center.
Skylah Lorenzo '25, Entrepreneurship and Marketing
The Queens, NY native is currently working on her mother's entrepreneurial venture, which creates personalized items for clients holding special events and celebrations. Skylah has walked in two fashion shows, and hopes to walk in more in the future!
Isabella Duarte '24, Entrepreneurship major, with a minor in Jewish Studies
She is Horn's eClub President, and the Founder of Dear Volunteer, a startup looking to connect volunteers with service events. Isabella hails from Huntingdon, PA and was part of a competitive jump rope team when she was in middle school.
Sakhee Desai '25, Finance and Entrepreneurship, minor in Computer Science
Attending the Honors program, she was born in Newark, and has moved seven times along the east coast, before returning to Wilmington. The valedictorian of her high school is also a world traveler who has been to over 20 countries, and she notes Fiji as her favorite!
Mollie Moran '24, Entrepreneurship, minor in Integrated Design
Mollie calls Montvale, NJ home when she isn't at UD, and her passion for art and design has led her to her current internship as a Graphic Designer for TRIC Robotics.
Aidan Moffa '25, Entrepreneurship
Aidan is from Collegeville, PA. His startup, V/SUP, is the first fully customizable pre-workout supplement. Aidan is also a talented dancer who specializes in two different types of dance.
Jake Gray* '24, Communications
The Yardley, PA native is a huge fan of music, and he even likes to produce his own music with his friends.
Drew McAleer* '25, Entrepreneurship, minor in Advertising
Drew is from New Freedom, PA and prides himself in his ability to encourage team building, whether on the soccer or lacrosse field, or more commonly in the Venture Development Center.
*indicates involvement with Delaware Innovation Fellows also.
Get to Know Each Ambassador Better
The Horn Ambassadors strive to give their all to each other and their community. The following articles in this series are designed to allow the Ambassadors to reflect on their experiences with Horn, as well as to let the rest of the Blue Hen family know more about the Ambassadors themselves. Come back for the next article in the series, each Thursday, to meet some of the team.
About Horn Entrepreneurship
Horn Entrepreneurship serves as the creative engine for entrepreneurship education and advancement at the University of Delaware. Currently ranked among the best entrepreneurship programs in the US, Horn Entrepreneurship was built and is actively supported by successful entrepreneurs, empowering aspiring innovators as they pursue new ideas for a better world.