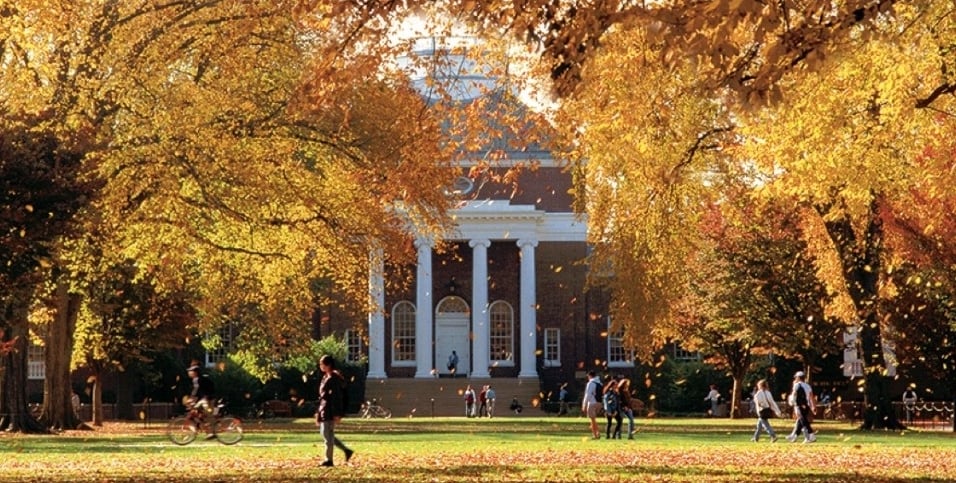 As the fall semester begins to pick up speed, don't forget to mark your calendars for all of the amazing entrepreneurial events and happenings coming up!
Free Lunch Friday - Every Friday starting Sept. 10, 11:15 a.m. - 12 p.m.
Horn Entrepreneurship and E-Club are bringing back the acclaimed Friday afternoon speaker series, starting off as a virtual event with 2016 UD alum Chris DeSantis, Co-Founder and CEO of foodie app Munch. Free Lunch Friday is open to all students, although prior registration is required. Sign up for Free Lunch Friday sessions on SignupGenius.
E-Club - Every Wednesday from 7-8 p.m
Entrepreneurship Club, or E-Club, runs weekly club meetings at the Venture Development Center (VDC) on 132 E. Delaware Ave from 7:00-8:00pm Wednesday night open to all students. Weekly meetings include workshops focusing on lifestyle development, networking, simply being downright creative, and much more!
VentureOn Application Deadline - Sept. 13, 11:59 p.m.
VentureOn supports student entrepreneurs in the UD community at any point in the startup process. The program provides 24/7 access to the Venture Development Center and all of its resources, $250 in reimbursable funding, and the guidance of numerous mentors always looking to help. Apply now to get the support your idea needs to grow!
Make It Happen Challenge Application Deadline - Sept. 17, 11:59 p.m.
The Make It Happen Challenge offers 5+ award packages with a total value of over $25,000. Each award package includes a monetary grant covering supplies up to $3,000 and up to 20 hours of hands-on training and design consultation. Finalists will pitch their concepts to an external evaluation panel. Submit a proposal for consideration!
Hen Hatch Application Deadline - Oct. 18, 11:59 p.m.
Hen Hatch is the University of Delaware's premier startup funding competition, where entrepreneurial students make connections, collect feedback on ideas and compete for startup cash and prizes totaling $50,000. Submit your idea or startup to compete!
Peer Compass Workshop - Sept. 23, two sessions, 9:30 a.m. & 11:00 a.m.
Recent alumni, Darian Elmendorf is testing an MVP with a workshop designed for entrepreneurial minded students. The workshop will include Carl Sharperson, Jr, author and trainer who will lead a discussion for students, founders and athletes in how to build mental toughness and how to rise above life's challenges. Reply to Darian to reserve your space. It is in-person with limited seating. Please abide by the universities COVID policies.
Fall Pitch Party - Oct. 20, 6 - 10 p.m.
Hosted by E-Club and Horn Entrepreneurship, the Fall Pitch Party gives students a relaxed opportunity to practice their pitching and public speaking skills. Students are given 90 seconds to pitch their most interesting business ideas and innovations to a small group of judges and attendees with an opportunity to win a prize. Stay tuned for registration.
Siegfried Workshop & Awards Dinner - Nov. 8
The Siegfried Workshop & Awards Dinner is an invite only event that celebrates innovative leaders in the Horn Entrepreneurship community. A collaboration between the University of Delaware and The Siegfried Group, the event consists of a workshop and an award presentation for outstanding contributions to the understanding and practice of entrepreneurial leadership.
Hen Hatch Final Round - Dec. 2
Watch the finalist teams pitch to win a share of the $50,000 prize pool. Cheer on your friends, classmates and student entrepreneurs! Stay tuned for registration.
About Horn Entrepreneurship
Horn Entrepreneurship serves as the University of Delaware's creative engine for entrepreneurship education and advancement. Built and actively supported by successful entrepreneurs and thought leaders, Horn Entrepreneurship empowers aspiring innovators and entrepreneurs as they pursue new ideas for a better world.